---
Andrew Goddard writes: In his diocesan synod presidential address the Bishop of Southwark joined the still quite small group of bishops (from the dioceses of Oxford, Worcester and Portsmouth) who have stated their hopes for the corporate Living in Love and Faith discernment process in which the bishops are currently engaged. Like all the previous public statements, his too calls for change, but it does so in a number of importantly distinctive ways compared with others who have spoken.
What follows focuses on his statement towards the end of his address concerning what he supports and so does not address all of his earlier reflections, including his important ones on family and singleness. 
Simply pastoral provision?
Firstly, Bishop Christopher presents his desired outcome simply as "a generous pastoral provision that respects freedom of conscience". There is no hint—despite all the work of LLF which he commends—that there are significant theological questions at stake in what he is proposing. It would appear to be his view that this is something that could have been proposed by the bishops after the Shared Conversations nearly six years ago (despite the arguments against doing so in the House of Bishops report 'Marriage and Same Sex Relationships after the Shared Conversations' GS2055) or indeed at any point in our decades of wrestling with these questions.
That raises the question as to why he and others have failed to be pastorally generous in their provision or even speak publicly for such pastoral generosity until now. The best answer to this is to accept that it is misleading to present it simply as a pastoral provision as if there were no theological—and also legal—objections to his proposal. The question then becomes why this is simply presented as a pastoral matter with no recognition of, let alone engagement with, any of the many theological questions raised by his proposal, so many of which were explored in LLF. 
Secondly, the bishop defines this pastoral generosity as "the provision of a liturgy of affirmation and commitment for same-sex couples".  The reference here to "a liturgy" rather than private prayers (already permitted) or indication by the bishops of currently authorised more general prayers, immediately flags that whatever is proposed will need to be within the teaching of the church because of the Anglican commitment to liturgy being faithful to doctrine. That in turn means that either church teaching has always been amenable to what is proposed or, more likely as the teaching has been repeatedly stated as the rationale for not making this step in the past, that current teaching needs to be changed.
This captures the real problem in making any changes to current liturgical practice. There are three options:
The changes were always within the teaching so a defence of why they are only now being accepted is required and an explanation, and probably apology, needed as to why this has taken so long; or
The teaching has changed so the new teaching needs to be articulated and a biblical and theological defence of it and the changes being made to current teaching need to be offered and approval given before the liturgy is agreed; or
We have abandoned the principle that our liturgy is shaped by our doctrine and the church.
This last option might perhaps be due to political or pastoral pressure or might arise from having detached our pastoral practice from our theology so we are now seeking to give that pastoral practice some liturgical form and expression which leads to our liturgy having to be changed so as to contradict our doctrine.
The language describing the proposed liturgy studiously avoids the word "blessing" but it would clearly represent a disregard for Lambeth 1.10 ("cannot advise the legitimising or blessing of same sex unions nor ordaining those involved in same gender unions") and thus cause major problems in relation to the Communion.
It is also unclear whether the same-sex couples would need to be in any recognised structure such as civil partnership or civil marriage and whether a distinction is being drawn between these two (as the church currently does). Although there is only a brief comment, it would appear that both of these forms of life (and perhaps non-formalised relationships as well) are being seen as legitimate "vocational and covenanted relationships". The church is then being called to shift its understanding and teaching, including in relation to the appropriate pattern of sexual relationship, from its historic focus on marriage to embrace "vocational and covenanted relationships" instead "as a category that includes marriage as one constituent and same-sex unions as another".
This again points to the fact that the pastoral provision is, in reality, connected to significant theological developments which are not clearly articulated or defended. 
Respect for conscience?
Thirdly, repeating his earlier emphasis on conscience it is stated that there would be "a conscience clause that means no priest is required to officiate at such a service". Though obviously welcome, it is important to recognise how limited this is. It simply says that nobody will be forced to officiate at a new form of service which they fundamentally disagree with as a form of Christian service. It amounts to no more than "clergy will not be disciplined".
There is no reference to the conscientious beliefs of congregations or of bishops who would it seems be required to authorise such services in their dioceses where they are, as he notes, "principal ministers of word and sacrament" and "chief pastors" and also called "to teach and to uphold sound and wholesome doctrine, and to banish and drive away all erroneous and strange opinions" and have the right "of conducting, ordering, controlling, and authorizing all services". There is also no recognition of the pressure clergy who conscientiously object may find themselves being subjected to after such a change which is clearly a major concern of many clergy who would be in this position. 
Remarriage of divorcees a parallel?
Fourthly, the only explicit justification for this development is that "the situation in which we find ourselves is almost an exact parallel to that about the remarriage of divorcees a generation ago in my first years in Holy Orders". This is an often repeated but rarely explained or justified analogy. It is one which faces multiple challenges and disanalogies if it is to pass even the plausibility threshold.
Biblically, the witness of Scripture is uniform in its negative moral judgement of same sex sexual behaviour but in places permissive of divorce.
Historically, within the church for centuries remarriage after divorce has been recognised by many churches as legitimate within certain circumstances but this has not been the case in relation to affirming same-sex couples.
Procedurally, the Church of England General Synod agreed in 1981 (Bishop Christopher was ordained deacon in 1983) that "marriage should always be undertaken as a lifelong commitment…there are circumstances in which a divorced person may be married in church during the lifetime of a former partner". It then took until 2002 before General Synod overwhelmingly (269-83) approved a process for the church as a whole including a conscience clause. In contrast, there has been no episcopal document or Synod motion arguing that "there are circumstances" in which the liturgical affirmation and commitment of same-sex couples may be right in the church. Furthermore, the church is much more divided over whether this development is right than it was over divorce and remarriage even by the early 1980s let alone 2002.
Liturgically, no new liturgy was required in relation to remarriage of divorcees in the way it is now being proposed for same-sex couples.
This was because theologically their relationship was simply marriage as the church recognised marriage (something that had to be explicitly acknowledged by the couple even when the church only officially approved a service of prayer and dedication not remarriage in church). In contrast, here a totally new form of relationship (perhaps "vocational and covenanted union") is being recognised with no clear definition or theological rationale for its affirmation.
Pastorally, therefore, remarriage was always seen as an accommodation recognising that it was responding to the sin and failure that led to divorce and the end of the previous marriage (for which there should be some recognition and repentance) with celebration of the good of marriage (now to a new spouse). There is no suggestion that this is the lens through which same-sex couples are being understood and affirmed.
Remarriage of divorcees is, in other words, very far from being "almost an exact parallel". The only common element is that it, too, involved a change in the church's previous practice concerning what services it might authorise use of for a form of relationship between two people.
A different order of question from women's ordination?
Fifthly, in relation to other often referenced analogy, Bishop Christopher takes a different stance, stressing the differences rather than the similarities. He states of his proposal that he is "less sure that it bears comparison with the debates surrounding the ordination of women" and claims that "the precedents set by the Five Guiding Principles about episcopal care would not translate easily to the context of a change in pastoral provision". This is because "it raises a different order of question about episcopacy. The Church has never required agreement on pastoral matters before gathering to break bread together. Indeed, it is the breaking of bread that allows us to live with difference". This helpfully recognises that there are different orders of question but then appeals to his categorisation of the proposal as simply "pastoral" to treat it as of a lower order than that relating to women priests and bishops.
The problem is that the reason the bishops have not made such provision for same-sex couples in the past is, as noted, not ultimately due to a failure of pastoral generosity. It is due to church teaching and an understanding of sexual ethics and what patterns of behaviour fall into the category of sexual immorality (porneia) against which Scripture constantly warns. Once this is accepted then this question is indeed a "different order of question" but one of a higher order. Those bishops who share the views of Bishop Christopher and those other bishops who have so far spoken publicly are seen by those who disagree with their proposals as approving a pattern of behaviour which Scripture rejects—a pattern which the bishops and the Synod have themselves previously warned against as falling short or being sinful. 
In contrast to the Bishop of Southwark, the Bishop of Oxford, having engaged with those who disagree with him, has acknowledged this painful reality and its serious implications for how we order our common life including questions about episcopacy. In relation to the discussion in the LLF book (pp 230–4, 405–12) and course (Session 5), drawing on the earlier work of FAOC on Communion and Disagreement, the Bishop of Southwark seems simply to assert that this is a matter at the third and lowest level of disagreement—one where we can "agree to disagree" and only need to allow freedom of conscience to individual clergy who dissent from the new development. There is no recognition that almost all of those who disagree with him see this as at least at the second level ("sharp enough to make living and working together as one church difficult, perhaps impossible", LLF Course, p 58) and perhaps the first level ("contradicting the good news of Jesus or the Bible's teaching").
Same-sex married clergy?
Sixthly, the bishop addresses another important question alongside those of liturgical provision and alternative provision for those maintaining current teaching if the church changes: the expectations on clergy. Here he says he supports "the removal of penalties for those clergy who contract a same-sex marriage, either civilly or in one of our sister Churches with whom we are in full communion". It is unclear whether he supports the removal of conditions on those who enter civil partnerships of which, rather surprisingly, he says "the Bishops in each and every Diocese encourage partnered gay and lesbian ordinands and clergy to consider civil partnership". In fact the 2005 statement (the year in which he was consecrated) from the bishops was clear that 
"The House of Bishops does not regard entering into a civil partnership as intrinsically incompatible with holy orders, provided the person concerned is willing to give assurances to his or her bishop that the relationship is consistent with the standards for the clergy set out in Issues inHuman Sexuality" (para 19); and

 

"it would be inconsistent with the teaching of the Church for the public character of the commitment expressed in a civil partnership to be regarded as of no consequence in relation to someone in—or seeking to enter—the ordained ministry. Partnerships will be widely seen as being predominantly between gay and lesbian people in sexually active relationships. Members of the clergy and candidates for ordination who decide to enter into partnerships must therefore expect to be asked for assurances that their relationship will be consistent with the teaching set out in Issues in Human Sexuality" (para 21).

 
There is no discussion as to whether freedom of conscience would here be granted to bishops to refuse to recommend for ordination, to ordain, or to licence those clergy who took advantage of these proposed changes or to DDOs, training institutions, selectors and others who would wish to uphold current teaching and discipline.  Nor is there much justification offered with the rationale for the removal of penalties being the very surprising claim that this is to be done "on ecumenical and Anglican inter-Provincial grounds".
The reality is that the overwhelming majority of the Christian church and Anglican Communion oppose the ordination of those in same-sex marriages and those parts that do not do so generally take that position because they have changed their doctrine of marriage (something which the bishop does not appear to support).
Conclusion
In conclusion, this latest episcopal statement highlights that those wishing change are far from fully agreed among themselves as to what alternative teaching and practice they believe the Church of England should embrace.  Some, like the Bishop of Oxford, are now clear advocates for same-sex marriage but the Bishop of Southwark has not taken this route, leading Kelvin Holdsworth to summarise his address as "Bishop of Southwark comes out against the marriage of same-sex couples in church".  This stance appears, however, to be as much on grounds of pragmatic realpolitik ("As I have said before, I do not expect to see the marriage canons changed in my lifetime") as theological principle. He instead wishes to make what he presents as relatively small and simply "pastoral" changes. These he believes will not and should not disrupt the existing structures of the church compared to the changes which followed women's ordination.
The danger is that they will be seen as creating a new politically unstable and theologically undefended and apparently incoherent position—one that satisfies very few people and will be seen by those supporting current teaching as more serious than the change in relation to women's ordination. It certainly is not likely to produce a long-lasting settlement that will significantly reduce, even if not end, our conflicts as to what the Church of England should say and do. As such it risks, in reality, not only failing to avoid that disruption to church structures but potentially driving us further apart from one another.
A much better way would be to recognise and articulate the different theological positions, each with their own internal coherence, and then address the depth of our disagreements (as explored by LLF) and their impact on whether, and how best, we can walk together. This might then help us find together an agreed form of visible differentiation that can hold us together within the Church of England by it structurally reorganising itself so as to recognise and respect those different positions.
---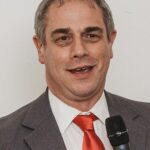 Revd Dr Andrew Goddard is Assistant Minister, St James the Less, Pimlico, Tutor in Christian Ethics, Westminster Theological Centre (WTC) and Tutor in Ethics at Ridley Hall, Cambridge.  He is a member of the Church of England Evangelical Council (CEEC) and was a member of the Co-ordinating Group of LLF.