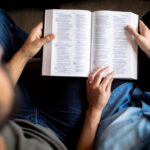 Andrew Bartlett has written the outstanding study Men and Women in Christ: fresh light from the biblical texts which I think should be compulsory reading for anyone interested in this question. Here, he reviews another book on this subject, Men and Women in the Church: A Short, Biblical, Practical Introduction (Crossway, 2021) by Kevin DeYoung.
Looking at Men and Women in the Bible through Distorting Spectacles
Kevin DeYoung (KD) wanted to write a book "that explained the Bible's teaching about men and women in the church in a way that the interested layperson could understand and in a size that he or she could read in a few hours". 
Assessed in light of his objective, the book merits more than one star, because KD writes lucidly, he packs a lot of content into a short book, and there are some important things that he gets right. For example, we should not use the Trinity as our model for the marriage relationship [Ch 4]. 
But what we mostly get is not really "the Bible's teaching". Instead, it is the Bible as viewed through patriarchal spectacles. (I'm using 'patriarchal' in the sense that men are in charge—not in the sense that men are oppressors, which KD rightly condemns.)  KD wears these spectacles enthusiastically, for he is committed to men's leadership of women in home, church and society. The spectacles make it very hard for him to see what God's word actually says, where it contradicts his views. 
(Full disclosure: I've written a book on the same subject, in which I arrive at different conclusions from KD. I've also written some articles which you can find via Terran Williams' website.)
The longest passage of teaching in the New Testament concerning men and women is in 1 Corinthians 7. But the spectacles are so blurry that KD does not consider this passage to be worth discussing in his book. That is remarkable. For KD rejects mutual submission in marriage, asserting that a husband is the decision-maker, with unilateral authority over his wife and sole responsibility for spiritual leadership [Chs 5, 8]. Yet 1 Corinthians 7 is the only passage which expressly teaches about the 'authority' of husband and wife and the only passage which expressly teaches how couples should take decisions on significant spiritual and physical matters such as joint prayer and sexual intercourse. 
Why might the spectacles prevent KD from seeing the significance of 1 Corinthians 7? Because if he perceived it, it would defeat his view. Paul teaches the mutual submission of husband and wife, whose authority is identical (see 1 Cor 7:4, exactly as we should expect from Genesis 2:24 'one flesh'). And Paul teaches that those significant marital decisions should be taken by mutual consent (see 1 Cor 7:5).
In Ephesians 5, Paul's own indication of the meaning of his 'head' metaphor, as applied to the husband, is in Eph 5:23 (literally, "a husband is head of the wife as also the Messiah is head of the church, himself saviour of the body"). Addressing husbands, Paul spells out the practical content of the "saviour" idea in Eph 5:25-33a. It is all about humble, self-sacrificial love and care. Not one word telling a husband to exercise authority over his wife. But the spectacles screen this out. KD never quotes or even notices the critical words "saviour of the body". He interprets the metaphor as if Paul's explanation had been "lord over the body" [Chs 4, 5, 8]. Paul's phrase "as to the Lord" (v 22) is not an instruction to husbands. If KD's patriarchal viewpoint is correct, why is there no statement in Ephesians 5—or even in the whole of the Bible—that husbands ought to exercise authority over their wives?