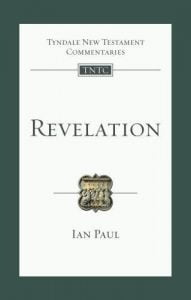 My most recent publication is the Tyndale New Testament Commentary on the Book of Revelation. You can order it from Amazon and other online retailers (make sure you order mine, and not the previous edition by Leon Morris!), or directly from the publisher on the IVP website.
My recent publications include:
---
We have a fascinating line-up of papers for the NT Study Group this year focussing on orality, writing and the formation of the canon. Do come and join us to engage in some world-class scholarship!
The Tyndale New Testament Study Group is part of the Tyndale Fellowship for biblical and theological research, based at Tyndale House in Cambridge, and including evangelical scholars from all over the world.
This year's NT Study Group will be meeting at Tyndale House from 26th to 28th June 2019 (the equivalent week to last year). The study group is a great opportunity to engage with excellent biblical scholarship, and to meet other scholars from around the world. Not all those attending are NT scholars themselves, but include church leaders wanting to ground their ministry in excellent understanding of the New Testament. One of those attending previously commented:
I thoroughly recommend the conference as an opportunity to do serious biblical reflection in a faith-filled context.
There is a continuing rumbling discussion in the Church Times about the phrase 'personal relationship with Jesus' since Angela Tilby's diatribe against 'evo-speak' in February, to which I responded with a letter the following week, and to which there have been further responses. Before exploring the issues, it is worth reflecting on the different reasons for reaction to this phrase—and on reflection I am aware that it is not a phrase that I use myself, and I confess to feeling uncomfortable with some ways in which this language of 'relationship' is deployed. 
One possible objection is that 'relationship with Jesus' focusses on the second person of the Trinity rather than being fully Trinitarian, though in recent discussion that theological concern doesn't appear to be evident. Another objection might simply be what we might call 'ecclesiology-cultural': it doesn't fit very comfortably with a certain church ethos. After all, there isn't anything very 'chummy' about the language of the Book of Common Prayer, with its 'manifold sins and wickedness' which do 'most justly provoke thy wrath and indignation against us'. Related to that, and connecting theology with the culture of our language, I remember having a debate with a friend at a summer New Wine conference a few years ago, where my friend argued that God is something akin to a celestial chum, and that if we found God mysterious or difficult to understand then we were missing out on God's friendship. I think this approach is in serious danger of reducing the analogy of human friendship in our understanding of relationship with God, can trivialise our worship, and doesn't attend to our confident but still partial understanding expressed in 1 Cor 13.12 as 'seeing through a glass darkly' or, in contemporary English, 'dim reflections in a mirror'. This is reflected in many of our contemporary praise songs, where (in one charismatic tradition) as we 'come closer' in some sense to the presence of God, we move into celebrating intimacy, rather than being overwhelmed with the holiness and 'otherness' of God or being challenged (as were many who came close to Jesus in the gospel accounts) about the demands of discipleship. So there are clearly some important issues to explore here.