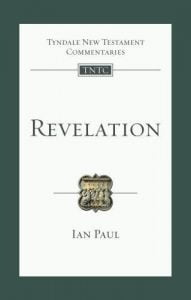 My most recent publication is the Tyndale New Testament Commentary on the Book of Revelation. You can order it from Amazon and other online retailers (make sure you order mine, and not the previous edition by Leon Morris!), or directly from the publisher on the IVP website.
My other recent publications include:
---
Dr Julie Maxwell writes: You may have seen the recent media coverage of the Judicial review brought by Keira Bell and Susan Evans against the Tavistock and perhaps you wonder what on earth this is all about. This was a landmark judgement that will have world wide repercussions as well as implications for churches and society in general.
The Tavistock and Portman is a London Hospital Trust providing mental health services for adults and children. The particular part of the trust involved in this judicial review is the Gender Identity Development Service (GIDS) which was set up in 2009 to assess and treat children and young people with gender dysphoria. Gender dysphoria is defined as the sense of unease a person feels due to a mismatch between their biological sex and their perception of their own gender identity.  This clinic is where almost all children with gender identity issues are treated in the UK.
Children and young people suffering gender dysphoria are referred to The Tavistock clinic where they should undergo a thorough psychosocial assessment (looking thoroughly at any underlying psychological, mental health, developmental conditions such as Autism or family issues that may be contributing to their difficulties) before a formal diagnosis is made. Children experiencing distress around puberty are then potentially referred on to be considered for medication to block puberty (known as puberty blockers), these medications are  given to children as they start puberty so can be as young as 10. At the age of 16 these children can progress to cross-sex hormones (testosterone or oestrogen) and following that some will progress or surgery. 
There has been increasing concern about this medical and surgical treatment and the lack of psychological and therapeutic support for these children and young people. In addition there has been an explosion in referrals to this clinic as well as a significant change in the demographics of referrals. When the clinic opened in 2009 there were 97 referrals (just over  50% were biological males), last year there were 2,728 referrals and around 76% were biological females. The precise reason for this increase (and in particular the huge rise in teenage biological females) is not understood and has not been formally investigated.
As the number of referrals has increased so has the number of children referred on for medical treatment. This was initially being done as part of a research study because of the lack of knowledge regarding physical and psychological outcomes of these treatments. However increasing numbers were referred on for medical treatment and concerns started to be raised that adequate assessment and appropriate therapy was not being given to these children and that the long term outcomes were largely unknown.
Gary Jenkins writes: It is extraordinary how often working class people are ignored, overlooked or written out of the story altogether. A prime example was at the November meeting of the Church of England General Synod. A new vision document for the national church of a more diverse church made no mention of working class people at all—a huge group in the nation, heavily under-represented in the church. We were promised diversity of 'age, colour and ethnicity' but there was no mention of class.
That working class people literally never got a mention in Synod is a scandal and not just a scandal, but a gospel issue that should profoundly concern us because it is about the spiritual welfare of millions of souls. As far back as 1985 the Archbishop's report on urban priority areas, Faith in the City, stated:
The Church of England's most enduring problem of the city has been its relationship with the working class' (ACUPA, Faith in the City, London: Church House Publishing, 1985, p 28).
Not much has changed since. It has been race, and latterly gender and sexuality, rather than class that has been uppermost in the church's thinking. Class as a category has been ignored and working class people themselves have been overlooked, not just because of a kind of collective amnesia but also, I believe, because of a deep rooted prejudice against working class people which is endemic in British culture.   
'The English working class' says Julie Burchill 'is now the only group of people the chattering classes are happy to hear mocked or attacked' (Nick Cohen, What's Left: How Liberals Lost Their Way, London: Fourth Estate, 2007 p 207). We all recall  Gordon Brown's 'bigoted woman,' Emily Thornberry's white van man and, from across the pond,  Hillary Clinton's 'basket of deplorables.' No wonder Dagenham-born firefighter and trade unionist, Paul Embery, has called his new book on why the left loathes the working class, Despised. Of course no one at General Synod said they despised the working class, they just didn't mention them at all. That, if anything, is worse.
Very often working class people are simply absent from the church and its councils. They are not there to plead their cause, and few are prepared to speak on their behalf. Whilst it is absolutely right to address the under-representation of BAME people in the leadership of the church, it is strange that so little recognition is given of that fact that the working class of England are so sparsely represented not just in the church's leadership, but also in its congregations.