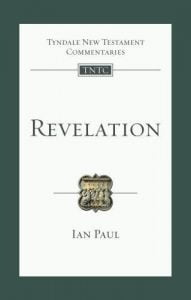 My most recent publication is the Tyndale New Testament Commentary on the Book of Revelation. You can order it from Amazon and other online retailers (make sure you order mine, and not the previous edition by Leon Morris!), or directly from the publisher on the IVP website.
My other recent publications include:
---
At around this time each year, the Church of England statistics team release the data on what has been happening with attendance and services in the Church of England, based on the returns from churches from the previous year. This information is very useful, though also needs to be handled with care. On the one hand, not everything that counts can be counted, and not everything that can be counted counts. And yet actual figures confront us with the reality that we are otherwise very happy to ignore; for the last two years, we have at Archbishops' Council spent some time reflecting on these, but only because I asked for it to happen. And numbers matter, because numbers are people, and people matter. 
So I have commented on the statistics here for the last couple of years. In 2018, when reviewing the 2017 figures, I noted a number interesting things. There was good evidence that the figures added up; there appeared to have been a marked change in 2012, though no-one has been able to explain that; proportionate to the wider population, we actually had the right number of children (though that assumes that children in church grow into adults of faith); looking at worshipping communities seemed to tell us something important; but the state of the C of E varied enormously from one place to another. 
When I looked again last year, examining the figures from 2018, there was rather less to be encouraged about—though digital engagement was one bright spot. Children were still there—though it turns out that they are mostly concentrated in a small number of large churches. There are some signs of growth in some places—but the C of E is now a much smaller player, even amongst the Christian churches of the UK, despite its significant assets. And I ended with some challenges: will we remain committed to evangelism and church planting, will we be willing to learn from our mistakes, and can we learn from others who are being effective?
When I looked at this year's statistics (from 2019), I did not immediately see anything new to comment on. But David Keen, who is vicar of St James' and St Peter's in Yeovil, has regularly done an analysis of the figures, and I reproduce his article from his blog with permission here. You will see that David is not very upbeat, and he reflects the feeling amongst many that we are very quickly reaching a point of no return in some important regards. He ends his piece with some serious challenges. 
It is worth recognising that this is not the whole story. God is faithful; there are signs even within the C of E of new life, growth, and people coming to faith. And around the world, the church is growing and the grace of God is being proclaimed and received. Within the UK, there are other denominations who are full of life; in our city of Nottingham there are a good number of large churches, many of them engaging effectively with young people. Whatever these numbers signal, it is not the death of God—though it might be the death of the C of E structured in the way we have known it. 
The lectionary reading for the so-called 'Last Sunday after Trinity' as we near the end of Year A is Matthew 22.34–46. Having had three symbolic actions from Jesus (entering the…