The second Festival of Theology will be taking place on Wednesday 17th October in Nottingham from 10.30 am to 3.30 pm.
Come and listen to out fantastic speakers address some vital questions for Christian living, mission and discipleship in TED-style talks, with the opportunity to ask questions and interact.
Details of the programme and speakers can be found in this post. Book your ticket online here. See you there!
---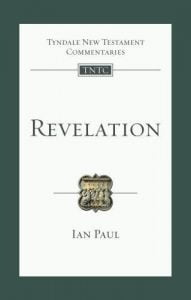 My most recent publication is the Tyndale New Testament Commentary on the Book of Revelation. You can order it from Amazon and other online retailers (make sure you order mine, and not the previous edition by Leon Morris!), or directly from the publisher on the IVP website.
My recent publications include:
---
Boris Johnson has once again got into hot water, and once again his comments have provoked furious reactions on both sides—agreeing and disagreeing with him—but I wonder how may actual read what Johnson said? It is worth reading (and worth the trouble of registering on the site) if only to know what it is that people are debating. The central line of his reasoning is that it seems to him paradoxical that in a country like Denmark, which appears to pride itself on a radical understanding of freedom that protects things we in the UK would find distinctly odd, the burqa is banned when that would be unthinkable here. 
But of course Johnson hasn't simply offered an argument; he has offered an argument using his swashbuckling and confident style of writing, which makes it very interesting to read but also makes it easily offensive. The offending phrase came in the description of the perception of those wearing burqas in the UK:
I have been continuing my teaching at New Wine (Hub 1, 2.30 pm each day) on the question of 'Why Jesus came…' based on sayings in the gospels in which Jesus states his purpose in these terms. We begin by exploring Jesus saying 'I have come to preach [good news]…' and then reflected on Jesus' saying 'I have come to call sinners to repentance' (Mark 2.17, Luke 5.32). 
This third saying doesn't quite come on Jesus' lips himself, but from a verse in 1 John and from the saying of someone on the receiving end (as it were) of Jesus' ministry. The verse is 1 John 3.8:
For this reason Christ was revealed: to destroy all the works of the evil one.
When I became a Christian as a teenager, and avidly read the writings of David Watson, this verse was one of his 'top ten' memory verses for new Christians. I am not sure that it would be in a top ten today—and do we still encourage the learning of memory verses?! I also remember that it was in a well-known chorus, and again I wonder why we don't sing more scripture in our songs. We might think that this text was about 'spiritual warfare' or 'deliverance' ministry—but in fact the context in 1 John is the relatively mundane question of holy living and not being led astray in our understanding of God.