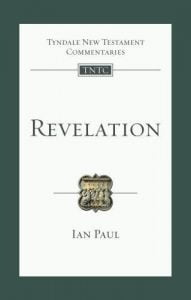 My most recent publication is the Tyndale New Testament Commentary on the Book of Revelation. You can order it from Amazon and other online retailers (make sure you order mine, and not the previous edition by Leon Morris!), or directly from the publisher on the IVP website.
My other recent publications include:
---
The lectionary gospel reading for Advent 3 in Year A is Matt 11.2–11, and as usually is rather truncated, so you might want to extend the reading by a verse or two before and after to be fair to its setting. 
The chapter begins with the second of Matthew's five summary statements that conclude the five focussed sections of Jesus' teaching: 
When Jesus had finished instructing his twelve disciples, he went on from there to teach and preach in their cities (Matt 11.1)
The summary phrase varies slightly each time, but consistently includes 'When he had finished…' (compare Matt 7.28, 13.53, 19.1, 26.1). That he is going on to 'teach and preach' hints that the following section will not be neatly focussed on Jesus' actions, in contrast to the blocks of teaching, but will in fact mix Jesus' actions and his teachings, before we come to the next focussed block of teaching on the nature of the kingdom in chapter 13. The last part of Jesus' teaching in chapter 10 emphasises Matthew's version of Paul's 'body of Christ' theology: those going in Jesus' name represent his presence, so that how people respond to Jesus' disciples is indicative of how they respond to Jesus.
"Whoever receives you receives me, and whoever receives me receives him who sent me. The one who receives a prophet because he is a prophet will receive a prophet's reward, and the one who receives a righteous person because he is a righteous person will receive a righteous person's reward. And whoever gives one of these little ones even a cup of cold water because he is a disciple, truly, I say to you, he will by no means lose his reward." (Matt 10.40–42)
This idea is an essential hermeneutical key to the much misinterpreted 'parable of the sheep and the goats' in Matt 25.31–46; the 'little ones' here correspond to the 'least of these my brethren' in the parable, being the disciples of Jesus who are in need of assistance.
My social media feeds are full of contradictory views on the election, with different friends and acquaintances spelling out with vigour and passion why it is simply impossible to vote…