The second Festival of Theology will be taking place on Wednesday 17th October in Nottingham from 10.30 am to 3.30 pm.
Come and listen to our fantastic speakers address some vital questions for Christian living, mission and discipleship in TED-style talks, with the opportunity to ask questions and interact.
Details of the programme and speakers can be found in this post. Book your ticket online here. See you there!
---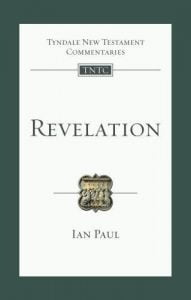 My most recent publication is the Tyndale New Testament Commentary on the Book of Revelation. You can order it from Amazon and other online retailers (make sure you order mine, and not the previous edition by Leon Morris!), or directly from the publisher on the IVP website.
My recent publications include:
---
I am feeling very nervous about posting on this particular gender-related issue. I know I will get lots of flak from all corners for making gross generalisations and such. But here's the thing: a religious movement, started by a man, with a predominance of male leaders from the beginning, and in which some groups are struggling very hard to let go of male hegemony, has, for at least 600 years (in the West at least) been dominated as a movement by the presence of women. I'm not suggesting that this is a Bad Thing, but, by any measure, it is a Big Thing. For a start, it is a real paradox. For another, it is just very odd in the context of thinking about religious movements. I don't think any other global religious movement exhibits the same phenomenon. Hinduism, Sikhism, Buddhism, Islam are all controlled by men and appeal to men. Not so with Christian faith. So anyone interested or involved in Christian ministry, in whatever form, needs to consider it.
A basic observation about this relates to what might be called the 'offer' of Christian faith. From the first century and across the Roman Empire, Christian faith was very attractive to those who were oppressed and longed for hope and liberation, and so (by most estimates) had a disproportionate appeal amongst the poor and the underclass. (We can see a first hint of this in 1 Cor 1.26, though clearly the body of believers in Corinth also included the wealthy.) And there is no doubt that it is women, much more than men, who as a gender have felt in need of hope and liberation. If you don't believe me, just listen to the last edition of Woman's Hour from Radio 4. Men might well be in need of liberation and hope; it is just that they don't realise it, or don't see the relevance of the Christian 'offer' in the way that women appear to.
Last week the polling company YouGov published the results of a survey asking Christians what they thought about God's gender. Their 'shocking' discovery is that very few agree with Ariana…