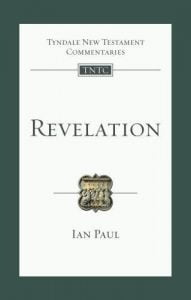 My most recent publication is the Tyndale New Testament Commentary on the Book of Revelation. You can order it from Amazon and other online retailers (make sure you order mine, and not the previous edition by Leon Morris!), or directly from the publisher on the IVP website.
My other recent publications include:
---
Jean Vanier was a French-Canadian Roman Catholic lay philosopher and theologian, until recently best known for his establishment of the network of L'Arche communities that aimed to integrate the lives of the able-bodied with the disabled, so that each learned from and supported the other. He was originally an academic, completing a PhD on Aristotle in Paris, and he wrote over 30 books. But rather than continuing in academia, he sought a more 'spiritual' ministry; through a priest Father Thomas Philippe, he became aware of the plight of those with mental disabilities who were institutionalised, and his invitation to two men from one such institution to come and live with him formed the basis of the first L'Arche community in Trosly-Breuil in France. There are now 147 such communities around the world.
Vanier's work was of remarkable significance in a world which appears to have an increasingly utilitarian approach to human worth. You are welcome, we are told, if you can contribute something economically and practically to the world—but if not, you are worth little. In an age where those with Down's syndrome can be aborted without question of their dignity and rights, and where migration is based on economic worth, this is a startling and counter-cultural message. But it was not just Vanier's work that impressed people; it was the radiance of his own personality that went along with it. The tribute paid by Justin Welby when he died last year articulates this powerfully:
Jean Vanier lived the Gospel in such a beautiful way that few who met him could fail to be caught up in it. I join countless people around the world in deep sorrow at his death, and great gratitude for his life. His generosity of spirit and Christian hospitality embraced the whole world – supremely those with learning difficulties. His L'Arche communities were places for the so-called weak to teach the self-perceived strong.
As part of building a community of reflection related to the blog, I have previously hosted three one-day Festivals of Theology during 2018 and 2019. On each occasion we had a great time of listening, learning, reflection and discussion, with around 100 people attending on each occasion. As a result I am planning a fourth Festival on Tuesday 9th June again here in Nottingham at Christchurch, Chilwell.
As before, the plan will be to listen to 15- to 20-minutes presentations on a range of subjects, with time for response, interaction and discussion. The day will start with coffee at 10.00 am, with the welcome and first presentation at 10.30. With an hour's break for lunch, we will plan to finish at 3.30 pm, which will allow for seven presentations.
The presentations will match the areas that the blog explores—the way the Bible is read and understood within the church, aspects of ministry including preaching, questions of contemporary ethics, and mission strategy and effectiveness. 
If you would like to offer a presentation, please email me on [email protected] with the subject line Festival of Theology or use the contact form, explaining the area you would like to offer a presentation and what you would be wanting to say.
To see the range of things we covered previously, do look through the programme for the first, the second and third festivals. I am sure that presentations will be stimulating and provocative as they have been before—so do feel free to offer something that you think I will disagree with! If there are topics you would like to see covered, please suggest them by commenting below.