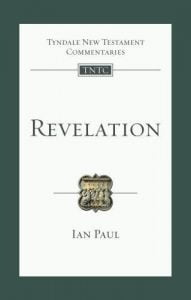 My most recent publication is the Tyndale New Testament Commentary on the Book of Revelation. You can order it from Amazon and other online retailers (make sure you order mine, and not the previous edition by Leon Morris!), or directly from the publisher on the IVP website.
My other recent publications include:
---
The killing of George Floyd, a black American Christian, by a white police officer, has sparked both protests and riots in America, protesting against continued racism in Western democracies—and the protests have come to the UK as well. Church leaders have been fairly prominent in joining their voices with wider protests, not only on racism but on specific issues arising from the foment of controversy that followed, including Donald Trump apparently getting police to clear peaceful protesters with 'tear gas' and 'rubber bullets' in order to hold up a Bible as a claim to the rightness of his actions (something he has done before). (To see how quickly every aspect of media coverage now gets mired in claim and counter-claim, have a look at the evidence of what happened here.)
What do Christians have that they can bring to these tumultuous events? For the most part, it seemed to me that the comments by UK church leaders echoed what others had said—expressing solidarity with those who suffer from the dehumanising effect of racism, longing for justice, and seeking reform. These are vital things to say, but for the most part, focussing on issues of social justice, they offered little that was distinctively Christian, and had little theological content. (By contrast, read some of the statements from bishops of ACNA, and break-away Anglican Church of North America, here and here.)
It might be argued that if you are communicating for a general, rather than church, audience, you need to avoid theological language in order to be heard. Yet including reference to 'God', 'creation', 'Jesus', 'change' and 'hope' hardly high-level theology. And there are several problems with simply echoing the concerns expressed more widely. As one of my black Christian friends commented tersely about the statement from one national church leader: 'Too little. Too late. Too trite.' 
A key danger here is making simplistic observations in what quickly has become a complex situation. The image of a white police officer using lethal force on a black man evokes a long history, particularly in America, of white abuse of black people. But this incident didn't happen in the South, where the worst racial abuses took place in the past. Neither did the police officer concerned have a record of racial prejudice—rather, in his 20 years' service, he had clocked up 19 serious complaints about use of excessive force. And within the police more widely, black officers are just as likely to use excessive force against black citizens as white officers are. So the issue of colour here is entangled with issue of police violence within a wider culture of violence. 
I write a column for Preach magazine, in which I explore a significant word or phrase in the Bible and the ideas that it expresses. The first one was on…