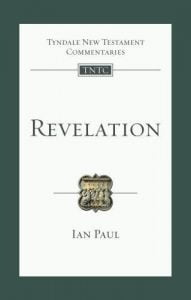 My most recent publication is the Tyndale New Testament Commentary on the Book of Revelation. You can order it from Amazon and other online retailers (make sure you order mine, and not the previous edition by Leon Morris!), or directly from the publisher on the IVP website.
My recent publications include:
---
At the beginning of last week, Matthew Parris let go a broadside at the Church of England, and the way that some of its leaders were taken in by the abuser Peter Ball. He points to the culpability of those taken in by Peter Ball's charm and charisma, particularly focussing on Prince Charles and Lord George Carey, then Archbishop of Canterbury. But he believes that George Carey is guilty of the greater sin, since he must have been privy to greater information that Prince Charles.
I am absolutely sure that the Prince of Wales neither knew nor suspected, and that he would have cared very much if he had…But the former archbishop is a different case. The most we can offer Lord Carey is a verdict of not-proven. Charles's problem was that he knew too little. Lord Carey's is that he knew too much. He had in his possession letters which, even if he had not believed a word of any of them, he should have known raised concerns of such gravity that he was duty bound to refer them on, arguably straight to the police.
Once again the Sunday lectionary points us towards the reading from Acts as an important point of focus in the post-Easter narrative. The reading 'which must be used as either the first or the second reading' is Acts 11.1–18, the final episode in the 'Petrine narrative' which began with Peter healing Aeneas and raising Tabitha at the end of chapter 9, which was last week's reading. After this week's reading, we see the focus shift from Jerusalem to Antioch, which becomes a major centre of the Christian community, sending Paul and Barnabas out on their 'missionary journeys'. Peter makes an appearance in chapter 12 when he is miraculously released from prison (as Paul is too in chapter 16), and gets one mention at the Council of Jerusalem in Acts 15.7—and that is his last appearance in Acts. 
The episode with Cornelius is pivotal to Luke's narrative in Acts, marking the formal admission of Gentiles as Gentiles into what was until now a Jewish renewal movement which hailed Jesus as the (unexpected) Jewish Messiah. This move has been adumbrated first in the response of Samaritans to the good news, brought by Philip in Acts 8.4, and in Philip's further ministry to the Ethiopian official ('eunuch') in Acts 8.26f. This man appears to have been a 'God fearer' since, though not Jewish, he has 'come to Jerusalem to worship' (Acts 8.27). Here, faith comes to those groups immediately adjacent to the Jewish nation, but the flood of the good news is about to burst even these banks. The importance of the Cornelius incident is shown by Luke's recounting it, then recounting it again in Peter's first speech, and again now. Luke appears to communicate the importance of events by including detail and repetition—and so we later hear several accounts of Paul's 'conversion' as well, signalling the importance of that incident in the spreading of the good news about Jesus.