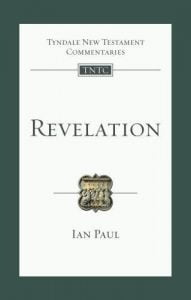 My most recent publication is the Tyndale New Testament Commentary on the Book of Revelation. You can order it from Amazon and other online retailers (make sure you order mine, and not the previous edition by Leon Morris!), or directly from the publisher on the IVP website.
My other recent publications include:
---
Andrew Goddard writes: This is the third of three articles exploring responses to Living in Love and Faith, particularly among evangelicals committed to the current teaching and discipline of the church. The first piece engaged with the recent detailed account and critique of LLF offered by Martin Davie arguing that his primary objection is that LLF fails because it was wrong to do what it set out to do. The second article examined and rejected the claim that LLF is designed in order to move the church to an "agree to differ" position. In contrast it highlighted how the resources help us to recognise where and why we disagree and in so doing also showed the potential significance of our differences and their possible implications for our common life. This final article offers ten questions that might help constructive engagement with the LLF resources.
Martin Davie's critique of LLF risks creating a situation in which evangelicals either refuse to use its resources or do so very reluctantly and critically, not understanding their rationale and purpose. Despite his overwhelming negative assessment, Martin rejects the first of these options – "those in the Church of England who continue to accept orthodox Christian teaching and practice need to engage with the LLF material". However, he gives limited details as to how this should be done, concluding by saying that such engagement requires "acknowledging its strengths, explaining its weaknesses, and giving the clear Christian teaching about sexual identity and behaviour that LLF fails to provide so that the Church is properly informed by the time there are votes in General Synod". His book gives a little more detail, calling on those who hold the traditional view to explain the beautiful story (referring to CEEC's film), be people of truth and love, be realistic about the future, and be people of prayer (Living in Love and Faith: A Biblical Response, 173-82). The danger is – particularly given the relative weighting of strengths and weaknesses in his account – that such engagement will appear defensive or belligerent.
In what follows I want to sketch some ways in which I think we can engage much more constructively with LLF materials and with one another across our differences when we use those materials. These take the form of ten questions we can ask of ourselves and of the wider church. Although coming from a traditionalist perspective, and at times making that explicit in my commentary and more specific examples, I hope that these questions (adapted where necessary) might be of wider use and enable people of other perspectives also to engage better with LLF and to express their own current understandings and concerns within the process this year.
1. What can we learn from these resources and what new insights might be possible if we engage with them together as a church without denying our own clear commitments?
LLF offers the church teaching and learning resources. As such it remains in one sense a teaching document but it is such in the form of a learning journey. Its various materials draw on multiple disciplines to enable us to reflect together. Its focus is not primarily on specific contentious questions but more on deeper concerns such as what it means to be human and to be church. It seeks to give voice to a range of different perspectives and thus enable everyone to hear their own views – and then perhaps elaborate on those themselves – and the views of others which they may not always have listened to carefully or fully understood. Wherever we are on the spectra of views on the range of issues discussed, unless we are convinced we already have possession of the truth, the whole truth, and nothing but the truth, the resources give us opportunities to learn and new insights are often gained by listening carefully to the views of those with whom we disagree.
Justin Thacker writes: A fundamental principle of biblical justice is that we are all equal before the law. The book of Leviticus reminds us: 'Do not pervert justice; do not show…