The second Festival of Theology will be taking place on Wednesday 17th October in Nottingham from 10.30 am to 3.30 pm.
Come and listen to our fantastic speakers address some vital questions for Christian living, mission and discipleship in TED-style talks, with the opportunity to ask questions and interact.
Details of the programme and speakers can be found in this post. Book your ticket online here. See you there!
---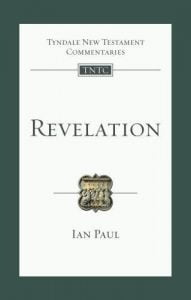 My most recent publication is the Tyndale New Testament Commentary on the Book of Revelation. You can order it from Amazon and other online retailers (make sure you order mine, and not the previous edition by Leon Morris!), or directly from the publisher on the IVP website.
My recent publications include:
---
In 2007 the local BBC TV station did a feature on Nicola and me as the youngest clergy couple in the Church of England. Fortunately the footage has since been lost! But what was still quite rare in 2007 is now the new norm – at least for women in training. Apparently 60% of women who are ordained will be in a clergy couple, Emma Ineson reported at the New Wine Clergy Couples gathering, (although when she tried to check this statistic with the CoE they said that they don't keep those figures). Given that some ordained women will be single, this means that a very high proportion of married ordained women clergy are married to ordained men—and the converse is not true for ordained men.
This blog explores some of the opportunities and issues this raises, based on extensive conversations with clergy couples, seminars at New Wine and on-line engagement.
Included are: Training; power dynamics; corporation sole; job-sharing and job switching; couples working in different contexts; remuneration, including the variation in remuneration between different dioceses and the issues that causes nationally; local possibilities for remuneration and team/cluster ministries. It highlights how dioceses known to be couple-friendly might mitigate some of their recruitment problems through some creative thinking, encouragement and engagement.
How should we respond to forecasts of the end of the world and a coming apocalypse? Will there be a 'tribulation' and a 'rapture'? And what does the Bible really say about the end of the world and the return of Jesus?
These questions keep swirling around—but it is not always easy to find sensible answers. 
In this accessible study morning, we will look carefully at the teaching of Jesus, Paul and others in the New Testament to see what they really thought. It turns out that expectation of 'the end' was important to the first followers of Jesus—but in ways very different from what we might find in the latest Hollywood blockbuster.