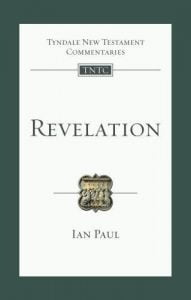 My most recent publication is the Tyndale New Testament Commentary on the Book of Revelation. You can order it from Amazon and other online retailers (make sure you order mine, and not the previous edition by Leon Morris!), or directly from the publisher on the IVP website.
My recent publications include:
---
Following the success of our first two Festivals of Theology last year, I will be hosting a third Festival of Theology on Tuesday 8th October 2019, once again at Christ Church, Chilwell. Come and listen to great speakers address some vital questions for Christian living, mission and discipleship in TED-style talks, with the opportunity to ask questions and interact.
The formal programme will start at 10.30 am and end at 3.30 pm, but there will be coffee from 10 am, and you will be very welcome to stay on for further conversation and engagement. The format will be fast moving, with presentations of 15–20 minutes and time for questions at the end of each one. There will be tea and coffee on arrival and at the close, and a light buffet lunch is included. Tickets can be booked through this page on Eventzilla or by clicking below; the ticket price of £18 is designed to cover costs but nothing more; anyone in Church of England licensed ministry can claim the cost back as part of their CME allowance. Parking is in the nearby streets, and there are disabled parking spaces outside the back door of the church building in College Road.
What's the best theological book you have ever read? Something by Barth or Bonhoeffer? Aquinas or Calvin? Luther or Spurgeon? Rowan Williams or C S Lewis? Mine is a novel published 15 years ago, written by a middle-aged American woman and called simply Gilead.
Gilead is a single, relatively short and deceptively simple book writer and academic Marilynne Robinson. It was published in 2004 and is her second novel, following on from 'Housekeeping' in 1980. I don't know whether it took her all of those 24 intervening years to write but if it did it was quick work and time well spent.
The novel takes the form of an extended letter, written in the first person singular by an elderly and ill church minister, The Rev John Ames, to his young son. The narrator, cognisant of his failing health, wants to leave the boy some advice, some autobiography, some aperçus – a kind of legacy in letters. Three key numbers are established early on. The first is the date. The book is set in 1956. The Cold War, nuclear weapons, race relations and television are all hot topics in America. The second is John Ames's age. He was born in 1880, so he's 76 years old. He looks back on the First World War and the Depression with first-hand experience and delves deeper into his family history with stories of his father and grandfather from the Civil War and the abolitionist (anti-slavery) movement of the nineteenth century. The third number is the age of his son: the unnamed boy is seven years. He remains anonymous despite (or perhaps because) he is the recipient of the work, the intended reader.
Other characters appear in passing and are filled-out in a gradual way that reveals their relationship with Ames and their personalities as perceived by him. Ames is subjective but also self-reflexive, a reliably unreliable narrator or perhaps an unreliably reliable one. Chief among the cast are his wife (and the boy's mother) Lila, much younger than Ames of course. Then there's Boughton, Ames' oldest and best friend, and a fellow pastor at another church across town. The two old ministers have a kind of friendly feud, a theological duel that has been going on for decades, but the love and affection them is undeniable. Finally, there is Jack, properly called John Ames Boughton. He is Boughton's wayward son, named for his father's best friend, our narrator, after Ames' own wife and daughter died, leaving him widowed and childless – at least until Lila entered his life a decade or so ago.