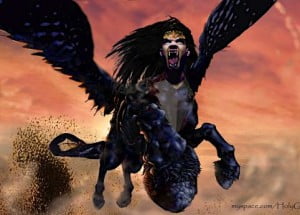 I've just been writing some Bible-reading notes for Scripture Union (due out next year) on the first half of Revelation. It has been quite a challenge to writing something accessible and devotional on this complex text!
In fact, the first few chapters were not too bad. There is much to say about the opening section, and the vision of Jesus it presents. The messages (not 'letters'!) to the seven congregations (not 'churches'!) also have plenty of scope for devotional reflection—perhaps more easily than any other part of the book as a whole (excepting ch 21), which is why I guess there is so much written on them. The visions of worship in chapters 4 and 5 are also relatively easy to engage with, though perhaps not in the way many people think—the blending of imagery from the OT with contemporary images from Emperor 'worship' offer a specific challenge to us. The saints under the altar in chapter 6 offer a way into this section, and chapter 7 gives an extended reflection on what it means to be the people of God—disciplined as an army, suffering in combat, but praising God not so much for what God has done or is doing but for what God will do. (Warning: book coming on this one day!).
And then we reach chapters 8 and 9. What do you do, devotionally, with hideous, war-mongering locusts with women's hair and human teeth, clanking and rattling their iron breastplates? How will these help you to live for Jesus today? (A clue: this is not a futuristic vision of attack helicopters, as some would have you believe.)
I have been helped by going back to a number of commentaries—Caird, Boxall, Beale, Mounce—and I have previously spent quite some time dwelling in some of these passages. But I was particularly helped by what I would call the critically-informed theological reading in Craig Koester's Revelation and the End of All Things. What is interesting about this book is that it includes some introductory comments, but then goes on to offer a reading of each section of the text—not in a verse-by-verse format you would find in a commentary, but looking at the issues, the flow of the text, and how we might make some sense of it. Koester also has a great style of writing.
The opening observations about the structure of these two chapters caught my eye:
With each successive scene, disaster strikes earth, sea, and sky, until the demonic hordes of locusts and cavalry torment humanity amid clouds of fire, smoke, and sulfur (8.7–9.21). The cycle is all the more ominous because the destruction unfolds in a relentlessly measured way. the effect is something like an orchestral performance in which the strings scrape dissonant chords while woodwinds shriek, trumpets blair, and cymbols crash in what seems to be wild discord—except that all the players move to a steady beat that is set by the conductor's hand: one, two, three, four… (p 93)
I love this metaphor, and it captures well the theological tension in the text reflection by the juxtaposition of literary structure and symbolic chaos. God is in control—and yet, within this, the chaotic forces of evil appear to be shaping the world.
In relation to chapter 9, Koester highlights really well the feature of the 'macro-structure' of Revelation: the alternation between the heavenly scenes of peace and order, and the earthly scenes of chaos and destruction. (This is the main reason why the lectionary selection of passages does not work; it picks out mostly one kind of scene, the heavenly, and the significance of this is lost when such scenes are no longer contrasted with their earthly counterpoints.)
Revelation depicts life under two forms of rule. The vision of the heavenly throne room in Revelation 4–5 showed a rightly ordered universe, in which creatures offered praise to their Creator and to the Lamb, who are worthy of power. But in Revelation 9, grotesque figures create a demonic parody of the created order, showing what conditions are like under the lordship of the king of the underworld, whose names Abaddon and Apollyon mean Destruction and Destroyer (9:11). Each of the winged creatures that attended the Creator had its own distinct face, one with a human face and another with the face ofa lion, etc.; but the winged beings that accompany the Destroyer have a hideous collage of traits: lions' teeth protrude from human faces, while in front their chests are plated with iron and in back they have tails like scorpions. Where the elders in the heavenly throne room cast their crowns before God as they raised a harmonious song of praise (4:10-1 1), the demonic locusts continue to wear crowns on their heads as they raise a pounding and clanking roar, like chariots going into battle.

The judgment depicted here is not direct divine punishment, but a revelation of what it would mean for God to hand over the world to other powers…(p 100)
Koester here nicely draws out the way that, in Revelation, literary structure is a key bearer of meaning. And his reading is theological, in the sense that this last phrase helped me make connections with Paul's language of 'handing over' in Romans 1.24 and elsewhere. He also highlights the allusion to OT images (of locusts, plagues and the like), and would want to add in echoes of things in the first-century world, such as the 'blazing mountain' reminding readers of the eruption of Vesuvius.
This does not solve all the problems and challenges of Revelation, especially with the violence of its imagery. But it reminded me of the depiction of evil in Lord of the Rings by J R R Tolkein. Interestingly, Tolkein's vision was less an indulgence in fantasy as an expression of the reality of evil that he had encountered in the death and destruction of the Western Front in the First World War.
---
My notes are coming out as part of Encounter with God for May 2015; you can order these and others from the Scripture Union website.
You might also be helped by my Grove booklet on How to Read the Book of Revelation.
And Koester has also been key in developing Luther Seminary's free resource Enter The Bible. It is a great way of getting a good overview of the whole Bible, with explanation, comment, and some short video clips.
---
Much of my work is done on a freelance basis. If you have valued this post, would you consider donating £1.20 a month to support the production of this blog?