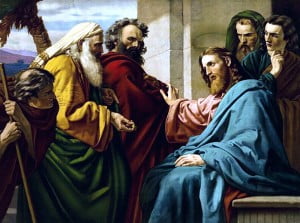 I am preaching tomorrow on the lectionary reading, Mark 10.2–16, as many of you will be—and I feel not a little intimidated by the challenge. It feels though there was a time when reading and preaching on this passage was a lot more straightforward than it feels now. (Life as generally a lot less complicated 10, 20 [insert your chosen figure] years ago.) But both halves of the passage have been given a hard time by our culture.
The first half, Jesus' teaching on divorce, has with many passages been dragged into the debate about sexuality—doomed planets of exegesis circling a black hole of ethical quandary. Jesus' teaching here is plain (it is claimed), and the churches have equally plainly disregarded it, since either we don't practice what we preach when it comes to submitting to the moral teaching of the NT, or because we rightly see that changed social circumstances mean that the plain teaching of the Bible can no longer be applied in our context.
The second half, Jesus' welcome of children, has also been coloured by this debate: his apparently unconditional acceptance of children means that the only response we can offer people is an equally unconditional welcome, no questions asked. Any suggestion of putting up barriers or getting people to 'jump through hoops' of attendance at church or affirmation of belief is a contradiction to Jesus' radical message of unconditional grace. On the other hand, culture has dealt this passage quite a different blow, since we no longer appear to believe in children as children—only as mini-adults who are nascent units of consumption. They don't need to be protected from any issues in the adult world (how patronising would that be)—they just need to be properly educated about them, at as early an age as is needed.
Can we still hear these passages speak to us through the contemporary clamour? Yes, I think we can, if we sit quietly for a moment, determined to hear what they have to say to us.
---
The first thing I notice is that both episodes form a kind of test. Mark tells us this explicitly in the first half: the Pharisees ask him the question to 'test' him, the same word used of his being 'tempted' or tested in the desert at the start of his ministry. It Matthew's account (Matt 4.3) Satan is characterised as 'the tempter' or 'tester', which is actually not a bad translation of the Hebrew term satan. Woe to us when, like the Pharisees, we use the real pain of other people as a testbed on which we can work out our theological ideas. And yet these questions often come to the church as exactly that—tests to see whether we conform to the accepted standards of autonomy, free choice and the right to happiness which are often held up as the highest good.
But the second striking thing is the one most celebrated in this passage. Jesus dismisses the lax teaching of Moses, given 'because of your hardness of heart', and points the Pharisees to the original creation teaching. At first, this sounds unquestionably virtuous; God's intention has been spoilt by human failure, and Jesus comes to restore God's original, pristine pattern for our human flourishing. Except that this is not the way this text has been applied so often. Let me put it another way. God's command was too demanding in reality for people to keep, and so Moses introduced a concession to our real lives in order to make this command workable. Jesus has now come along and removed that concession. Understood in this way, Jesus is a lot less gracious and welcoming of human weakness than Moses—and that is how many people have in fact experienced the church's teaching in this area, lacking in grace and understanding, and without any accommodation of failure. It feels though Jesus' teaching is too hard, and with many of his followers at the time, we might be tempted to ask 'Who can accept it?' (John 6.60).
To answer this question, we need to look at the parallel account in Matthew 19. (The gospel writers offer us only condensed and edited accounts of Jesus' ministry and teaching, and they often abbreviate in different ways to make different points.) The TNIV of Matt 19.3 draws out the issue rather nicely: 'Can a man divorce his wife for any and every reason?' The question is less about divorce in itself, and more about rabbinical debates between the followers of two influential rabbis, Hillel and Shammai. The House of Shammai held that a man may only divorce his wife for a serious transgression, but the House of Hillel allowed divorce for even trivial offenses, such as burning a meal. Jesus is here clearly siding with Shammai; he is not making marriage the absolutely binding, indissoluble thing that Mark's text has been used to create, and Matthew makes this quite clear. (It is worth noting, though, that Mark 10.12 adds a liberality that Matthew omits from Jesus's teaching—the assumption that a wife might divorce her husband, so divorce is no longer a male prerogative.) He is making marriage something that involves serious responsibilities, and should not be entered into 'lightly or selfishly but reverently and responsibly in the sight of almighty God' says the C of E marriage service.
Now we can see the 'hardness of heart' that Jesus was rejecting. It is not that Moses was making impossibly idealistic teaching realistic. It was that he was pandering to men's (note the gender) inability to take their responsibilities seriously. Divorce, even if for 'good' reasons, is desperately damaging and demanding, and should never be treated trivially. In particular, in Jesus' culture, divorce was an instrument of male power over women, who depended on their husbands for provision and protection. Jesus is not being indifferent to the struggles we face, but it attending to them. Perhaps Jesus is being more gracious than Moses after all—but it is a grace which holds us accountable for our responsibilities.
---
That leads us to the second half of the reading. It is fascinating that Mark (and Matthew) keep these two episodes together, though I am not sure if there are any clues in the text as to why they do it. But for us, it is fascinating because it offers us the other side of the coin of grace—God's costly welcome of people who haven't achieved anything to warrant it. There is lots of popular speculation about what virtue children have that makes Jesus accept them—they are so innocent, so cute, so trusting, so unspoilt. In my experience five minutes in any primary school play ground puts such thin illusions to flight—and they miss the point of the passage. Jesus welcomes the children precisely because they do not have any virtues to commend them. For first century Jews, children didn't really count until at age 13 they could take on the 'yoke of the law' and become a son of the commandment(s), bar mitzvah. And for first-century pagans, children counted even less. Until they could speak, they had no reason (logos), and were generally thought to be expendable, hence the widespread practice of infanticide.
This is to whom the kingdom comes: those who do not have any virtue to deserve it. This is grace. And we are to receive the kingdom as children—not as wide-eyed, open-faced and trusting (though that might not be a bad thing) but as recognising that the kingdom has come to us not because of any virtue that we possess, but simply that God has set his love on us, poured his love into our hearts by his Spirit (Rom 5.5).
There's something else important tucked away here which we might not notice on a first reading. Jesus has business to get on with, and no doubt the disciples were keen to help him keep on message and on his agenda. Yet, as elsewhere in Mark, Jesus is happy to be distracted from his agenda by the people in front of him. To attend to children is costly; it means leaving what you think it important and attending to what they think is important. It means dethroning the self and placing another at the centre—which at times we find so difficult. And yet this is what God has done for us. He has sacrificed himself in order to be able to welcome us. In the OT pattern of things, to be right with God I needed to take time out, go to the temple and provide a sacrifice. In the NT pattern of things, God is the one who has taken time out; he has become the temple (Rev 21.22); he has provided the sacrifice.
---
We are now left with a quandary. Is the gospel free and gracious (as Jesus teaches the disciples) or costly and demanding (as Jesus teaches the Pharisees)? Is there a way that it can be both? I am still thinking about this—and I suspect I will go on doing so. But my own experience says 'yes'. On the one hand, I am very aware that I came to faith not because I deserved anything, but simply because God invited me to know something of his love and acceptance. But I also know that the invitation to 'Come, follow me' has meant leaving behind things I was fond of, walking a path that I might not have chosen, and painfully confronting my own failures and responsibilities. Through this, I am pretty sure it has meant living a different life to the one I would otherwise have done, and Jesus calls this 'Life in all its fulness' (John 10.10).
It can be something of a cliché to say that God loves us as we are, but loves us too much to leave us as we are, but I think it is true. God offers us an open invitation, with no preconditions. But it is an invitation to be changed and transformed, walking in a new way of life that might turn out to be more than we can ask or imagine.
---
Follow me on Twitter @psephizo
---
Much of my work is done on a freelance basis. If you have valued this post, would you consider donating £1.20 a month to support the production of this blog?