The gospel read for Trinity 3 in Year A of Matt 10.40–42 is perhaps the strangest choice in the whole lectionary—at only three verses! And yet this short passage has some really significant features that offer enormous potential for reflection:
a. They are very clearly structured as a unit, with an opening and matching conclusion, and a set of three parallels embedded.
b. They are almost without equivalent in the other gospels, though the concluding phrase is found in the debate about 'other exorcisers' in Mark 9.38–41—and yet the theological idea here is found throughout the NT.
c. They have an important function in drawing together, rounding off, and to some extent qualifying Jesus' teaching on mission and testimony in the earlier parts of chapter 10.
d. They articulate, in narrative form, the equivalent of a Pauline 'theology of the body of Christ', which is a distinctive perspective of this gospel, and is key in reading some of the later passages.
Let's look at each of these in turn together!
---
First, consider the structure. The pair of sayings in verse 41 take the form of general proverbial maxims, and are parallel to one another, as well as each including the parallel of 'receiving'. The opening and closing sayings, though, which introduces and conclude the section, are framed in personal terms, addressed to 'you' (plural) that is, the disciples who have been sent out on mission (an event that is rather left hanging) and who will, in due time, face severe pressure for their testimony.
Here is the text set out to reflect these patterns: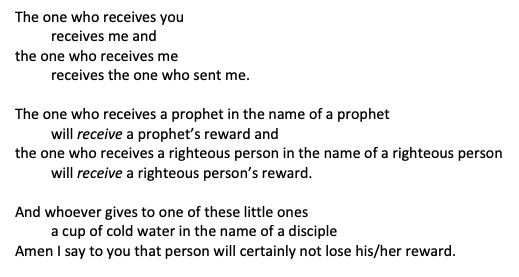 The opening sentence has the 'step-stair' structure that we find in the prologue to the Fourth Gospel: 'receives you/receives me/receives me/receives the one sending me'; compare 'In the beginning was the Word/and the Word was God/and God was the Word…In him was life/and the life was light/and the light shines…' (John 1.1, 3, following the word order of the Greek text).
English translations vary in the way they render the key, repeated term that I translate here as 'receive'. The verb dechomai is quite general—but it needs to be read here in the light of its use earlier in the chapter, when the language of 'receive' in Matt 10.14 clearly has a sense of 'welcome and offer you hospitality' (expressed in the negative).
The central proverbial sayings use the slightly odd idiom 'receive a … in the name of a …'. Again, English translations vary, but it is clear that the sense here is that the person is being received, welcomed and offered hospitality because they are known to be a prophet, righteous person or (in the final saying) a disciple of Jesus.
The word used of 'receiving a reward' is not the same term, but a synonym lambano; it is not unusual in the teaching of Jesus for sayings to be repeated but with synonyms. Overall the effect is to make these sayings very easy to remember and repeat. I suspect you can already repeat this passage from memory and without making a mistake—have a go! (Because of the pattern, learning it from a more word-for-word translation is actually easer than learning it from a paraphrase or dynamic equivalence translation.)
The double parallel of 'prophet in the name of a prophet' and 'righteous person in the name of a righteous person' sets up our understanding for the final, slightly extended parallel, 'one of these little ones…in the name of a disciple', which makes it clear that, as elsewhere, 'little one' and 'disciple' are synonymous. As we can see from Jesus' use in Math 11.25, 'little one' does not denote a special subgroup; all disciples are 'little ones'. The picture above of a little girl receiving a cup of water is a metaphor for every follower of Jesus.
There is no sense here of a progression of 'rank' from 'prophet' to 'righteous' to 'disciple'; these terms are elsewhere used interchangeably, and the fact that the section starts and ends with direct reference to Jesus' disciples contradicts any sense of ordering. Although 'prophet' is a less common term at this stage in the story than it will become in Acts and Paul's letters (and in teh gospels the term mostly refers to John the Baptist and Jesus himself, for example in Matt 11.9), Jesus does talk about sending his prophets out in Matt 23.34, and he has already talked about the experience of his followers as parallel to earlier 'prophets' (Matt 5.11–12).
---
In terms of its content, the opening saying includes two significant theological ideas—the notion that responding to Jesus' disciples is tantamount to responding to him, and the notion that responding to Jesus is tantamount to responding to God himself.
This double sequence of disciple—Jesus—God is found in the sayings about welcoming a child (as a counter to the disciple's dispute about greatness) in Mark 9.37 and Luke 9.48, as well as Jesus' comment about judgement in the context of the return of the Seventy (Two) in Luke 10.16. But, as I have noted in other discussions, we tend to think of this as a distinctively Johannine idea, and it is articulated very pointedly (in one of Jesus' double Amen sayings) in John 13.20. The identification of response to Jesus with response to God has been seen earlier in the Fourth Gospel, in John 5.23 and John 12.44–45.
But the identification with the community of 'little ones' with the presence of Jesus is also found in the teaching about the ekklesia, the community of disciples, in Matt 18.5 (the receiving of a child) and in the key statement that 'where two or three are gathered, I am there with them' (Matt 18.20). And, even more significantly, we see exactly the same phenomenon in the so-called 'parable' of the sheep and the goats in Matt 25.40. How people have responded to 'the least of these'—a term that must refer to Jesus' disciples, and not to the poor in general, is understood as how they respond to Jesus himself.
These 'representative' sayings do make sense in the context of Jesus' ministry as it is recorded; the idea that Jesus has been 'sent' by the Father, and Jesus' 'sending' of his disciples both have weight.
Underlying such sayings, with their repeated reference to being 'sent', is the principle later enshrined in the Jewish legal institution of shaliach, the 'one sent', an ambassador or representative who was understood to have the full authority of the one who sent them (m Ber 5.5, 'a man's agent is himself') (France, NICNT, p 413).
But of course, as Matthew is writing from a post-resurrection and (more importantly!) from a post-ascension perspective, the physical absence of Jesus, anticipated in his physical absence as the disciples depart on the mission that he has sent them, transforms these sayings into something more substantial. The departure of the disciples to take the presence and authority of Jesus into the places where he is not (yet?) physically present himself anticipates and is a metaphor for the mission of the post-ascension church, sent out into the world that Jesus is (no longer, and not yet) physically present until he returns. In that 'in between' time, Jesus' disciples carry his presence and bear his authority.
---
It is worth noting how this final section holds together the earlier teaching on mission, and the nuance that it brings to our reading of it.
The first part of chapter 10 has recounted the names of the Twelve, and Jesus' specific commission to them on a particular occasion, sending them into the remaining towns of Galilee in order to complete his ministry there, taking his presence and power into places he is not physically present.
But, as part of Matthew indicating that this is not simply an historical point of interest, but in fact offers a paradigm for wider Christian mission, his account then blends (from Matt 10.16) into Jesus' more general teaching about mission, testimony and persecution, which has clear pointers to the period after Jesus' ascension and the later mission of the early church.
By and large the first, specific part is more positive, and the second, general part is more negative. After additional, related teaching about the relationship of servant and master, whom it is right to fear, and Jesus' ministry bringing division, this final section ties it all together—and ends on a more positive note, focussing on those who do receive Jesus' ambassadors as genuinely having an encounter with God himself.
The language of 'reward' might at first seem trivial—but it is a prominent idea in Matthew, and is integrally connected with eternal destiny, being contrasted with 'punishment'. The 'reward' for faithful discipleship is set against the futility of those who parade their 'righteousness' throughout the Sermon on the Mount (Matt 5.12, 5.46, 6.1, 6.2, 6.5, 6.16). But the sharpest contrast comes in Matt 25.31–46, where the 'reward' is spelled out as 'the kingdom prepared for you from the foundation of the world', and 'eternal life' contrasted with the 'eternal fire' reserved for those who have turned the 'little ones' away.
But this conclusion to the 'mission' teaching introduces and important differentiation. Although the principles of mission appear to be universal, in practice there will be those who are itinerant and boundary-crossing in their actual, physical circumstances, and those who are settled, offering hospitality and effective mission by their partnership with those who are itinerant. Both together receive the same reward.
---
If the presence and power of Jesus are made real in his followers, now that he is physically absent, then this and related passages in Matthew are the equivalent of Paul's teaching on Christians as constituting the body of Christ, and being 'in Christ'. 'God himself enters houses with Jesus' messengers. What a statement!' (Jeremias, Theology, p 238 cited in France NICNT p 413). There are some important practical consequences to note.
First, we need to remember that the presence of Jesus in and with his disciples is consistently described in relational, and not institutional, terms. It not about 'salvation being found in the Church alone' as institution, as some Catholic theology has expressed it from time to time, but that the relational presence of Jesus is made real in the relational presence of his people. Jesus' presence in the 'church' is not to be closed off and protected, but to be connected with the world around through relationships.
Secondly, it also implies that, in one sense, there is nothing for us to 'do' to make this real. We are temples of God, and the priestly presence of God, simply by being disciples of Jesus and filled, daily, with his Spirit. This ministry of presence and power is just part and parcel of what it means to be in Jesus, and to have his presence in us.
Thirdly, though, in contrast, if people's response to Jesus is indicated by their response to us, then we had better look as much like Jesus as we can! It is no accident that this apparently effortless depiction of Jesus' presence through us comes at the end of a chapter which began with the commission of those Jesus sent to 'cast out unclean spirits, heal every disease, and proclaim the kingdom'. There is work to do!
Finally, we need to note that we bring both blessing and judgement. We are to be salt and light; we are to be light shining in the darkness; we are to bring blessing to the world around us. But that world will not always receive these blessings, and it refuses them at its peril.
And whatever we do, we do it not in our own authority, but as 'little ones' sent by Jesus and bringing his presence and power with us.
---
If you enjoyed this, do share it on social media, possibly using the buttons on the left. Follow me on Twitter @psephizo. Like my page on Facebook.
---
Much of my work is done on a freelance basis. If you have valued this post, would you consider donating £1.20 a month to support the production of this blog?