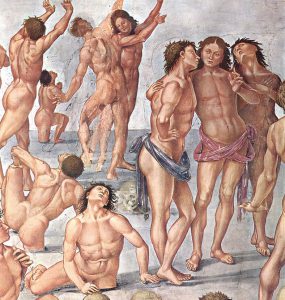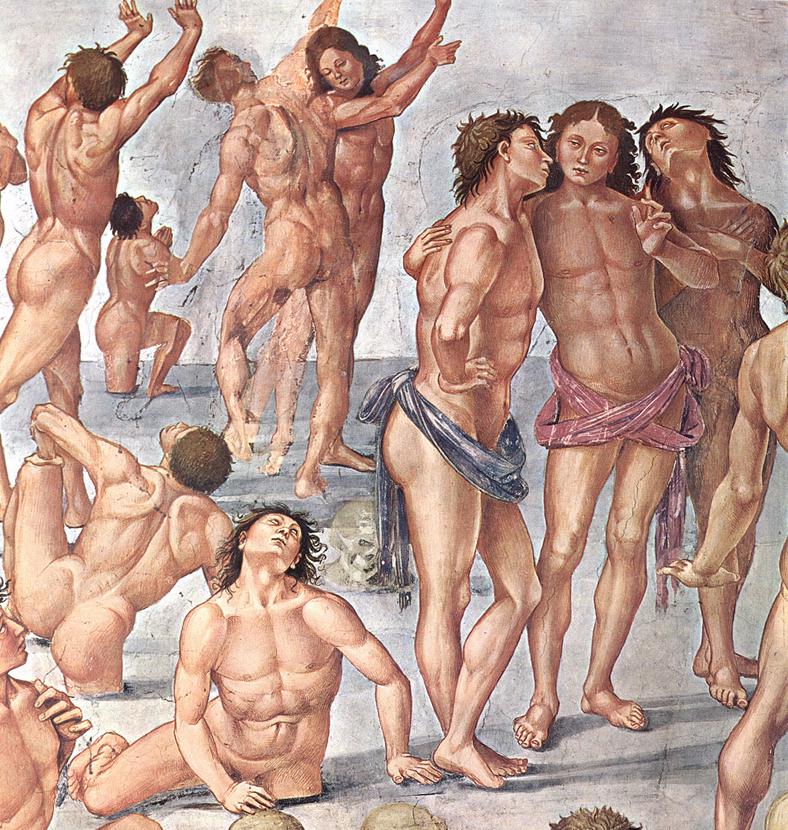 In recent debates about the meaning of marriage, one area of speculation has been whether our differentiated sex identity as male and female (this is biological sex identity, not 'gender' as it is often called, which, properly understood, is about social constructions of masculine and feminine identity) will persist into the new creation. Two people in particular have raised this issue. Robert Song, in Covenant and Calling, questions the logic of sex difference at the centre point of his argument:
Sexual differentiation is therefore justified within marriage, but it is only justified because marriage in creation is oriented to procreation. There are no other grounds can provide the theological weight needed to require that marriage be sexually differentiated. However, this also implies that if procreation is no longer eschatologically necessary, Then there are no grounds for requiring all committed relationships to be heterosexual (p 48).
I don't agree with his dismissal of 'other grounds', but the point he is making here is that, if procreation is not needed in the new creation, neither will sex difference, and if sex difference is not a feature of the new creation, then to the extent to which we live out that new creation in the here and now (2 Cor 5.17) then we should be less concerned about it, and indeed can dispense with it as a feature of covenant sexual relationships akin to marriage.
A slightly different perspective comes from Mike Higton (also of Durham) in his essay in the book Thinking Again About Marriage. After reviewing two recent C of E reflections on marriage, he comments:
The aspects of this theology that I am most readily able to affirm are its insistences that to live well involves responding attentively to our bodiliness, and that we are not bodily in the abstract but always as particular sexed bodies. We receive that particularity, that differentiation, as a gift from God. (p 20)
But he goes on heavily to qualify this. The terms he uses are concerned with redemption, but this must (at least implicitly) include the fall, since without the fall there is no need for redemption.
We are not simply called…to live in attentive response to our bodiliness, but to live in attentive response to our bodiliness in the light of God's love for the world in Jesus Christ. Christian ethics, then, is not simply conformity to creation but about creaturely participation in redemption.
I find it interesting that this is precisely the context for Paul's currently most contentious comments on same-sex sexuality, in Romans 1 and 1 Cor 6.9—the fallenness of humanity and its need for redemption, and the participation in the kingdom of God now as an anticipation of the eschaton—though Higton's direction of movement appears to be different from Saint Paul's.
---
How might we engage with this question? The key text that is consistently turned to is the debate between Jesus and the Sadducees about the possibility of bodily resurrection in Mark 12.25 = Matt 22.30 = Luke 20.36 which includes the key phrase 'they will be like the angels [in heaven]'. The issue is: what does Jesus mean by this phrase? There are five things at stake here in relation to post-mortem existence, and it is important to identify them and tease them out, since they are often collapsed together in discussion:
Will we have bodies rather than living a disembodied, 'spiritual' existence?
If we do, will those bodies have continuity with our present bodies in being sex differentiated?
If they are, will bodily sexual expression be part of post-mortem life?
If it is, will that lead to procreation in any form?
As a result, will the institution of marriage persist into the new creation?
To see some of the possible answers to this, it is worth reading an answer very different from Jesus, from the Jewish midrashim (which probably originate from a similar period):
All the orifices [of the body] will spew out milk and honey, as well as an aromatic scent, like the scent of Lebanon, as it is said: "Milk and honey are under your tongue, and the scent of your robes is like the scent of Lebanon" (Song of Songs 4.11). And "like seed" which will never cease [to flow from the bodies of the righteous] in the world to come, as it is said: "He provides as much for His loved ones while they sleep" (Ps. 127.2), and friends are none other than women, as it is said: "Why should my beloved be in my house?" (Jer. 11.15). Each righteous person will draw near his wife in the world to come and they will not conceive and they will not give birth and they will not die, as it is said: "they shall not toil for no purpose" (Is. 65.23)…. and they will come to the world to come with their wives and children. (Midrash Alpha-Betot, Batei Midrashot, II, ed. S. A. Wertheimer (Jerusalem: Mosad ha-Rav, 1980), 458)
This is the kind of 'mundane' vision of life in the new creation which Jesus is rejecting. Ben Witherington, in his commentary on Mark, believes that whilst Jesus is rejecting 3 and 4 in our list, he is not rejecting 5, in that existing marriages will persist, but new marriages will not take place. The problem with this view is that it is precisely existing marriages (between the woman and her seven brothers) about which the Sadducees are questioning Jesus! And his response is clear: these will not persist.
---
So what is Jesus saying about sex identity, if anything? First, it is worth noting that angels in the Bible appear to be consistently male (rather than sexless) and in Genesis 6 this is particularly clear. Secondly, and possibly surprisingly, this exact question was a major point of debate in the early church Fathers—and their answer is unambiguous. Drawing on this text in particular, and more widely on the fact of Jesus' and Paul's singleness, they see virginity as an anticipation of the resurrection life. Cyprian of Carthage comments:
What we shall be, already you have begun to be. The glory of the resurrection you already have in this world; you pass through the world without the pollution of the world; while you remain chaste and virgins, you are equal to the angels of God.
But what is really fascinating in the patristic writings is the way that they frequently move from the question of resurrection life and virginal existence (encouraged not least by Rev 14.4) to the question of the bodily organs, including sexual organs. They appear to face a very similar kind of reductum ad absurdum argument to the one that the Sadducees present to Jesus: if we are to be raised bodily, and if we are going to do without sex in the resurrection, what is the point in having sexed, differentiated, sexual organs? The answers given are unambiguous. Both Pseudo Justin and Tertullian argue that, if having sexual organs does not unavoidably lead to sexual intercourse in this world, it will certainly not do so in the world to come. Jerome also argues that the resurrected ones will not cease to be human and the difference of sex will also remain.
If the woman shall not rise again as a woman nor the man as a man, there will be no resurrection of the body for the body is made up of sex and members.
In other words, in our list of five issues, they see items 1 and 2 firmly fixed together; the idea of the loss of sex difference, evidence in the bodily organs, is one small step from a rejection of bodily resurrection. But there is a line drawn between these two and the last three (sexual relations, procreation and marriage) which also belong together.
---
There is a fascinating parallel here with contemporary debates about disability, and whether disabilities which are seen to shape self-understanding and identity will persist into the resurrection. This is especially important for those who wish to resist a 'medical' understanding of disability, which will then be 'healed' in the resurrection. Nancy Eiesland, in The Disabled God, comments:
The resurrected Jesus Christ in presenting impaired hands and feet and side to be touched by frightened friends alters the taboo of physical avoidance of disability and calls for followers to recognize their connection and equality at the point of Christ's physical impairment.
But if Jesus takes his bodily wounds into the resurrection life, then by the same logic he surely takes his bodily organs (both sexual and digestive) into this life. Luke 24 tells us that he ate fish, and John 21 that he cooked some for others; Augustine's symbolic reading of these texts need not detract from their more obvious significance that resurrection is indeed bodily. Frances Young, in God's Presence, makes a similar argument in relation to her disabled son Arthur:
Arthur's limited experience, limited above all in ability to process the world external to himself, is a crucial element in who he is, in his real personhood. An ultimate destiny in which he was suddenly 'perfected' (whatever that might mean) is inconceivable—for he would no longer be Arthur but some other person. His limited embodied self is what exists, and what will be must be in continuity with that. There will also be discontinuities—the promise of resurrection is the transcendence of our mortal 'flesh and blood' state. So there's hope for transformation of this life's limitations and vulnerabilities, of someone like Arthur receiving greater gifts while truly remaining himself.
---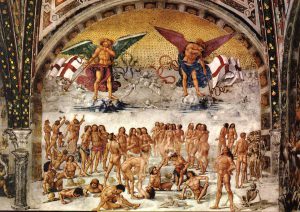 What can we conclude from all this? In the biblical accounts, sex differentiation is not imagined to be absent in the resurrection, and indeed its absence would be unimaginable and implausible if the resurrection life is indeed bodily—as it is vigorously claimed to be in all NT texts that explore the question. To be human and bodily means to be male or female, both in this age and in the age to come.
But we also need to note that, in the age to come, sex differentiation is seen in the NT to have lost its primary significance, because of loss of interest in procreation, and therefore the loss of interest in both sexual intercourse and marriage. This is why Paul sees the Spirit at work in the whole of the early Christian communities, regardless of sex identity.
It is therefore not possible to dispense with sex difference in marriage without actually dispensing with marriage itself. The two are inextricably linked.
A final note of caution on all this is offered by C S Lewis, in On Miracles:
I think our present outlook might be like that of a small boy who, on being told that the sexual act was the highest bodily pleasure should immediately ask whether you ate chocolates at the same time. On receiving the answer 'No', he might regard absence of chocolates as the chief characteristic of sexuality. In vain would you tell him that the reason why lovers in their carnal raptures don't bother about chocolates is that they have something better to think of. The boy knows chocolate: he does not know the positive thing that excludes it. We are in the same position. We know the sexual life; we do not know, except in glimpses, the other thing which, in Heaven, will leave no room for it.
---
Additional Notes
In the earlier version of this article, Alan Darley helpfully added in the perspective of Thomas Aquinas on the question of bodily sex difference:
Although risen men will not occupy themselves with such activities ( as nutrition and reproduction), they will not lack the organs requisite for such functions. Without these organs the risen body would not be complete. But it is fitting that nature should be completely restored at the renovation of risen man, for such renovation will be accomplished directly by God, whose works are perfect. Therefore all the members of the body will have their place I the risen, for the preservation of nature in its entirely rather than for the exercise of their normal functions.' (Aquinas, Compendium Theologiae 157 tr. Cyrill Vollert in Light of Faith: The Compendium of Theology by Saint Thomas Aquinas (Sophia Institute Press, 1993), pp.178-179.)
In contrast to the consistent view of the New Testament scriptures and the patristic period, gnostic texts appear to depict a collapse of sex difference in the age to come. Darley writes:
In the 'Gospel according to the Egyptians' used by a Gnostic sect called the Naassennes which argued that death will prevail as long as there is conception and birth. Hence they quote an alleged 'saying' of Jesus: ' I came to destroy the works of the female.' It goes on to describe a conversation between Jesus and Salome in which Salome asks 'How long will death prevail?' Jesus replies: 'When you trample on the garment of shame, when the two become one and the male with the female neither male nor female.' (See F.F.Bruce, Jesus and Christian Origins Outside the New Testament (Hodder and Staughton, 1974), p.157).
It was a tenet of Gnosticism that Adam was androgenous before being divided into male and female (the Gnostic reading of Genesis 2:21-13) and that the eschatological age would inaugurate a return to this primordial state. Interestingly, Gnostic rituals included a 'sacrament of the bridal chamber' to enter this superior state.
The son called Gospel of Thomas reflects this same background.
Saying 4 Jesus said: 'Let not old man who is full of days hesitate to ask the child of seven days about the place of life; then he will live. For many that are first will be last, and they will become a single one.'

Saying 11. Jesus said: 'This heaven will pass away and that which is above it will pass away, and the dead are not living and the living will not die. Today you eat dead things and make them alive, but when you are in the light, what will you do? On the day when you were one, you became two; but when you have become two, what will you do?'
An abolition of sexual difference is likewise suggested in Saying 22, (a Gnostic interpretation of Galatians 3:28).
Saying 22: ' Jesus saw some infants at the breast. He said to his disciples: ' These children at the breast are like those who enter the kingdom'. They said to him: 'Shall we, then, enter the kingdom as children.?' Jesus said to them: 'When you make the two one, and when you make the inner as the outer and the outer as the inner and the above as below, and when you make the female one, so that the male is no longer male and female, when you make eyes in place of an eye, and a hand in place of a hand, and a foot in place of a foot, an image in place of an image, then you will enter the kingdom.'

Saying 106: Jesus said: 'When you make the two one, you will become sons of man, and if you say, 'Move over, mountain!' It will move.'
This saying seems to be teaching that only when the two sexes are reunited into one personality will true humanity will be achieved. Such an anthropology is rooted in a non-trinitarian, undifferentiated monad as Saying 61 indicates:
Jesus said: 'Two will be resting there on one divan: one will die, the other will live.' Salome said: 'Who are you, sir, and whose son are you, that you have taken your place on my divan and eaten from my table?' Jesus said to her: 'I am he who derives his being from him who is the Same; to me has been given from what belongs to my Father.' 'I am your disciple' said she). 'Therefore (said he), I tell you this: when one is united, he will be full of light; when he is divided, he will be full of darkness.' (Sayings from the Gospel of Thomas translated in F.F.Bruce, Jesus and Christian Origins Outside the New Testament (Hodder and Staughton, 1974), p.110-156)
---
On the question of whether our disabilities persist into the new creation, I added this observation in my recent exploration of disability in response to Candida Moss' comment that 'I think that if I'm not disabled in heaven, I'm not myself':
But if disabilities lie on a spectrum, rather than being something absolute, does this still make sense? Again, at what point of being disabled does my disability become 'part of who I am?' I wonder whether this claim is in danger of making a category error, mistaking means for ends. It is certainly the case that my disabilities and limitations can form in me a greater self-awareness, a sense of humility, perhaps a quality of patience that I did not have when I could do things more easily, and even a greater consideration of others. They shape me in a way that I might not have been shaped without these disabilities. But these things have only needed to be formed in me by my limitations because my sinful, fallen life did not manifest these things already.

The promise of the life of the new creation, when we raised to life, is that we will be 'perfect' in the sense of having reached our full potential as the creatures God intended us to be—to 'become mature, attaining to the whole measure of the fullness of Christ' (Eph 4.13). If that involves a healing of my 'disabilities', then I shall be content.
---
(This is a summary of a longer paper I gave at the Tyndale Fellowship Quadrennial Conference in 2016 entitled 'Are we sexed in heaven?' and it was published here in a shorter form in 2016. A full discussion was published as a chapter in the book resulting from the conference Marriage, Family and Relationship: Biblical, Doctrinal and Contemporary Perspectives. You can read the draft of my chapter here: Ian Paul Sexed in Heaven for pubn  The pictures are from the frescoes of Luca Signorelli in Orvieto, Umbria, Italy.)
---
If you enjoyed this, do share it on social media, possibly using the buttons on the left. Follow me on Twitter @psephizo. Like my page on Facebook.
---
Much of my work is done on a freelance basis. If you have valued this post, would you consider donating £1.20 a month to support the production of this blog?