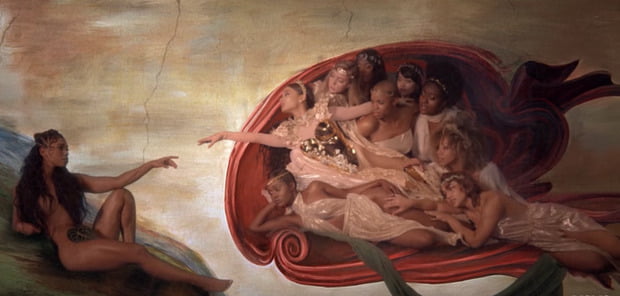 ---
Following on from the broo-ha-ha about Stephen Cottrell's comments on the problems of calling God 'Father', the latest episode in the debate about God's sex and pronouns comes from Hereford Cathedral. Last Sunday, their main Communion service began with an Introit which re-writes Psalm 23 with God identified using female pronouns.
The Lord is my Shepherd, I have all I need, She makes me lie down in green meadows, Beside the still waters, She will lead.

She restores my soul, She rights my wrongs, She leads me in a path of good things, And fills my heart with songs.

Even though I walk, through a dark and dreary land, There is nothing that can shake me, She has said She won't forsake me, I'm in her hand.

She sets a table before me, in the presence of my foes, She anoints my head with oil, And my cup overflows.

Surely, surely goodness and kindness will follow me, All the days of my life, And I will live in her house, Forever, forever and ever.

Glory be to our Mother, and Daughter, And to the Holy of Holies, As it was in the beginning, is now and ever shall be, World without end. Amen.
There are several things to note about this piece, and its use in the Cathedral. (You can watch its performance at the Cathedral's livestream on YouTube, but these are deleted after about a week, so I have captured it and posted it on my own channel, and the link is at the end of this piece.)
As I will explore below, it is a central conviction of Christian theology that God does not have a sex—because God is not bodily. To believe that God is sexed is a serious error, and that is why some people argue that we should avoid using the male pronoun for God. The difficulty here is that, because all the human people we know are either male or female, few languages have a commonly used personal pronoun that is not sexed, and that includes the Hebrew (and Aramaic) and Greek that the Bible is written in. Perhaps because of dominance of men in public roles in most pre-modern cultures, until very recently the default choice of generic pronoun has been male, so if the sex of someone was unspecified, then 'he' was taken to be inclusive of all. Thus we have used male pronouns for the personal but not sexed God of Christian faith.
Despite claims to the contrary, a 2018 YouGov survey found that the most common view amongst 'Christians' is that God does not have a sex. The main problem with this survey was that 'Christian' was defined by self-identification, and not by actual attendance at a Christian church; a key dimension in these kinds of issues is the difference that actual attendance, and so the impact of actual Christian teaching, makes. But it was also striking that older people are more clear than younger that God is not sexed.
But the effect of changing this traditional, presumed-inclusive, pronoun from male to female, as in the Introit, rather than suggesting that God transcends sex, very much draws attention to the idea that God is sexed, and that that sex is female. This is especially emphasised in the concluding Gloria, where God becomes Mother, Jesus becomes Daughter, and the Spirit becomes a place rather than a person. It is at this point that the words are most clearly contradicting creedal Christian faith.
(The other slightly bizarre thing about this piece is the author, Bobby McFerrin, a reggae/jazz/scat singer most famous for his 1988 hit 'Don't worry, be happy'.)
---
The use of this piece in the Cathedral is also interesting. It was part of a visit by a choir from The Episcopal Church of the US, which has been riven by differences on sexuality, and is in freefall decline in church attendance.
Its position in the service seemed to me to be sneaky; if you were in the congregation and listening, you would hardly notice the change of pronouns, unless you were also following the words on the order of service. Things only have a real impact when we sing them ourselves, and the songs that followed were robustly historical and orthodox. But isn't this often the way of things that are questionable or even heretical? Slip them in at the side; then move them further in; then place them front and centre. It is the salami-slicing technique of bringing change. Who could object when it was marginal to the service? But once it is front and centre, who can object when they didn't object earlier?
The Chancellor of the Cathedral, James Pacey, is a former theatre director who was previously in the same diocese as me. When appointed, he was described by the bishop of Hereford Richard Jackson as a 'liberal catholic with an inclusive theology', which appears now to be the dominant position of many of our cathedrals. It is interesting how being 'inclusive', and so arguing for the recognition in the Church of same-sex marriage, often goes hand-in-hand with the 'queering' of sex and gender. But the idea that sex is mutable, and that we can change the sex of others or ourselves as we see fit, is not only internally contradictory but also is in danger of erasing the sex of women, as a growing number of feminists are highlighting. The ultimate irony here is that it is a central conviction of 'queering' and of trans ideology that a person themselves must be free to decide their own sex, and that all others must respect this. If there is any sense in which God has 'chosen' his pronouns, then this is found in Scripture, where God's pronouns are very clearly 'he/him'. So this queering piece of liturgy transgresses its own cardinal rule.
And there is a bizarre institutional dynamic at work here as well. Although bishops have their 'seat' of teaching in the cathedral—which gets its name from this very seat, kathedra in Greek—the cathedral itself is only indirectly accountable to the bishop, unlike parochial clergy. And so it is often cathedral staff who are the ones pushing the boundaries of orthodoxy, throwing down the gauntlet to their bishops whom they dare to discipline them. I wonder whether there is a connection between this particular example of pushing the boundary, and the fact that Richard Jackson was one of the 22 bishops who signed the letter protesting at the idea of imposing the Prayers of Love and Faith bypassing due synodical process.
This example is part of a general trend of the Church of England being institutionally incapable of offering any theological defence against the tide of gender ideology that appears to be overwhelming our institutions. The very same week, there was a report of the use of radical gender ideology in a Church of England primary school—and the Church's complete failure to offer any response to this.
The Rev Canon Nigel Genders, the CofE's chief education officer, was urged to step in after a parent warned him that children as young as seven were being taught about contested gender identity beliefs in a CofE primary school…

In correspondence seen by the Telegraph, he said: "The RSHE policy and decisions about the resources used to deliver it are the responsibility of the school in consultation with parents, having due regard to any advice from the Diocesan Board of Education."…

The parent, who wishes to remain anonymous, told The Telegraph: "Mr Genders does not seem willing to act now to prevent primary children under his watch in CofE schools being subject to the beginnings of ideological indoctrination, and explicit sexualising content.

"Furthermore, passing the buck of responsibility entirely to the head teachers, and waiting on updated guidance from the Department for Education, is totally inadequate. Action is needed now to protect children. Are CofE schools that push this dangerous content CofE in name only?"
Is it really the case that, in our Church schools and in our cathedrals, orthodox Christian theology simply has no traction? Do we really have nothing theologically to say to questions of sex, marraige, parenting, and families? Or is it the case that those in positions of authority in the C of E simply lack the will and the courage to speak up?
---
On the substantive theological issue of the sex of God, most of the popular reporting collapses a series of important and distinct questions which need to be addressed more carefully.
Does Scripture claim God is male?
Are there both male and female metaphors for God?
Are we at liberty to change them?
Should we use feminine pronouns for God?
Is this a missional issue as claimed?
As I have noted previously in this discussion, the most prominent images in Scripture of God are the male images, but the female images are not absent. There is quite a good list of them here; the main references are Hosea 11.3–4 and 13.8, Isaiah 42.14, 49.15 and 66.13, Deut 32.11-12 and 18. Perhaps the most striking ones in the NT are of the kingdom of God being like a women kneading dough (Lk. 13:20-21), God being like a woman who has lost a coin (Luke 15.8–10) and Jesus likening himself to a mother hen (Matt 23.37, Luke 13.34). Most striking of all as a female image in ministry is Paul's description of himself as a women in labour (Gal 4.19).
Underlying this is a very clear claim: God does not have a sex. Although the sexed identity of humanity has its origins in our creation in the image of God, Gen 1 is very clear that neither sex on its own is the image of God:
So God created human beings in his own image, in the image of God he created them; male and female he created them. (Gen 1.27)
In a culture and context where gods were male or female, and where for the most part the male gods conquered and controlled the female, this is a striking statement. If we think that the male more truly represents the 'image and likeness' of God than the female, we are contradicting a central claim of the biblical revelation about God.
This connects with other central claims about the nature of God. In the discussion with the woman at the well in John 4, Jesus states that 'God is spirit' and, despite debates in Judaism about whether God has a body (following from OT language about the arms, hand, eyes and even nostrils of God), Christian theology has consistently believed that (in the words of Article I of the XXXIX) God is 'without parts or passions'. Gender (or, more accurately, 'sex') is a bodily reality; we are sexed as male and female because we have male or female bodies, and if God is not bodily then God cannot be sexed.
---
If, according to Scripture, God is not male, the question then follows as to why most of the images of God are male in Scripture, and whether these are a reflection of the culture of the time so that they might be open to renegotiation.
New Testament scholar Jon Parker observes something significant about male language in the cultural context of the biblical writings:
To me, the use of masculine language in the ancient world has less to do with "patriarchy" than it does the presumption of the gendered nature of fruitfulness. The masculine was the first stage of progeny. There were (and are) plenty of things to celebrate about the feminine in Scripture. For example, when it comes to long-suffering toil, the exclusively feminine experience of bearing and birthing is almost always reached for, cf. Num 11:12; John 16:2-21; Gal 4:19.

By contrast, the masculine "sowed the seed." Of course, we now know that men and women contributed equal DNA, but they didn't. In ancient observation of the world: seed + soil/womb = life. Of course, too, this is metaphorical when speaking of God. But when thinking about the One who created/sourced all things, it was, I think very hard for any ancient Mediterranean person (Greek or Jewish; male or female) to think about that being as feminine. It wouldn't make sense. That this sense of the first stage of progeny was then used by many to wrongly (and unbiblically) promote men over women is beside the point in why the language was used, I think.

To reflect God's nature as "unsourced source" is still a good reason to use the masculine about God, despite abusive patriarchy spoiling that language (which of course cannot be ignored as we try to speak about God today).
But, as Alastair Roberts points out, the differences between male and female—and particularly between the meaning of 'mother' and 'father'—and not only contextual, but relate to a fundamental asymmetry in the way that the two function in parenting.
The Scriptures use feminine imagery and metaphors of God, but it primarily identifies God using masculine pronouns, names, and imagery. Male and female imagery isn't interchangeable.

The fact that God is called 'Father' can't be substituted by 'Mother' without changing meaning, nor can it be gender neutralized to 'Parent' without loss of meaning. Fathers and mothers are not interchangeable, but relate to their offspring in different ways. A mother's relationship with her child is a more immediate, naturally given union of shared bodies. It is more clearly characterized by close empathetic identification. A father's relationship with his child, by contrast, is characterized by a 'material hiatus' and more typically involves a greater degree of 'standing over against' the child. While motherhood is more naturally given and more rooted in the body through the process of gestation and nursing, fatherhood is established principally by covenant commitment. If he is to be more than a mere inseminator, a man must lovingly commit himself to his wife and offspring. The different nature of the father's relationship with his child also means that he more readily represents law and authority to the child: he can stand over against the child to a degree that the child's mother can't.

All of this matters when we are speaking about God. A shift beyond biblical feminine metaphors and imagery to feminine identification of God will have a noticeable effect upon our vision of God, our ideas of where God stands in relation to us, the way that we conceive of the Creator-creature distinction, and the sort of language that we use when speaking about sin, separation from God, etc.

Let's recover the feminine imagery of Scripture, but let's do so in a careful and theologically principled way, rather than presuming that any symbol or language we choose to employ for God is as appropriate as any other.
Given that the ecumenically agreed Apostle's Creed declares faith in 'God, the Father almighty, creator of heaven and earth' and in 'Jesus Christ, God's only Son', and given that the Lord's Prayer addresses God as 'Our Father', then to start changing this language touches on central issues of confessional faith, rooted in the consistent testimony of Scripture.
If I am right, then the failure of courage to speak up on this is not merely a pastoral failure—it is a failure to proclaim the faith uniquely revealed in the Scriptures to which the formularies and doctrine of the Church of England itself bear witness.
---
Here is the recording of the Hereford Cathedral Introit:
NOTE: I am giving notice that from 16th August I will no longer allow anonymous comments. All are welcome to publish under pseudonyms if you wish, but you will need to make yourself known to me from then if you wish to continue commenting.