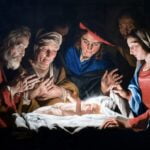 What do you find most irritating about this time of year? The drawing in of dark and cold nights? The hideous adoption of that consumerist import 'Black Friday'? People putting up Christmas trees when we have only just started Advent? Being urged to spend more money by means of schmaltzy human interest mini-dramas?
For me, it is the repeated but ill-founded claim that Jesus was born in a stable, alone and isolated, with his family ostracised by the community—despite the complete lack of evidence for this reconstruction. It will be repeated in pulpits, real and virtual, up and down the land, so I do not apologise for reposting once more this annual feature.
Besides, my reposting this article has now become part of our annual celebrations…!
Picture Jesus' nativity. Bethlehem town sits still beneath the moonlight, totally unaware that the son of God has been born in one of its poor and lowly outbuildings. In an anonymous backstreet, tucked away out of sight, we find a draughty stable. Inside, warm with the heat of the animals, a family sits quietly. Lit by a warm glow, a donkey, cow and an ox lie serene at the side of the scene. The cow breathes out a gentle moo and the baby in the straw filled manger stirs. Kneeling close by Mary, Joseph and a small lamb sit in silent adoration of the child. All is calm, all is not quite right.
I am sorry to spoil the scene, but Jesus wasn't born in a stable, and, curiously, the New Testament hardly even hints that this might have been the case. This might shatter the Christmas card scenes and cut out a few characters from the children's nativity line-up, but it's worth paying attention to.
This long-held idea demonstrates just how much we read Scripture through the lens of our own assumptions, culture, and traditions, and how hard it can be to read well-known texts carefully, attending to what they actually say. It also highlights the power of traditions, and how resistant they are to change. And, specifically, the belief that Jesus was lonely and dejected, cast out amongst the animals and side-lined at his birth, loses sight of the way in which Jesus and his birth are a powerfully disruptive force, bursting in on the middle of ordinary life and offering the possibility of its transformation.