---
Andrew Goddard writes: The Bishop of Liverpool's recent address at the launch of MoSAIC (Movement of Supporting Anglicans for an Inclusive Church) has, unsurprisingly, caused quite a stir. There have already been significant critiques of much of his central argument for same-sex marriage from Ian Paul and Martin Davie. What I want to do here is explore three other statements that he made in response to his question "What do I want to see?" in relation to inclusion "in the area of sexuality and relationships". I do so in the hope of working out how much what he wants and what I and other evangelicals want might overlap. I also want to try to understand better where and why we differ and why in places he expressed what he wanted in ways that I find perplexing and difficult. In a subsequent piece I hope to explore what he says he wants in relation to the outcome of the LLF process.
1. Are clergy called to a 'morally higher state' than laity?
First, Bishop Paul said, "I want to see an abolition of the foolishness that sees the call to ordained ministry as a call to a state morally higher than that of the baptised, as though baptism called us to a lesser holiness". I have to say that I don't know any evangelicals or traditionalists on sexuality who would disagree with this statement. So what is the problem? No more is said, but one assumes that the problem is with his understanding of the House of Bishops' current teaching and pastoral guidance. This, after all, is often distorted and falsely caricatured in this way because of a distinction it draws between clergy and laity as regards same-sex relationships.
That distinction originates with the final section of Issues in Human Sexuality which appeared 30 years ago this year. But the distinction there is not the one Bishop Paul makes and rightly describes as "foolish". The distinction there is not about the call to holiness. It is about the different patterns of church discipline and forms of freedom of conscientious dissent against church teaching that the Church of England applies and recognises in relation to clergy and laity.
In chapter 5 of Issues, having set out two fundamental and equally valid principles in relation to sexuality (5.1-4), the bishops then commend the pattern of Christian holiness—"a life of abstinence"—that embodies these among what it called "Christian homophiles" and we would now refer to as gay, lesbian, bisexual, or same-sex attracted Christians. This they describe as "a path of great faithfulness…deserving of all praise and of the support of Church members through prayer, understanding and active friendship" (5.5). The bishops then recognise (in 5.6) that others "are conscientiously convinced that this way of abstinence is not the best for them". They respond to this reality on the basis of "the historic tension in Christian ethical thinking between the God-given moral order and the freedom of the moral agent" and "respect for free conscientious judgment where the individual has seriously weighed the issues involved". They are clear that their response as bishops to "a loving and faithful homophile partnership, in intention lifelong, where mutual self-giving includes the physical expression of their attachment" is that they are "unable to commend the way of life just described as in itself as faithful a reflection of God's purposes in creation as the heterophile". They are equally clear that "we do not reject those who sincerely believe it is God's call to them". There is here no suggestion of "a lesser holiness" but simply a respect for conscientious dissent from the church's teaching being lived out on the part of Christians.
The bishops then place limits on that freedom of dissent in 5.7-10 before turning to consider the situation of those clergy who (like some laity) have reached a different judgement and "believe that the right way of life for them is that of an exclusive and permanent but also sexually active partnership" (5.12). The bishops' argument in response is not that the clergy's call is "to a state morally higher than that of the baptised" but that their representative and pastoral responsibilities lead to a different response. The key paragraph here (5.13) is worth quoting in full:
From the time of the New Testament onwards it has been expected of those appointed to the ministry of authority in the Church that they shall not only preach but also live the Gospel. These expectations are as real today as ever they were. People not only inside the Church but outside it believe rightly that in the way of life of an ordained minister they ought to be able to see a pattern which the Church commends. Inevitably, therefore, the world will assume that all ways of living which an ordained person is allowed to adopt are in Christian eyes equally valid. With regard to homophile relationships, however, this is, as we have already explained, a position which for theological reasons the Church does not hold. Justice does indeed demand that the Church should be free in its pastoral discretion to accommodate a God-given ideal to the human need, so that individuals are not turned away from God and their neighbour but helped to grow in love toward both from within their own situation. But the Church is also bound to take care that the ideal itself is not misrepresented or obscured; and to this end the example of its ordained ministers is of crucial significance. This means that certain possibilities are not open to the clergy by comparison with the laity, something that in principle has always been accepted.
This principled argument on the basis of the calling of clergy in relation to the teaching of the church combined with pastoral accommodation for those not ordained is followed by a more pragmatic argument from the pastoral acceptability of clergy in same-sex sexual relationships. This, although still important, has much less weight today than in 1991. What is key is that at no point is there established the "foolishness" that Bishop Paul believes exists and needs to be abolished.
This is confirmed by the discussion of this matter in Some Issues in Human Sexuality from 2003 which states (8.4.28, p. 267):
the Church could not call upon its clergy to act as teachers and exemplars of the Christian way of life, and yet say that they are free to live in ways that are contrary to that way of life as this is understood by the Church.
Here it is clear that there is "the Christian way of life" and that same-sex sexual relationships are not open to the clergy because they are contrary to this way of life. It is this – rather than that "baptism called us to a lesser holiness" – which explains the church's position. The bishops then clearly articulate this by using a quotation from the Anglican moral theologian Michael Banner which directly repudiates what Bishop Paul appears to be alleging is the current Church of England position:
This is not a matter of the religious being subject to counsels of perfection which do not apply to the laity, for the Bishops do not say that it is right for the laity to have homosexual relationships and wrong for the clergy, but only that where the clergy have such relationships they, unlike the laity, create a scandal which consists in the fact that one whose authority is derived from the authority of the Church challenges that very authority.
The "foolishness" that Bishop Paul wants to see abolished is therefore not a reality in terms of the Church's teaching and practice. It is though a reality in terms of many people's understanding of that teaching and practice. It is so, in large part, because those like Bishop Paul who disagree with the church's teaching have created and perpetuated the myth of a moral "double standard". They have done so in order to then ridicule and discredit it as Bishop Paul does here and to advance the argument that the supposed more inclusive ethical call of the baptised needs now to be extended to the church's ordained ministers. Framed in this way the proposal represents a removal of incoherence in the church's position. In fact, the logic of the church's position, is that to permit clergy to enter any form of sexual relationship outside marriage requires either a change in the church's teaching concerning holiness or the abandonment of the principle that the clergy should be seeking to live holy lives in accordance with that teaching.
2. Are LGBTQ+ people hiding their identity?
Secondly, Bishop Paul said, "I want to see an end to LGBTQ+ people hiding who they are for fear of being exposed to conversion therapy or to being forbidden to minister in churches". Understood in its plain sense this is something which I—and I believe the overwhelming majority of those committed to the church's teaching—also want to see.
This wish of Bishop Paul is not, it has to be acknowledged, something that evangelicals have always shared and embodied and is still not a wish always present among evangelicals. As illustrated in the recent controversy in the Anglican Church in North America (ACNA, which I discussed here) language concerning terminology describing oneself as a "gay Christian" or "same-sex attracted Christian", is under attack in some circles committed to traditional sexual ethics even when the person concerned is also committed to that traditional ethic . Even more disturbing there is the recent move by the Presbyterian Church in America (PCA) to require that "Men who self-identify as "gay Christian," "same-sex attracted Christian," homosexual Christian," or like term shall be deemed not qualified for ordination in the Presbyterian Church in America (a detailed, technical account of the PCA process is in this Twitter thread).
There is a real problem here which needs confronting wherever it is found. However, while evangelical Anglicans are still certainly not perfect in practice, I see no evidence that these developments are gaining traction in the Church of England. In fact, the evidence points in the opposite direction. The Church of England Evangelical Council (CEEC) now has as its co-Chair, Ed Shaw, a same-sex attracted leader of a Bishops' Mission Order. He is Director of Living Out whose vision is "to see Christians living out their sexuality and identity in ways that enable all to flourish in Christ-like faithfulness". Living Out has made clear it does not support conversion therapy and has created a church audit to help church leaders evaluate how "biblically inclusive" their churches are. Among the areas it asks people to consider are whether "Your church family meetings include people who could be labelled LGBTQI+/ are same-sex attracted", "A godly Christian's sexual orientation would never prevent them from exercising their spiritual gifts or serving in leadership in your church" and "No-one would be pressurised into expecting or seeking any "healing" or change that God has not promised any of us until the renewal of all things". The work of Living Out and these goals which seem to fit with what Bishop Paul says he wants are now mainstream thinking and viewed as essential good practice among UK evangelicals.
In the light of this, I have two questions for Bishop Paul. Firstly, does this not show we are on the same page here? Or, when you say "hiding who they are" are you really speaking about decisions about how to live in the light of who you are that are viewed by the church as wrong? When you refer to "conversion therapy" do you extend this beyond seeking to change people's sexual orientation to include offering LGBTQ+ people forms of pastoral care and support that help them live in the ways they believe that Scripture and the church teaches that followers of Jesus should live?
Secondly, if we are on the same page—or nearly on the same page—are you and those who share MoSAIC's vision able to welcome Living Out's vision of "biblical inclusion" which is committed to the church's current teaching? Can you and others help those of us who share that vision of inclusion to understand what more we need to do, within our theological framework and the current teaching of the church, "to see an end to LGBTQ+ people hiding who they are for fear of being exposed to conversion therapy or to being forbidden to minister in churches"?
3. Are ordinands subject to an inquisition about their private lives?
Thirdly, Bishop Paul wants "to see an end to the inquisition of ordinands about their private lives". Here again there are few defenders of inquisition in the Church of England and questions therefore arise as to what in practice is being referred to in this comment given the bishops' clear and consistent statements in this area.
In Issues (5.18) the bishops note that "some may propose that bishops should be more rigorous in searching out and exposing clergy who may be in sexually active homophile relationships. We reject this approach". In explaining this they are clear that "Any general inquisition into the conduct of the clergy would not only infringe their right to privacy but would manifest a distrust not consonant with the commission entrusted to them, and likely to undermine their confidence and morale". This is reaffirmed in Some Issues which notes that
it is…primarily the responsibility of the clergy concerned to respect their ordination vows by being obedient to the Church's teaching and, as Issues notes, it would be wrong for the Church to 'carry out intrusive interrogations in order to make sure that they are behaving themselves'. Nevertheless, it is right that the Church should set out what it expects from its clergy in terms of their personal behaviour as it always has done from biblical times, and that this expectation should reflect the Church's moral standpoint" (8.4.29).
The summary in Living in Love and Faith (at p.142) also quotes Issues (the later para 5.22) saying that bishops "do not think it right to interrogate individuals on their sexual lives".
So, is the claim that this longstanding commitment is being ignored by bishops and if so what is the evidence for this? Or is the language of "inquisition of ordinands" describing the process set down in documents such as the Guidelines for DDOs and Bishops' Advisers about Candidates in Civil Partnerships (2017, pp.10-11) or Sending Candidates to BAP (2017)? These are clear that "all candidates are required to give assurance that they have read Issues in Human Sexuality and they are willing to live according to its guidelines". Within this universal requirement, for those in civil partnerships or intending to enter into them, the 2005 Pastoral Statement from the bishops was clear (para 21, repeated as para 24 of the 2019 Pastoral Statement) that it "would be inconsistent with the teaching of the Church for the public character of the commitment expressed in a civil partnership to be regarded as of no consequence in relation to someone in—or seeking to enter—the ordained ministry" and such partnerships are widely seen as "sexually active relationships". As a result, "Members of the clergy and candidates for ordination who decide to enter into partnerships must therefore expect to be asked for assurances that their relationship will be consistent with the teaching set out in Issues in Human Sexuality".
DDOs completing Sponsoring Papers therefore need to spell out "How the diocese has addressed the issue of the civil partnership with the candidate", "That the candidate is aware of the House of Bishops' Guidelines and has agreed that he/she will live within them" and "That the candidate and their civil partnership have been discussed fully with the sponsoring bishop and that he is satisfied that the candidate's situation is in line with the House of Bishops' Guidelines".
If it is these guidelines which are the problem then two questions arise: Is simply being asked to agree to live within the church's teaching to be seen as equivalent to an "inquisition"? If so, is the proposed alternative that no assurances should be sought from any ordinand concerning their sexual conduct being consonant with the church's teaching or is it the specific guidance on assurances in relation to civil partnerships (same-sex and/or opposite-sex) which is unacceptable?
---
In conclusion, I find myself in the strange position of disagreeing strongly with much of what Bishop Paul said in his address but I am able, I think, to agree with these three goals he sets out. I am, however, to varying degrees, confused as to why he has highlighted these and expressed his concerns in ways that seem to me to misrepresent the policies of the House of Bishops and the approach of those he disagrees with in relation to sexual ethics. When, therefore, he insists "These things must be done and I hope and believe that LLF will awaken the church and open the door to them" I am left asking myself, "Have I misunderstood him because in fact he means something quite different from me when he says what he wants or is there actually potential here for greater agreement or at least more constructive dialogue than we often realise?"
In a further article I will explore what Bishop Paul says he wants from LLF in relation to questions of conscience and unity and how much agreement there may potentially be in relation to these areas.
---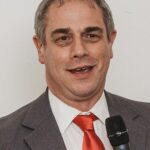 Revd Dr Andrew Goddard is Assistant Minister, St James the Less, Pimlico, Tutor in Christian Ethics, Westminster Theological Centre (WTC) and Tutor in Ethics at Ridley Hall, Cambridge.  He is a member of the Church of England Evangelical Council (CEEC) and was a member of the Co-Ordinating Group of LLF.