---
Tim Murray is one of the pastors at Amblecote Christian Centre in Dudley, West Midlands, and he has written a great book Life Examined: why I am a Christian exploring in an accessible way the reasons for faith. I asked him about why he wrote the book, his approach, and how it can be used well.
IP: You have had a mixed ministry, partly in academic study, and more recently in local church ministry. What made you want to write this book, and how have the different aspects of your ministry contributed to it? How important has been your extensive reading, which you point to at the end?
TM: The initial desire to write this book came from a conversation in a pub, but to set the scene a little bit…
I've always been provoked by something that Francis Schaeffer used to say—that no matter what someone says they believe, they have to live in God's world and therefore, for those who aren't Christians, there will always be some places where their worldview is incompatible with reality. Another way to put it is like this: there will always be a contradiction between a person's stated beliefs and the way they actually live until they live as Christians. Schaeffer suggested that if we could gently point out to people where this contradiction was in their life, we would give them a problem that they could only resolve by conversion.
His point was that our worldviews do not just have to be intellectually coherent (although they do), but they have to be liveable in practice. That has always struck me as a brilliant insight and one that I've observed to be true in my experience. Most people that I know who have become Christians have done so when their current way of understanding the world no longer matches up with what they are experiencing, in one way or another.
For several years now I've been conscious of these kind of worldview issues both in the academic/intellectual arena and the day-to-day lives of the people around me. Those in these two environments may express themselves very differently (!) but in my view, the fundamental issues often amount to the same kind of thing. After all, in the really big questions of life, there are only a limited number of possible answers (another thing Schaeffer used to say). I've needed to read as widely as I can, in order to try to understand the issues as fully as I am able to—whilst also trying to observe where these worldview gaps are making their presence felt in our ordinary lives.
IP: The book has short, accessible chapters—but you cover a very wide range of issues! What made you want to take this approach?
TM: To experiment with the way of engaging people I've talked about, we launched a few pub nights pre-Covid, where people invited their friends along who were up for thinking about some of the big questions of life. Each evening included two short talks on various topics. The first talk attempted to describe something that we all experience (say, for example, an enjoyment of beauty, or a sense of purpose), and then the second talk tried to explore the options for how we might make sense of our common experience. The thrust of each evening was that the Christians worldview made better sense of our common experience than other competing worldviews.
The approach seemed to open up good conversations and some people asked for something to read. I gave them Tim Keller, but many people with whom I work are not big readers, and they found Keller too long. So I looked for something that would be appropriate, but broken into much smaller chunks; I couldn't find what I was looking for so eventually decided to write it myself.
My hope is that the four-page focussed chapters make the book useful for those who may not read much… and the range of issues mean that most people should find at least a couple that they find interesting, relevant and thought-provoking, even if they discount the majority.
IP: From the outset, you make the case for 'faith' and 'reason' belonging together. What do you mean by this, and why do you think this is important in our current context?
TM: Most people I encounter have a worldview that is a blend of modern and post-modern presuppositions. Typically, modernism (focussed on rationality, science, reliable knowledge, progress, and so on) demands a faith that is intellectually coherent, evidence based and rational. The new atheists attack Christianity mainly along these kind of lines—and in ordinary people it is these presuppositions that lead many to contrast science and faith, or dismiss religious experience. Postmodernism (focussed on personal experience, the loss of absolutes, the rejection of authority, and the like) demands a faith that is personally meaningful, that has experiential 'pay-out', that can allow me to live in a satisfying and purposeful way. Most people I know have a worldview that blends both of these perspectives, even (sometimes) at the cost of substantial internal contradiction!
Therefore, I think we need to be able to articulate why Christianity both is a meaningful way of understanding life (one that is rational, intellectually robust, coherent) and provides a meaningful way to live (lived experience, personally satisfying, holistic). That's what I tried to do in this book.
More specifically, if we defined 'faith' as 'belief in something that we cannot completely prove' (which is how many ordinary people seem to use the word), then I try to demonstrate right at the start of the book that faith is something that each of us hold, not just religious people. We all believe things we cannot completely prove—just as we all use our reason to evaluate our beliefs. I try to suggest that the goal is not 'faith' or 'reason', but a reasonable faith.
IP: You have grouped your explorations under three main headings—examining life, examining history, and examining experience. Why did you choose these headings, and why in this order?
TM: I wanted, as far as possible, to begin with discussing things that most readers would easily relate to and where we might find a lot of common ground. Thus, examining life, the biggest section of the book, explores what we can all know about our world, ourselves and common human behaviour. It is so often in these areas where I think we can find the 'gap' Schaeffer talks about.
However I couldn't fully discard my interest in history—I am a New Testament scholar after all! Given that Christianity makes claims about God's action in history and that the church has been attempting to demonstrate what Christianity looks like over two thousand years, it seemed important to include this in the scope of the book.
Having done so I turned explicitly to experience because that is simply where the decisive factors lie for so many people in our culture. As well as discussing classic 'religious experience' (that is, how do we best explain the fact that so many people claim to experience God?), there is also a section on change, asking the reader to examine the impact of Christianity on the individuals and communities that follow Jesus. Perhaps more unusually I decided to include a short section on desire (three chapters) describing 'the view from the inside', that is, some of the reasons why Christians find their worldview compelling that can't really be known from without. I actually enjoyed writing these chapters more than any others and hope they are a helpful addition, as this angle is perhaps less often covered in apologetics books.
IP: I recognised a number of the arguments you make from the 'traditional' proofs of God, though some others draw on more recent apologists like C S Lewis. Perhaps the most intriguing section of all was the challenge to make the reader sit in a room and do nothing! Why did you include this mix of issues?
TM: You can blame that one on the influence of Blaise Pascal! I have offered the same challenge a number of times in my preaching and it has produced some genuine pastoral fruit so maybe its not a crazy as it sounds!
The decision to cover such a range of issues essentially has two factors:
Each person is different in the factors that interest them, or are particularly important to them, when it comes to evaluating worldviews. Therefore, to try and make the book as helpful as possible I wanted to cover a lot of angles! The aim is not to be comprehensive (what book could ever truly be comprehensive in this regard), but to demonstrate the breadth of reasons why the Christian worldview is considered plausible by those of us who hold it. If you browse the chapter titles you'll get a flavour of the range.
I think that most mature Christian do believe for a wide range of reasons. It is rare to find someone who has walked with Jesus for thirty years who is prepared to give only one or two reasons why they are a Christian—there are usually a range of pillars to their faith (varied in strength of course). So, it seemed to be a bit more honest to own that in the book.

 
Of course, the choice of content is finally shaped by my own interests, experience and idiosyncrasies! I'm not too concerned with this, after all I wanted to book to have a personal tone. The key thing is that it communicates something of the rich complexity of why I follow Jesus.
IP: What response have you had to raising these kinds of questions in discussion and in the local church?
TM: I think the attempt not only to present the Christian worldview, but to draw people into critically evaluating other/their own worldviews has been both demanding and fruitful. It is demanding because sometimes we haven't done the thinking and reading to engage other worldviews particularly well—and we need to. But if we can do this, and draw others into conversations along these lines, I think it can create space in which meaningful conversations about Jesus and Christianity can land. In my experience, it has been as Schaeffer said: when people start to see the problems in their own worldview, they become a bit more restless! Of course, my own experience is limited; I look forward to hearing whether others find the approach of the book helpful in their own contexts.
In the local church there is a mixed response, I think. There is still a strong desire for us to just 'present the gospel' whether that be through a presentation in a service, or a special event, or perhaps an alpha course, rather than to engage more discursively about worldview issues. I think this is partly because its more difficult to do that latter—but I don't primarily mean difficult intellectually, I mean difficult relationally. To really understand someone else's worldview and evaluate with others how we might best understand life requires serious time, attention and non-defensiveness—which many of us are reticent to give. Of course, its not just us; many of our non-Christian friends are unwilling to spend the time as well. But, in my view, this is what is necessary: to build relationships of depth and strength over significant time, in which the kind of conversations I'm advocating can take place. Some people in my church are really up for this; others would prefer me to "preach the gospel" and hope that does the trick.
IP: How would you want people to use this book? Is it something to read, or for group discussion—or what?
TM: I hope it is a resource for conversations. Can you read this book alongside somebody and talk about its contents with them?
I've primarily written for non-Christian readers who are willing to think about life but may not have read much and are relatively unfamiliar with Christianity. Of course, with this kind of book it will also hopefully be of service to Christians who want to think about how they talk to their friends about their faith or even for those who may want to revisit their own reasons for faith. My real hope is that people will use it as a starter for conversations as I described in the previous question – it's most often in meaningful relationships that someone seriously explores following Jesus.
IP: Thanks for your time. It is a fascinating read, and very stimulating to think through these different issues. I hope and pray that the book will be widely used.
---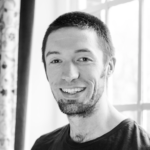 Dr Tim Murray gained his PhD in New Testament from Nottingham University before becoming one of the pastors at Amblecote Christian Centre in Dudley. He continues his academic teaching and research alongside work in the local church, including being on the leadership team of the Tyndale New Testament Study Group.