The second Festival of Theology will be taking place on Wednesday 17th October in Nottingham from 10.30 am to 3.30 pm.
Come and listen to our fantastic speakers address some vital questions for Christian living, mission and discipleship in TED-style talks, with the opportunity to ask questions and interact.
Details of the programme and speakers can be found in this post. Book your ticket online here. See you there!
---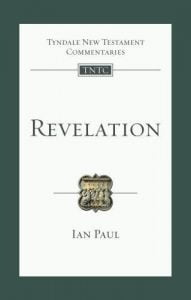 My most recent publication is the Tyndale New Testament Commentary on the Book of Revelation. You can order it from Amazon and other online retailers (make sure you order mine, and not the previous edition by Leon Morris!), or directly from the publisher on the IVP website.
My recent publications include:
---
I spent the second half of August this year with my wife and children in a Provencal Mas – a converted farmhouse just a few miles from a little-known French commune named Chateauneuf-du-Pape! As a typical Anglican cleric, I was thrilled by the providential setting of our holiday location, for it enabled me to enjoy the site of mile after mile of vines laid out in expansive Cotes du Rhone vineyards.
I managed to sneak an afternoon away from the kids to visit an ancient vineyard and winery and learn a little more about these world-famous vines.
One striking feature of the area is the different ways in which the vines are laid out in the fields. Some are planted to grow along long running wire trellis; while others are carefully pruned to form what is known as a goblet vine – as they resemble a classic Paris goblet.
Why the difference? Some varieties of grapes, it turns out, do better on a smaller vine. They grow best when supported by a simple stake just a foot or so from the ground. They must be carefully pruned and shaped each year – for if they grow too big, they topple over under their own weight. The fruit is usually good on these vines, but there is little of it.
How should we respond to forecasts of the end of the world and a coming apocalypse? Will there be a 'tribulation' and a 'rapture'? And what does the Bible really say about the end of the world and the return of Jesus?
These questions keep swirling around—but it is not always easy to find sensible answers. 
In this accessible study morning, we will look carefully at the teaching of Jesus, Paul and others in the New Testament to see what they really thought. It turns out that expectation of 'the end' was important to the first followers of Jesus—but in ways very different from what we might find in the latest Hollywood blockbuster.