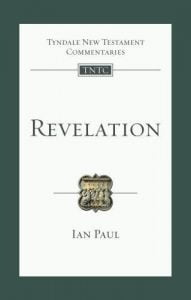 My most recent publication is the Tyndale New Testament Commentary on the Book of Revelation. You can order it from Amazon and other online retailers (make sure you order mine, and not the previous edition by Leon Morris!), or directly from the publisher on the IVP website.
My recent publications include:
---
There are three questions which come up in relation to the growth of religious movements, particularly the Christian faith. How would you answer each of these?
a. Why is Islam growing in the UK and in the world at the moment?
b. What was the primary reason for the growth of the early church?
c. Why in the West do conservative churches generally resist the decline that affects more liberal ones?
Now these are big questions, and the answers are bound to be complex. But generally in answer to (a) most people will reach for an explanation around the rise of fundamentalism and a global rejection of Western liberal values. In answer to (b) many will think about the cultural and religious distinctiveness of the early Christian movement, and its appeal in relation to the cruelty and fatalism of much pagan religion. And in answer to (c) many will reach for ideas of commitment and discipleship which resist the corrosion of modern individualist and consumerist culture. 
But there is a good case to be made that all three have the same explanation: childbirth. 
Remembering is a fundamental part of what it is to be human. That is why dementia is such a distressing condition; it robs us of our ability to remember, and as such seems to rob us of our very selves. I am constantly fascinated that the programme which allows people to reconstruct their family history is not called 'Who do you think you were?' but 'Who do you think you are?' The remembering of the past constitutes a key part of the present when it comes to our identity. David Runcorn expresses this with customary insight:
To remember is not to recall a memory (though that is part of it of course). To re-member is to re-connect with what has, for whatever reason, been dis-membered.
To re-member is not to look back into the past but to bring into the present all that has brought us to this point, and shaped who we are, for good or ill. We are to live in remembrance. Those who do not re-member are not present either. There can be no healing until we are present to the wounds, to the fractures of our story and history. Bids for new futures, attempts at renewal that do not flow from careful remembrance may look pious and visionary, but they are actually escape bids.