The second Festival of Theology will be taking place on Wednesday 17th October in Nottingham from 10.30 am to 3.30 pm.
Come and listen to out fantastic speakers address some vital questions for Christian living, mission and discipleship in TED-style talks, with the opportunity to ask questions and interact.
Details of the programme and speakers can be found in this post. Book your ticket online here. See you there!
---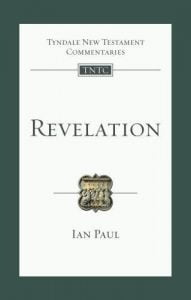 My most recent publication is the Tyndale New Testament Commentary on the Book of Revelation. You can order it from Amazon and other online retailers (make sure you order mine, and not the previous edition by Leon Morris!), or directly from the publisher on the IVP website.
My recent publications include:
---
Last weekend, Ely Cathedral flew a rainbow Pride flag in order to signal support for the Ely Pride festival taking place (for the first time) over the weekend. The decision was made on the recommendation of the Dean, Mark Bonney, and the cathedral chapter voted to accept his recommendation—though this was not a decision by the diocese or the diocesan bishop, Stephen Conway, since (like local churches) cathedrals have no formal need to consult. Bonney told the local paper:
I am pleased to lend my backing to this community event because it celebrates the breadth and diversity of the community in which we all live.
I am also very conscious that Christians have not always been perceived as being very supportive and inclusive as some of us would wish, and so I am pleased to fly this flag as a sign of the kind of inclusion that I wish to promote at the cathedral.
In my five-part series of talks at New Wine on the question of why Jesus came, the final one focussed on a more surprising say of Jesus, which appears to…