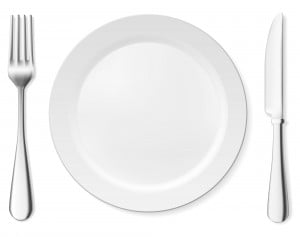 1. Jesus said so
Jesus didn't command fasting as a spiritual discipline as such, but he appears to assume that that is what his followers will do. In the so-called 'Sermon on the Mount' in Matt 5–7, he says 'When you give…' (Matt 6.2), 'When you pray…' (Matt 6.5) and 'When you fast…' (Matt 6.17). It always seems odd to me that most Christian traditions naturally continue Jesus' Jewish traditions of giving, praying, reading the Scriptures, and meeting weekly in the equivalent of synagogue or Temple. So why don't those traditions similarly expect people to fast as a matter of course?
In Matt 9.15 (= Mark 2.20), Jesus explains why his disciples are not currently fasting—but makes it plain that he expects they will resume this practice again, and very soon.
2. You are getting older
Unless you have the good fortune to be younger than around 26 years of age, then your metabolism is slowing down, so your body needs fewer calories than it did when you were younger. It has been reckoned that, on average, our metabolism slows by between 5% and 10% per decade. (You can find ways to boost your metabolism, though in fact a slower metabolism is linking to longer live, so you need to make your choice!) Most of us find it hard to progressively reduce our portion sizes (though that is not a bad idea), so we in fact need to eat fewer meals to stay healthy.
3. We are getting fatter
In Britain and other countries in the West, people are doing less activity and eating less well, which means obesity is rapidly rising—the number of people with obesity has trebled in the last 25 years. It could be argued that this is the single most significant social and political issue facing Western countries, alongside growing ageing populations. If you don't want to be part of this, you need to exercise more and eat less, and one of the easiest ways of doing this is to fast.
4. We consume too much
Countries in the Western world consume a disproportionate amount of the world's resources, and this is not sustainable with a growing global population. 'The 12 percent of the world's population that lives in North America and Western Europe accounts for 60 percent of private consumption spending, while the one-third living in South Asia and sub-Saharan Africa accounts for only 3.2 percent' notes the Worldwatch Institute. 'It's overconsumption, not population growth, that is the fundamental problem; by almost any measure, a small portion of the world's people — those in the affluent, developed world — use up most of the Earth's resources and produce most of its greenhouse gas emissions' says Fred Pearce, environmental consultant for New Scientist. We need to choose between drastically cutting our consumption—or living with continued gross inequality.
5. We waste too much food
It was recently reported that between 30% and 50% of the world's food is thrown way rather than eaten. In other countries, where the climate is hotter and refrigeration is expensive, this might be excusable. But a large amount of food is thrown away in developed countries before it even reaches the shops. In Britain, 30% of vegetable crops are not even harvested, because they don't match up to the standards of appearance of supermarkets, even though it is perfectly edible. Fasting is one way to signal our rejection of this wasteful lifestyle.
6. It is good to feel hungry
Fasting has made me realise how quick I am to avoid feeling hungry. But this is a feeling most of humanity have experienced through most of history—and really, there are worse things you can experience! Feeling hungry reminds me of what the majority of my fellow human beings will experience today.
7. It makes you more alert
Fasting actually makes you more alert. I was recently attending a three-day conference, and decided to skip the lunches because they were expensive, and I decided to fast. I found that I was able to concentrate all through the conference, and didn't have the post-meal drowsiness that often afflicts conference attenders. Michael Mosley explains this in terms of evolutionary development; if you hadn't eaten for a while, you needed to be more alert to succeed in your hunting!
8. It prolongs life
Another of Michael Mosley's findings was that reduced calorie intake has been shown to be connected with longer life, both in animals and humans.
9. It is easy to do
Fasting for part of the day on one or two days a week is much easier than either fasting for 24 hours, or (for health reasons) following a permanent restriction of your food intake. So it is achievable. The most common pattern is being promoted as the 'Fast Diet' using a pattern of 2 days partial fasting, and five days normal eating, a week, but there are other patterns too.
Now you might be wondering why I don't include the reason 'In order to pray and be more effective in my spiritual life.' There are two reasons for this. First, whenever I have read about fasting 'making prayer more effective' I have not been able to get away from the idea of bribing God. 'Look at how serious I am about this, Lord—I am fasting! You must answer my prayer!'
The second reason is that, when I am missing a meal, the last thing I want to be doing is sitting still and thinking about it! I am sure fasting has helped my prayer life in general terms, but to sustain it, I have found I need to be doing other things during the meal time—including getting some exercise by, perhaps, going for a walk.
There is a good Grove Booklet on the subject if you would like to explore it further.
Have you fasted? How has it been for you?