---
Mark Ireland writes: Watching the lying in state of the late Queen, and pondering the incredible devotion of those who queued all night in the cold, has prompted me to read again a sermon preached by Canon Henry Scott Holland in St Paul's Cathedral after the death of King Edward VII. The late king's body lay in state in Westminster Hall in May 1910 and was viewed by about a quarter of a million people.
Scott Holland's sermon before the Lying in State contained these lines which have been read at so many funeral services since:
Death is nothing at all. It does not count. I have only slipped away into the next room. Nothing has happened. Everything remains exactly as it was. I am I, and you are you, and the old life that we lived so fondly together is untouched, unchanged. Whatever we were to each other, that we are still. Call me by the old familiar name. Speak of me in the easy way which you always used. Put no difference into your tone. Wear no forced air of solemnity or sorrow. Laugh as we always laughed…'
Like many clergy, the request to include these lines in a funeral service always used to make my heart sink—feeling that this was no more than another bit of folk religion, denying the devastating loss of bereavement. Including these lines in a Christian funeral service seemed to make it harder to then speak about the awkward reality of death and how through the painful death of Jesus we can find the hope of resurrection.
Until, that is, I read the whole sermon for the first time and understood these lines in their original context. 
In his original sermon Scott Holland described two very contrasting ways of regarding death. 
First there is the familiar and instinctive recoil from it as embodying the supreme and irrevocable disaster…Nothing leads up to it, nothing prepares for it. It simply traverses every line on which life runs, cutting across every hope on which life feeds…It makes all we do here meaningless and empty…
Scott Holland points out that this view of death is captured in numerous places in the Old Testament, which give us a vocabulary for anguished lament in the face of death.
But then he goes on to describe another aspect altogether which death can wear for us.
It is that which first comes down to us, perhaps, as we look upon the quiet face, so cold and white, of one who has been very near and dear to us…And what the face says to say to us, "Death is nothing at all. It does not count, I have only slipped away into the next room…"
In his sermon Scott Holland makes the crucial point that in the resurrection of Christ both aspects are true.
Our task is to deny neither judgement, but to combine both.
Jesus experienced the awful brutality and finality of death, as his body hung on the cross. And yet because of his resurrection from the dead we know death is not the end, that there is an amazing continuity between life on earth and life in heaven, and that we are surrounded by the communion of saints.
Scott Holland related both aspects to the lying in state of the late King.
Brethren, today these two moods which we have rehearsed are peculiarly ours—the mood of violent recoil, the mood of quiet continuity… Sinister and silent the coffin lies there in the sunlight, and its very pomp of state makes its silence more sinister yet. We shall creep around it in dismay as it lies in Westminster Hall. Is this all that is left?
But then, preaching as he was in the season of Whitsun, he pointed out that the light of the presence of the Holy Spirit banishes the darkness and fear of death. The presence of the Spirit in the life of every believer is the guarantee of what is to come.
In the power of the Spirit we are already passed from death to life. Death is behind us, not in front. "Ye were dead." "Ye were baptized by the Spirit into Christ's death."
Scott Holland ended his sermon not with the bland reassurance that 'death is nothing at all' so often quoted, but with a stirring challenge to put to death in our lives the sins which cling to us so easily. 
Stand on the strong Word. In its strength you can even now use your remaining days to bury that which is already dead. You can strip off the clinging garments of decay, the deceits of the world, the flesh and the devil… You will find yourself already passed from death to life…you will somehow become aware of what it might mean to become more and more alike to the Lord Jesus, whom you adore, as more and more in the infinite amazement of an ever-growing surprise you learn to see him as he really is.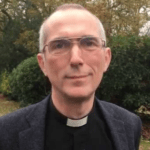 Nowadays, if I'm asked to include Scott Holland's 'Death is nothing at all' in a funeral, I am delighted to accept. I find it a great way in to unpacking the two contrasting responses to death—despair and denial, and the hope and challenge that in the death and resurrection of Jesus the finality of death and the continuity of eternal life are brought together.
---
Mark Ireland is Archdeacon of Blackburn and co-author of several books on mission, evangelism and discipleship.