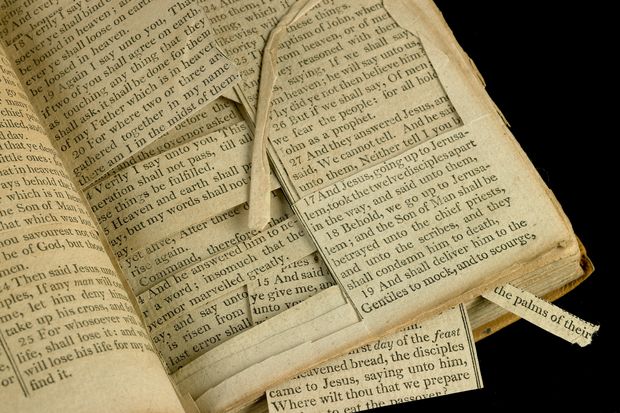 ---
At the very end of last year, I published a review of A History of the Bible by Professor John Barton of Oxford. Following that, I was contacted by Professor Walter Moberly of the University of Durham, who shared with me his review article on the book from Harvard Theological Review. I reproduce some key sections here with the author's permission.
---
In this magisterial History of the Bible, John Barton does two things. First, he tells a story. This takes most of the space and determines the structure of the book. He tells "the story of the Bible from its remote beginnings in folklore and myth to its reception and interpretation in the present day.'' He "describes the Bible's genesis, transmission and dissemination and shows how it has been read and used from antiquity to the present, both in its original languages and in translation" (1). Second, he advances an argument. He argues that "the Bible does not 'map' directly onto religious faith and practice, whether Jewish or Christian" (2). The Bible and faith are not coterminous.
…
The two things that Barton offers—the story and the argument—unsurprisingly complement each other in his account. This means that the telling of the story of the Bible has a particular thrust to it. Although he, of course, respects the integrity and complexity of his subject, he nonetheless has an angle of vision, whereby he tells the story in such a way that his argument should become increasingly self-evident to the attentive reader. In principle, this should make the history more interesting to read; and in a certain sense it does. However, the making of the argument brings with it a possibly problematic dimension. Barton observes that "the terms of debate tend to be set by the more conservative strands in both [Christianity and Judaism]'' (12). He apparently feels obliged to work with these terms, and thus he targets fundamentalist and generally conservative formulations and ways of thinking that he judges to be mistaken with renewed versions of critiques often advanced over the last 150 years. That a senior scholar such as he might show how one could constructively reframe the debate in some way other than a longstanding "liberal versus conservative" polarity is not raised as a real possibility (a matter to which I will return)…
At times I found myself musing on certain affinities between Barton and his friend the late James Barr. A generation ago, Barr wrote Fundamentalism, a no-punches-pulled assault on conservatively minded believers. Such believers did/do not fully embrace the often-uncomfortable insights of modern historical-critical work on the Bible (though their possible reasons for doing so were not empathetically probed by Barr, just attacked). I wondered at times whether Barton's book may in certain ways be Fundamentalism for a new generation, albeit in a less confrontational mode. This dimension of the book may be less apparent to a nonspecialist readership, even if they may at times wonder why it is so important to Barton to focus on rebutting "anyone committed to the literal truth of the  Bible" (473) along with "anyone who believes that all decisions should be driven only by Scripture" (480), as though the deficiencies of such outlooks are what really need to be demonstrated in a scholarly history of the Bible.
---
Let me start with two small examples from the New Testament, before moving on to a larger case study in the Old Testament. First, Barton has an endnote comment that "Acts cannot date from before the late first century CE" (515). This is presented as a straightforward matter of fact, something that is known. Indeed, a late first-century date of Acts represents contemporary scholarly consensus. In 1976, however, John A. T. Robinson wrote a book, Redating the New Testament, in which he argued that every book within the New Testament was written before 70 CE. Robinson was a good scholar, and no fool. He made a serious case for earlier dates than are fashionable in biblical scholarship. No new evidence has been discovered in the meantime, and no one has offered a convincing refutation of Robinson's arguments (which, with regard to a date for Acts in the 60s, many others have made also). Rather, they have been set aside in a "Well, that might perhaps be so, but we don't really think it's very likely" mode. My point here is not what we should reckon the date of Acts to be, whether 60s or 90s or whenever, as the reality is that we do not know, beyond the terminus a quo being the early 60s when the narrative of Acts ends. But, if we do not know, then it misrepresents the issues to write as though we do know at least that an early ("conservative") date is impossible, that Acts "cannot" have been written in the 60s or 70s.
My second example relates to origins more generally, rather than dating as such. At the outset of  his chapter on the Gospels, Barton raises the point that "the Gospels are often thought to rest on the memories of four separate eyewitnesses" and then directly offers a swift and routine dismissal of Matthew, Mark, Luke, and John as possible eyewitnesses (189). He then moves on to a discussion of the origins of the Gospels without further reference to eyewitnesses. My question is why he makes no mention (not even in an endnote) of Richard Bauckham's Jesus and the Eyewitnesses, which has been available since 2006, and has generated extensive discussion. Bauckham is a major New Testament scholar, and his book offers a complex and subtle argument for the likelihood of eyewitness testimony underlying the Gospels, not in terms of the four traditional evangelists but in terms of evidence from the prosopography of early Christianity. It has put eyewitnesses back on the map in a discussion of Gospel origins. If Barton finds Bauckham's arguments implausible, he could give his reasons. Why does Bauckham's work remain invisible, when the issue of possible eyewitnesses is intrinsically significant?
My third example relates to the dating of Old Testament documents, with the related question of the date at which it is possible to begin a history of Israel in terms of modern critical historiography…For the history of Israel, Barton shares the current scholarly preference to lay much weight on substantiation from external records, or lack thereof (despite the well-known principle that "absence of evidence is not evidence of absence")? Hence, the history of Israel probably begins in the ninth century BCE with Assyrian attestation of the "house of Omri," and this is also the likely period of the earliest documents of the Old Testament, which "are almost certainly the product of an urban elite, based in Jerusalem and perhaps other major cities such as Samaria" (33).
…
Yet the history of scholarship here might be both interesting and illuminating to a nonspecialist readership. In the mid-twentieth century, a substantial scholarly consensus emerged around the detailed proposals of Albrecht Alt and Gerhard von Rad (and others) that the establishment of Jerusalem as a capital city under David and Solomon in the tenth century made a good context for envisaging the drawing together of Israel's early traditions into the first historical writings that expressed the identity of the emerging nation. In the early 1980s J. Alberto Soggin wrote A History of Israel. In this, with full recognition of historical difficulties (dating of texts, paucity of archaeological evidence, absence of attestation of David and Solomon in other ancient Near Eastern sources, scholarly contentions that the biblical record is idealized and exaggerated), he could nonetheless say: "the period of the united monarchy is a point of reference from which to begin a historical study of ancient Israel. And unless appearances are deceiving, this was also the period when Israel itself felt the need to make a first collection of its own earliest traditions." This consensus of leading scholars from within living memory is invisible in Barton's account. The only slight recognition of its existence is with reference to the possibility that "scribes adept enough to write the biblical books" might have existed before Omri. Here, Barton has an endnote reference to the "lively defence" of this possibility in the derivative work of Eric Heaton; but Barton makes no mention of the weightier scholars who argued for the tenth century and simply comments, "But few now would agree with this" (493). The nonspecialist reader gains no idea of how much has changed in a relatively short time. Since, apart from some further modest archaeological findings, the evidence available now is the same as that available to Alt, von Rad, and Soggin, one might at least wonder what is involved in the shifting of dates by one or two centuries. Might the shift to later dates be indicative at least as much of ideological fashion as of dispassionate evaluation of contestable evidence?
In each of these three examples there is a question whether Barton's presentation unduly favours the larger argument he wishes to advance.
---
Barton offers a substantial discussion of New Testament textual criticism. It is well known that the manuscripts of the New Testament have numerous small variants. But what follows from this? He says:
There is not, and never can be, a text of "the New Testament" as it left the hands of Paul, Luke or John: we have only variants. The implications of this for theories of the inspiration and authority of the New Testament have scarcely begun to be worked out. Where the words of Jesus are concerned, for example, we often know only roughly what he is supposed to have said (and whether he really said it is of course yet a further question).(286)
It is, of course, uncontentious that all original New Testament manuscripts have long since disappeared. But what docs "we have only variants" mean? (Or, as he puts it in summary form later, "the New Testament has no fixity of text at all" [479].) One could be forgiven for supposing that this means that the textual witnesses for the New Testament arc like a permanent game of Telephone, in which multiple retellings problematize and obscure the original content: there is such diversity of textual options in variant manuscripts that we can have no clear idea of what, say, Paul, Luke, or John wrote. Barton's allowance that, text-critically, in the New Testament "there are whole blocks of text where the general drift of the passage is not in serious doubt" (306) clearly implies that there are extensive amounts of text where even the general drift is in doubt. But is that really so? Minor textual variations arc indeed numerous, and most make no difference whatever to following the story or argument and being able to sec the issues of substance. Where Paul's language and drift are at their most difficult, say in parts of 2 Corinthians, the text- critical problems are merely ancillary to, and not constitutive of, the real difficulties in grasping Paul's train of thought.
The claim about the words of Jesus, that "we often know only roughly what he is supposed to have said"—as a matter specifically of the nature of the Greek text, not of the historical question of the relation between the textual tradition and Jesus himself (and whatever languages in which he spoke)—perplexes me, as some forty years of reading the New Testament in standard scholarly editions of the Greek, with full text-critical apparatus, had not alerted me to the problem. Barton himself offers only one example, admittedly a strong example, of the well-known problem of what Jesus is supposed to have said about divorce and remarriage in Mk 10:11-12 and Matt 5:32, 19:9 (296-99)—where his concern is that the unclear wording of Jesus on divorce and remarriage should rule out "appeal to the exact wording of biblical sayings as if they were legal rulings, since for that a precise text would be essential" (306). But one swallow doesn't make a summer. The plain implication of "we often know only roughly" is surely that a significant percentage of the wording of Jesus is unclear and contestable in the textual tradition. I would expect numerous comparable examples of substantive textual unclarity—a minimum of some twenty or thirty—at least to be listed (even if lack of space prohibited discussion) in order to substantiate his claim. In their absence, his rhetoric seems at least careless and is arguably tendentious.
…
What is so striking is that Barton here seems to share the same positivist mindset of those conservative believers whom he seeks to rebut: truth is equated with historical accuracy. It is just that the argument is inverted. Instead of "we believe this to be true, and so hold that it must be historically accurate," Barton offers "this cannot be shown to be historically accurate, and so it may well be false." Barton's genre categories for the Gospels do not extend beyond a limited number of familiar modern categories, mainly "history" and "legend" (which are never analyzed),with a possibility of "symbolism" thrown in. Entirely lacking is any attempt to offer (or to engage with scholarship that has offered) a cumulative inductive account of what genre 'Gospel' might be in terms of ancient literary conventions and how matters of history could be presented via those conventions.
---
Much of what Barton writes about the story of the Bible is of undoubted value and will be helpful to many. Yet his argument not only influences the telling of the story in ways that are open to question but also promotes an understanding of biblical interpretation that is open to question. His argument is also frustrating for those who do not suppose in the first place that there is, or should be, identity between the content of the Bible and faith today, but rather understand the relationship in terms of continuity. Recurrent arguments against identity feel all too easy. They leave the more interesting questions about what constitutes good and bad continuity in living traditions of Jewish and Christian faith on the sidelines…
Those who have spent time with some of these recent thinkers are likely to reckon that the interpretive axiom with which Barton begins his book—the Bible is indeed "an important source of religious insight, provided it is read in its original context and against the conditions prevailing when it was written" (2)—simply does not ring true. The positive point, of course, is that there is undoubted value in historical knowledge about the kind of meaning that can appropriately be ascribed to an ancient text in its originating frame of reference; and it is right that this should inform interpretation. But the problem is not simply that for most books of the Bible we simply do not know their precise context of origin (informed conjectures about origins have their place but often function to conceal how conjectural they really are). It is also that the way in which weighty religious texts function meaningfully and veridically (or not) needs a far richer account than Barton seems able to offer.
Gadamer famously argued that prepossession with scholarly method could sometimes obscure access to truth. This may not be a final word, but it is at least a possibly salutary warning. Put differently, it is one thing to be methodologically alert (awareness of possibilities helps keep interpreters on their toes), and another to be methodologically driven (to adopt an approach that essentially serves to exclude whatever does not fit within the specified parameters, as Barton seeks to problematize conservative approaches to the Bible). Barton is sufficiently confident within his own frame of reference to think not only that religiously conservative approaches to the Bible can be refuted but also that truth (in some sense) can indeed be derived from the Bible through disciplined historical method. My reading of A History of the Bible has reinforced my sense that Gadamer has a point.
---
The whole essay is lucid and brilliant, and really worth reading if you can get hold of it online or (one day perhaps) in a library. Walter Moberly's latest book is The God of the Old Testament: Encountering the Divine in Christian Scripture (Baker, 2020).