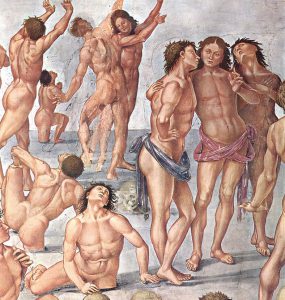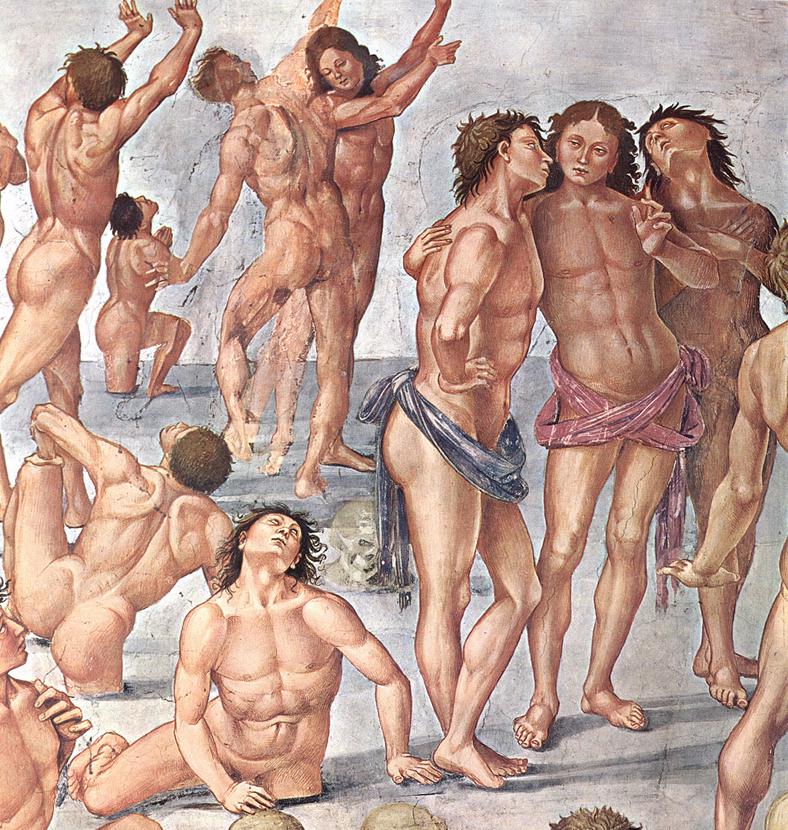 This Sunday's lectionary reading, Third before Advent in Year C, is Luke 20.27-38. Once more, the lectionary makes an odd choice; it would be more natural to read on to verse 40 and complete the pericope. The narrative recounts an exchange between Jesus and the Sadducees, who do not believe in bodily resurrection, and so offers an immediate answer to the question of our post-mortem hope. But Jesus' answer also gives a window into some key aspects of biblical anthropology—that is, how the Bible construes human bodily existence—and this has some very contemporary applications.
On the text itself, I offer here an extract from my 2016 article 'Are we sexed in heaven', which is published in the book Marriage, Family and Relationship: Biblical, Doctrinal and Contemporary Perspectives which came out of the 2016 Tyndale conference on the subject, before noting some important pastoral implications.
---
The passage occurs in all three of the synoptic gospels. Matthew's and Mark's accounts run very closely in parallel, though with some minor variations. In contrast to these close parallels, Luke offers some significance differences. The account of the Sadducees question remains the same, though slightly abbreviated by use of the adjective ateknos, 'childless' (Luke 20.29). But Jesus' response is significantly refigured.
First, Luke recasts the response in more explicitly eschatological terms of 'this age' and 'the age to come' (vv 34–35); this configuration echoes Jesus' comment in Matt 24.38 suggesting that 'marrying and giving in marriage' distinctively belong to 'this age'. As part of this, Jesus links the age to come with judgement, since only those 'worthy' (v 35) can participate. And in contrast to the other two accounts, he brings out the theological or philosophical reason behind this; marriage and procreation belong to the age of death, since it is only because we die that we need to have children to continue our line and our work.[1]
Commenting on Luke's version, James Alison picks this up with some rhetorical force. In the old dispensation, the way past universal reign of death was having children, and in this context, levirate marriage was the man's passport to immortality of sorts. But, in sharp contrast to the Sadducees failure of understanding and imagination (Alison declares) 'There is no death in God'.[2] Robert Song also highlights this key observation.
What happens in the resurrection, when death shall be no more? If there is no death, the sustenance of the people of God no longer requires future generations to be born; and if there is no need for future generations to be born, there is no need for marriage…where there is resurrection, there is no death; where there is no death, there is no need for birth; where there is no birth, there is no need for marriage.[3]
Song then cites John Chysostom: 'Where there is death, there is marriage.' (On Virginity, 14.6)[4].
In Luke, Jesus then extends the logic of this into an eschatological reconfiguration of familial belonging, parenting and childhood. Those who rise are 'children of the resurrection', presumably because it is their resurrection which has given birth to them in this new age, but since it is God who has brought about this resurrection, they are God's children, and this displaces any lines of heritage in 'this age'. This idea makes clear connections with Jesus' radical reconfiguration of family relations at several points in the gospels, and most explicitly and strikingly in Matt 12.49 = Mark 3.34 = Luke 8.21: 'whoever does the will of God are my mother, my brothers, my sisters.'
'Being like the angels'
Assuming that, overall, Jesus' comment here is consonant with the emphasis elsewhere in the NT on bodily resurrection as post-mortem destiny, what might the phrase 'they are like the angels in heaven' mean? As Lehtipuu highlights, the resurrection of the body came to be hotly contested in the early centuries of the church, and with it there was debate about precisely what the phrase meant. Origen took it to mean that at the resurrection the human body will be transformed into a celestial 'spiritual' body of a much finer and higher substance than the 'earthly' body.[5]But Methodius follows the teaching of Pseudo-Justin and Tertullian and argues against Origen, not least on the basis of the nature of analogies. To say 'the moon shines like the sun' does not mean that the moon is, in every regard, similar to the sun, and so the likeness between people in the resurrection and the angels offers only a partial parallel.[6]
Out of the debates about this text in the context of resurrection, five distinct questions emerge:
In the age to come, will we have bodies, that is, is our destiny bodily resurrection?
If we have bodies, will those bodies have the marks of sex difference, that is, will we be male and female?
If we have bodies which are sex differentiated, will we engaged in sexual intercourse, that is, will our sexual organs have any utility?
If we have bodies with sexual organs which will have a use, will that lead to procreation?
If we have bodies which are sex differentiated, whether or not our sexual organs will have a use, and whether or not there is procreation, will marriage persist?
The importance of identifying these distinct questions is highlighted when we consider two alternative visions of the age in relation to Jesus' teaching here.
First, this Midrashic text (in written form from the 8thcentury but claiming to record the teaching of Akiva ben Yosef from the end of the first century), sets out one possibility:
All the orifices [of the body] will spew out milk and honey, as well as an aromatic scent, like the scent of Lebanon, as it is said: "Milk and honey are under your tongue, and the scent of your robes is like the scent of Lebanon" (Song of Songs 4.11). And "like seed" which will never cease [to flow from the bodies of the righteous] in the world to come, as it is said: "He provides as much for His loved ones while they sleep" (Ps. 127.2), and friends are none other than women, as it is said: "Why should my beloved be in my house?" (Jer. 11.15). Each righteous person will draw near his wife in the world to come and they will not conceive and they will not give birth and they will not die, as it is said: "they shall not toil for no purpose" (Is. 65.23)…. and they will come to the world to come with their wives and children. (Midrash Alpha-Beth)[7]
In this vision of post-mortem existence we have bodies, sex difference, sexual intercourse and marriage—but no procreation. This is the kind of 'mundane' view that Jesus appears explicitly to be refuting.
Secondly, Ben Witherington argues that the phrase 'they will neither marry nor be given in marriage' abolishes the sex difference in the process, suggesting that there are no new marriages in the resurrection, but that existing marriage bonds will persist. Jesus here is not arguing against the existence of marriage per se, but against the need for levirate marriage since this is an institution which specifically exists to counter the consequences of death.[8]
This is a surprising reading, since the Sadducees are in fact asking a question about existing marriages and not about marriages that might be conducted in the age to come. The pressing issue is precisely: this woman has been married to each of these men (bracketing out the issue of whether levirate marriages were considered to be full marriages in the usual sense); if marriage does indeed persist in the resurrection, what will it look like? And which of these marriages will persist?
Witherington's reading also goes against the understanding of marriage elsewhere in the NT; it is Paul who introduces the idea of conjugal rights in 1 Cor 7, arguing that marriage should naturally involve sexual intercourse. And this in turn is tied in with an expectation of procreation; it is the fruitlessness of sexual relations in Romans 1 which contrasts with the fruitfulness of Abraham and Sarah in Romans 4, the contrast between idolatry and faith in God. In other words, across the NT the questions of marriage, sexual relations and procreation are bound closely together.
Virginity and resurrection life
We can confidently conclude, then, that Jesus' saying answers 'no' to the last three questions about resurrection life: there will be no marriage, sexual intercourse or procreation in the age to come. This reading is confirmed by the majority of patristic interpretations of this text, which took it as a key text advocating virginity as an anticipation of the life to come—and it is striking how much interest there is on virginity in the fathers.[9]
Cyprian of Carthage is typical of the kind of discussion we find: virgins are living the resurrection life already, because they are exemplifying the pattern of existence that Jesus is setting out in these verses.
What we shall be, already you have begun to be. The glory of the resurrection you already have in this world; you pass through the world without the pollution of the world; while you remain chaste and virgins, you are equal to the angels of God.[10]
But what is really fascinating in the patristic writers is the way that they frequently move from the question of resurrection life and virginal existence (encouraged not least by Rev 14.4) to the question of the bodily organs, including sexual organs. They often appear to be responding to a very similar kind of reductum ad absurdum argument to the one that the Sadducees presented to Jesus: if we are to be raised bodily, and if we are going to do without sex in the resurrection, what is the point in having sexed, differentiated, sexual organs? The answers given are unambiguous. Lehtipuu summarises the arguments of Pseudo-Justin and Tertullian in this way: 'If having sexual organs does not unavoidably lead to sexual intercourse in this world, it will certainly not do so in the world to come.'[11]
This conclusion has a direct impact on the relationship between questions 2 and 3 above. If there is no marriage, procreation and sexual relations in the resurrection, but virginity demonstrates that sex difference need not lead to sexual relations, that allows for the possibility that our resurrected bodies will indeed be sex differentiated. But is this necessary? The answer of Jerome (also an ardent opponent of Origen) is unequivocal: bodily resurrection must of necessity imply the continuance of sex identity. 'The apostle Paul will still be Paul, Mary will still be Mary.'[12] Since we only know ourselves as bodily persons with sex identity, then true continuity into the resurrection (whatever the discontinuities) must involve retaining this.
If the woman shall not rise again as a woman nor the man as a man, there will be no resurrection of the body for the body is made up of sex and members.[13]
Jerome supports this by himself going back to Jesus' saying and noting that the phrase 'they will neither marry nor be given in marriage' in fact presupposes sex difference. If to be 'like the angels' implied losing sex difference, there would be no need to make explicit the absence of marriage, since that would not be a possibility.[14] If indeed 'Paul will be Paul and Mary will be Mary', then after the resurrection 'Jesus was Jesus'; since Jesus' body was sexed prior to his death and resurrection, and that, following the resurrection, Jesus' body still bore the marks of his wounds, then it is hard to envisage Jesus' resurrection body not also being sexed.
Jerome's conviction has shaped the history of Christian art in this regard. A particularly good example of this is the series of frescoes of the Last Judgement in the cathedral of Orvieto in Umbria, central Italy, by the Renaissance artist Luca Signorelli, painted in 1499 to 1503. Men and women can be seen pulling themselves out of the earth and then helping others to do the same as they prepare to stand before the throne (Rev 20.11). There is no doubting that their bodies bear the marks of sex differentiation!
This is the point at which new creation connects with first creation. We experience our creatureliness in our bodiliness, and we experience this as male or female, receiving such differentiation as 'a gift' from God. It was not possible, for example, for Jesus to have been incarnated as a 'generic' human being; he needed to become either a man or a woman, and this historic particularity is expressed in recent decisions about the revision of the English versions of the Nicene Creed which have all retained 'and he became man' and resisted change to the sex-inclusive 'he became human'.
We should not in passing that there is a parallel debate about sexual organs and digestive organs. If we cannot die in the resurrection, will we need to eat? If we cannot eat, why have digestive organs? The fathers make this connection, but so does Paul; in Romans 1 Paul associates a certain kind of sexuality as idolatry, but in Col 3.5 he calls greed idolatry. In the church in Corinth, problems with sex ran parallel with problems and questions about food and the stomach—and, Paul tells us, 'God will put an end to both.'[15]
---
Jesus' brief teaching here has a very wide range of practical and pastoral implications.
In the context of bereavement, those who experience loss often express hope for life after death in the most mundane of ways. In particular, when the person who dies is a widow or widower, people often use the phrase 'They are both together again' or something similar. This expresses a quite mundane understanding of life after death, as in some strange way the couple are once again living the shared life they had (sometimes imagines with pets, gardening and other hobbies!) but just in some slightly more divine way. This parallels the Jewish vision of the mundane afterlife cited above. The right theological and pastoral answer to this is not to say 'Oh no, it won't be like that' in a way which suggests that there will be less to life in the new creation than there was in this age. Jesus is clear that the reason there is no marriage or no need for marriage is that there is so much more to the new creation than this. We won't need our nuclear family structures because we are all family, and we will not need the intimacy and security of marriage relationships because (as Rev 21 makes clear) we will find this superlatively in our intimacy with God.
But this teaching also highlights four vital issues related to contemporary debates around relationships and sexuality. First, Jesus confirms that marriage and parenting is God's usual intention for life in this age. Where there is no death, there is no marriage—but in this life there is death, and so marriage and parenting is to be expected as a normal part of this life. We are deeply wired in this way, and to create a culture where this is either not possible or perceived as not desirable is to create pastoral problems and frustration. As Annabel Clarke (herself single) puts it:
The Bible values singleness and marriage. Single people are equally valuable and competent as married people. At the same time, God's design from the start has been for marriage to reflect his covenant relationship with the church, to be foundational to society, and to be personal experienced by most people.
Whatever the personal issues around Emma Watson's decision to call herself 'self-partnered', for our culture it signals a loss of vision of something that is vital to our well-being as God created us—and this move is one that will mostly be detrimental to women.
Secondly, in the context of resurrection hope, Jesus is here depicting the single and chaste life as an anticipation of heavenly reality. Although marriage and parenting might be the norm for life in this age, the kingdom of God creates a new norm, in which death is overcome not by marriage and procreation but by being born into new life in Christ by water and the Spirit. The kingdom equivalent of procreation is evangelism and discipleship; where in the first creation we are commanded to 'be fruitful and multiply', in the new creation (anticipated by the downpayment of the Spirit) we are commanded to 'go and make disciples'. Marriage is not the path of salvation; coming to faith, and inviting others to do the same, is.
Thirdly, if marriage and sex are no longer present in the new creation, then our sexuality cannot be the fundamental reality that defines who we are. Nuff said.
Fourthly, and conversely, if the life of the age to come is that of bodily resurrection, and our bodies are sexed, then sex difference persists into the new age. This is a point of continuity with this age; sex difference is a basic part of who we are. Men and women are equal, but that does not merely they are in any simple sense interchangeable.
---
Footnotes
[1]Making the eschatological framework more explicit, and moving on to wider philosophical questions, could support the idea that Luke is making a Jewish discussion comprehensible to a largely non-Jewish readership.
[2]Alison, Raising Abel: The Recovery of the Eschatological Imagination p 38.
[3]Song, Covenant and Calling p 15.
[4]The intimate connection between marriage and death is captured in the title of Dvora Weisberg's exploration Dvora E. Weisberg, "Between the Living and the Dead: Making Levirate Marriage Work," AJS Perspectives, Spring 2013, 10–12.See also her book-length exploration Dvora E. Weisberg, Levirate Marriage and the Family in Ancient Judaism(Waltham, Mass: Brandeis University Press, 2009).
[5]Origen, De Principiis 2.2.2. Origen appears to be using the language of 'spiritual' body here in a different way from Paul in 1 Cor 15.44, where for Paul the resurrection body is animated by the Spirit but still clearly a physical body in some sense.
[6]Methodius Discourse on the Resurrection, preserved in Epiphanius's Panarion 64.12–62. See Lehtipuu 'No Sex in Heaven' p 30.
[7]Midrash Alpha-Betot, Batei Midrashot, II, ed. S. A. Wertheimer (Jerusalem: Mosad ha-Rav Kuk, 1980), 458, cited in David Nirenberg, "Posthumous Love in Judaism," in Love After Death: Concepts of Posthumous Love in Medieval and Early Modern Europe, ed. Bernhard Jussen and Ramie Targoff, 2015, 55–70, p 60.
[8]Ben Witherington, The Gospel of Mark: Socio-Rhetorical Commentary(Grand Rapids, Mich: Eerdmans, 2001)pp 328-329.
[9]Although various reasons are often read back into the fathers on this issue, their interest is surprising not least because the socio-scientific evidence suggests that it was the Jewish commitment to marriage and family, carried over into the early Christian communities (rather than virginity) which set Christians apart from their pagan contemporaries. See Rodney Stark, The Rise of Christianity (San Francisco: HarperCollins, 1997) chapter 5.
[10]Cyprian, On the Dress of Virgins 22, cited in Lehtipuu 'No Sex in Heaven' p 33
[11]Lehtipuu, 'No Sex in Heaven?' p 26
[12]Jerome, Letter 75 (To Theodora) 2.
[13]Jerome, Letter 108 (To Eustochium) 23
[14]At this point, it would be possible to enter a debate on whether angelic beings are envisaged in Scripture as being sexed. If the 'sons of God' in Gen 6.4 are taken to be angelic, then they are not only sexed but oversexed; the angelic visitors to Abraham representing the presence of God in Genesis 18 appear to be 'men', as are the angels at the tomb after Jesus' resurrection; it is often thought that the seraphs covering their 'feet' in Is 6.2 is a euphemism for covering their genitals (compare Ruth 3.7); this could explain Paul's enigmatic 'because of the angels' in 1 Cor 11.10; and in Zechariah 5.9 we find angelic women. But Methodius' argument, that 'like the angels' suggests similarity in some regards rather than identity in every regard, means that such observations cannot settle whether our resurrection bodies will be sexed.
[15]I have argued elsewhere that the regular and frequent fasting related in the New Testament, contrasted with periodic fasting related in the Old Testament, is symbolic of eschatological expectation, and so reflects a community which prizes both marriage (as an affirmation of this age) and virginity (as an affirmation of the life of the age to come).
Attached here is the full chapter from which the exegesis of Luke 20 has been extracted: Ian Paul Sexed in Heaven for pubn
---
If you enjoyed this, do share it on social media, possibly using the buttons on the left. Follow me on Twitter @psephizo. Like my page on Facebook.
---
Much of my work is done on a freelance basis. If you have valued this post, would you consider donating £1.20 a month to support the production of this blog?