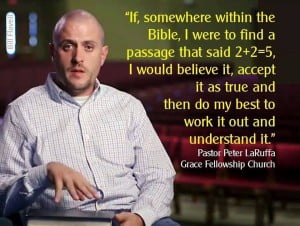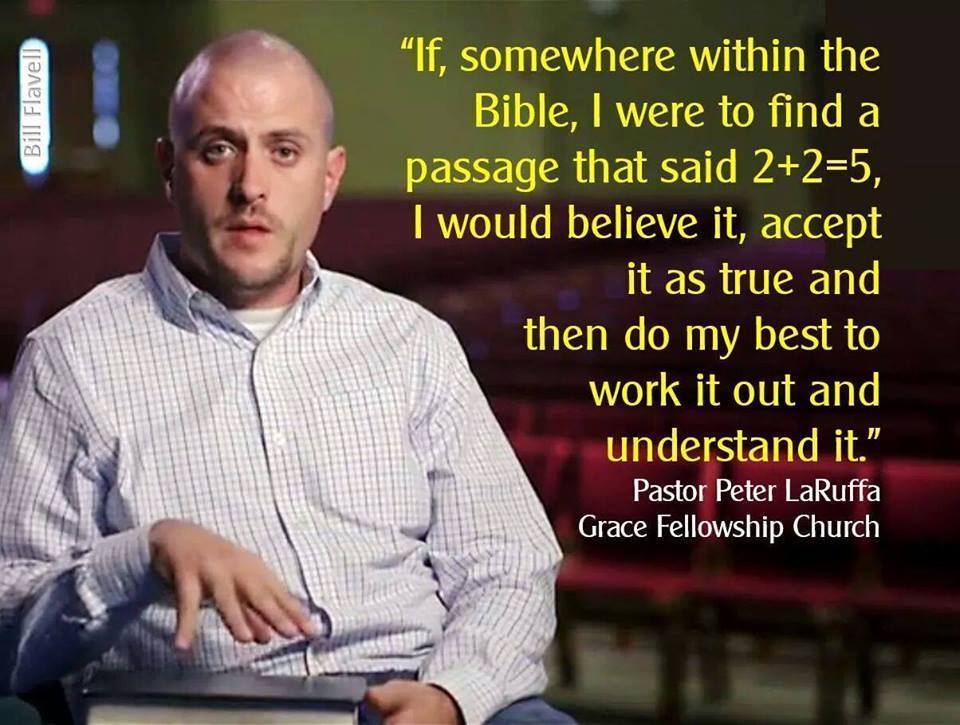 There's a quotation that did the rounds earlier in the year from a Peter LaRuffa, who is one of the staff at Grace Fellowship Church which is in northern Kentucky:
If, somewhere within the Bible, I were to find a passage that said 2+2=5, I would believe it, accept it as true and then do my best to work it out and understand it.
His comments came in the context of an HBO documentary Questioning Darwin which interviewed 'seven-day creationists' and was broadcast last February. There is no doubt that, amongst Peter's theological peers, his comment would get a round of applause, since it expresses an unwavering commitment to the authority of Scripture as the sole arbiter of truth.
The striking thing, though, is that the saying (attached to a dopy screenshot picture of Peter—he really does not look that dopy on the website!) was circulated by humanist atheists to illustrate how manifestly stupid Christians are. How could anyone with a brain say such a thing? If the Bible is wrong (and it often is) then surely the most honest thing to do is admit it—especially on the subject of creation versus evolution? The comment has also received short shrift from a good number of Christian commentators, particularly those from a 'progressive' perspective, as it illustrates the problem with a view of the 'unfalsifiable inerrancy' of the Bible. James McGrath comments on his blog:
It is less obvious for some people to see the problem when fundamentalist Christians dismiss evidence from history or science that contradicts the Bible. But it is much clearer when it is math that is at issue. Assuming we agree on a particular number system, then we can say what the correct answer is to a mathematical equation.

If the Bible is wrong about the answer, then it is wrong – there is simply no way around it…

No Christian should think that this horrific way of thinking about the Bible, math, science, history, and rationality is anything but a discrace, one that brings shame on Christianity by being associated with it.
It is rather unfortunate that LaRuffa chose this particular mathematical example, since it is one used by George Orwell in 1984 to illustrate the  suppressing of thinking and dissent that happens in totalitarian regimes.
Orwell's protagonist, Winston Smith, uses the phrase to wonder if the State might declare "two plus two equals five" as a fact; he ponders whether, if everybody believes it, does that make it true? The Inner Party interrogator of thought-criminals, O'Brien, says of the mathematically false statement that control over physical reality is unimportant; so long as one controls their own perceptions to what the Party wills, then any corporeal act is possible, in accordance with the principles of doublethink ("Sometimes they are five. Sometimes they are three. Sometimes they are all of them at once").
In effect, it makes Creationism look very much like a totalitarian system, controlled by a powerful social conformism to the consensus within that group.
---
But it is worth staying with this a little longer. Is it the case that 'If the Bible is wrong about the answer, then it is wrong – there is simply no way around it'? Let's do a thought experiment where do we come across this (apparently false) mathematical statement. Would we simply dismiss it as being evidently wrong? There are in fact a number of other possibilities:
It could be an approximation. 2.4 + 2.4 = 4.8, which when rounded to whole numbers make 2 + 2 = 5. This is exactly what is going on in the measurements for Solomon's temple, where (for example) the bronze 'sea' in front of the temple is 'ten cubits from rim to rim and…took a line of thirty cubits to measure round it' (1 Kings 7.23). That makes the value of pi equal 30/10 = 3.0 instead of 3.14159. So it is 'clearly wrong'. Or is it giving the internal diameter of the bowl, and the external circumference? Or is it just approximate?
Secondly, it could form a part of poetry. When the Beatles sang 'Eight days a week/I lo-ooo-ove you' no-one complained that they had their diaries wrong.
Or it could be a joke. Or in fact it could be any number of things—because we use language, including apparently mathematical language, in all sorts of ways, not just the mathematical.
In other words, if the Bible says something that looks 'wrong', we would be unwise to immediately say 'it is wrong – there is simply no way around it' too quickly without some careful thought. This is the mistake that is writ large in Liberal Protestantism. Rudolph Bultmann's programme to 'demythologise' the New Testament sprung from his conviction that 'You cannot believe in a world of demons and angels and at the same time believe in electricity.' Bultmann only needed to meet some of my parishioners (or even read a newspaper) to see how mistaken that view is.
---
This small example is touching on a much bigger question: how do we know the Bible is true? In what sense is that the case? In the end, I don't agree with LaRuffa's position. Perhaps he is trying to put his view of the Bible beyond any reasonable questioning, as James McGrath suggests. But perhaps he is doing something even worse—setting up another set of criteria by which the Bible's truth is to be judged. This is the problem with all 'apologetic' approaches to the question of whether the Bible is true and trustworthy: we set up criteria that it must satisfy, then demonstrate that it satisfies these criteria. In doing so, we have assumed that our own criteria are themselves the measure of truth, and in doing so we displace the Bible's very authority. This, broadly speaking, is the argument of Hans Frei's The Eclipse of Biblical Narrative—the effect of modernism was to set up an alternative set of criteria for truth, which the Bible must now satisfy. For conservatives, it must and does pass the test; for progressives and liberals, it clearly fails. And the answer to this test is both shaped by and shapes our assumptions regarding what the Bible is and how it functions.
Frei's solution is to remove the Bible from such criteria, and call for the Bible to be accepted in its own terms. But I think this simply replaces one set of problems with another one, and make the truth of the Bible just as untestable as Peter LaRuffa does. Instead, we need to recognise (using Anthony Thiselton's terms) that in reading a text from another culture and another time, we are seeking to find a 'meeting of horizons', the horizon of the text and the horizon of the reader.
---
Responding to the 'errors' in the Bible is currently at the centre of the battle for the soul of evangelicalism. 'Progressives' reject the kind of inerrancy expressed above because they can see the contradictions in the Bible, and on the basis of it make a plea to recognise that the Bible is not the kind of book it is often assumed to be—an 'instruction manual for life' or a list of propositional doctrines (which, unfortunately, is wrapped up in a lot of awkward narrative from which we need to retrieve it). Peter Enns is a good example of this position, first because he lost his job at Westminster Theological Seminary as a result of this issue, second because he is in conversation with Brian McLaren and cited approvingly by Rachel Held Evans, two notable 'progressives', and third because he has wrestled with these questions as an Old Testament scholar.
Peter has run a series of blog posts where a number of scholars write about their 'aha' moment, when they realised that the old paradigm of proposition/inerrancy would not work for the Bible, and how they came to see things differently. In response, Michael Kruger has invited some conservative scholars to respond to each of these. One in particular caught my attention: John Byron's discussion of Mark 2.25–26.
He answered, "Have you never read what David did when he and his companions were hungry and in need? In the days of Abiathar the high priest, he entered the house of God and ate the consecrated bread, which is lawful only for priests to eat. And he also gave some to his companions."
Byron points out what is commonly noticed: that in 1 Samuel 21, David claims he is alone when asking for the bread, and Jesus seems to think his men are with him; and Jesus names the wrong high priest, Abiathar, when in fact it was Ahimelek. Byron is clear that these errors imply something significant:
The problem, however, as I pointed out to my teacher, is that Jesus got it wrong…Over time numerous passages forced me to conclude eventually that the Bible wasn't a history book, meaning the authors were not trying to give me a blow-by-blow account from creation to the end of the first century.

Instead I came to realize that the Bible was first and foremost a theological book that contains history and uses history to direct me towards God.
In response, Craig Blomberg points out that Byron is mistaken about the mistakes. Yes, David claims he is alone—but he is clearly lying. And the phrase Jesus uses does not mean 'in the days of', but 'In the section which mentions' (the Greek word is epi). It is the same phrase Jesus uses in Mark 12.26 when he refers to the 'passage about the burning bush.' He concludes:
I can understand why some scholars may not be convinced by this solution.  But I am consistently amazed at how few ever even acknowledge knowing about it, much less interacting with it.  I have cited it in several of my books as have other leading evangelical  commentators, who have found it completely satisfactory.  It's unfortunate that Ehrman, Byron and Enns never once disclose if they are familiar with it and, if they are, what objections (if any) they have to it.  Until they do, it really is inappropriate for them to claim with such confidence that they know Jesus or Mark got it wrong!
I know both John and Craig, and respect them both. I also share Peter Enns' frustration when people treat the Bible like a car maintenance manual. But on this issue, I am with Craig; I think John has concluded too quickly that the text is wrong, and the Bible unreliable here.
---
We need to take the humanity of the Bible seriously. But this implies not that it is fallible and mistaken, but that it is expressed in terms particular to the human context of the time—a context where it is fine to speak briefly, approximately and in shorthand terms which would have been understood then, but (at least on a superficial reading) do not make sense to us—unless we think hard, read carefully, and take advice from others who have done their homework.
---
If you have valued this post, would you consider donating £1.20 a month to support the production of this blog?