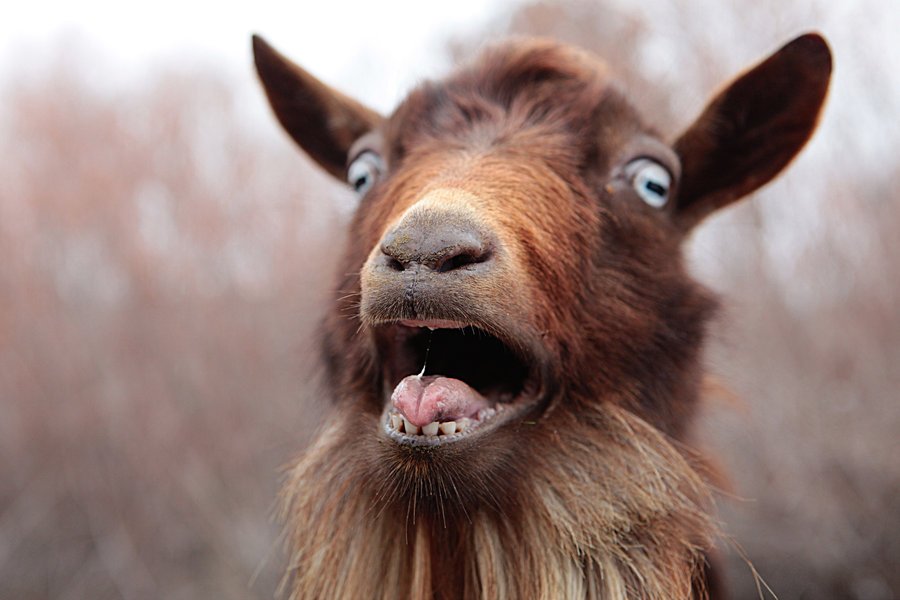 The parable of the sheep and the goats in Matt 25.31–46 isn't actually a parable (since there is no suggestion that 'the kingdom of heaven is like this'), and isn't really about sheep and goats (as we shall see). But it is very well known, and is most commonly interpreted as an encouragement for followers of Jesus to care for the poor.
In the narrative, there are three groups of people: the 'sheep' who are placed on the king (= Son of Man)'s right; the 'goats' who are placed on his left; and the 'least of these my brethren' who are the ones who are hungry, thirsty, strangers, naked, sick and in prison. The story itself is very memorable; many years ago I learnt it by heart and performed it as the Bible reading in an all age service, and I noticed the four-fold structure of dialogue, and the six experiences of the 'least' which are grouped into three pairs (hungry/thirsty; stranger/naked; sick/in prison). In each of the four repetitions in the dialogue, this list of six things gets slightly compressed at the end. This kind of structuring to Jesus' teaching is common, especially in Matthew's gospel, and it makes it very memorable.
The most common interpretation of the narrative allocates the people groups in the following way. The 'least of these' are the poor in general; the sheep are those (probably followers of Jesus, obeying his teaching here) who care for the poor rather than just having a theoretical faith; and the goats are those who neglect Jesus' teaching. Thus this becomes a general argument of the importance of caring for the poor.
---
But this interpretation has only been around since around 1850 (which raises issues about how we should response to 'novel' interpretations…) and in fact has some serious obstacles to it.
The first is the issue at the heart of the narrative itself. When the king invites those on his right to 'Come, you who are blessed by my Father; take your inheritance, the kingdom prepared for you since the creation of the world…', they respond with complete surprise, and the king has to explain that 'Whenever you did this for the least…you did it for me'. Likewise, those on his left are also surprised to have encountered the king in his moment of need. If the narrative were about helping the poor, then those who helped the poor (having read this story!) would hardly be surprised to find that they had been doing as the king asked.
But there are wider problems with the interpretation, when it is read in the context of Matthew's gospel as a whole. As Dick France points out in his commentaries (NIC and TNTC), Matthew never records Jesus referring to his 'brothers' or sisters as anyone other than those who do the will of God by becoming his followers. This is particularly clear in Matt 12.49, when Jesus is rather radically proposing that his new family are the disciples gathered around him (which of course includes women). Moreover, Jesus is clear that to follow him means to be homeless; in reply to a teacher of the law who would follow him, Jesus replies: 'Foxes have dens, and the birds in the sky have nests, but the Son of Man has no place to lay his head' (Matt 8.20 = Luke 9.58). In other words, if you follow Jesus you will be like him, and this could involve being without home, a wandering stranger, reliant on the charity and provision of others.
Put together, these point to the 'least of these' not being the poor in general, but being Jesus' own followers. Thus those on the king's right are people who have welcomed his poor followers, and in doing so have welcomed Jesus. At the end of Jesus' second block of teaching in Matthew (which Matthew attaches to the sending out of the 12 in chapter 10) we have a very similar idea—whoever receives the disciples in effect receives Jesus, and how they treat the disciples is in effect how they treat Jesus. (These verses, Matt 10.40-42, don't have an exact parallel in the other gospels, though there is a similar saying in a different context in Mark 9.41). France, in his comment on Matt 25, describes this as the closest Matthew gets to a Pauline notion of the believers as the body of Christ, and it it likely that Paul was shaped in this by the words he heard on the Damascus Road. Persecuting Jesus' followers, he hears Jesus ask: 'Why do you persecute me?'
So the division is not between those who care for the poor or don't (and there is plenty of encouragement to do that elsewhere in the gospels), but those who care for the followers of Jesus or don't—and in doing so reveal their attitude to the king himself.
---
But the question remains: what has Jesus got against goats? Why in the narrative does he appear to use goats as the metaphor for those who neglect the needs of his people?
At last week's British New Testament Conference, Richard Goode, of Newman University in Birmingham, explored the question in one of the short paper sessions. It was a great presentation, a model of clarity and with lots of slides of goats—and who could resist a paper exploring Jesus' 'apparent antipathy towards goats'?
Richard began by noting the importance of mixed sheep/goat herds in the near east. This is reflected in some of the OT narratives (such as Gen 32.13–15) where herds are a sign of wealth and power. In richer pasture further west in the Mediterranean, the land is good enough to support single-species herds. But further east, where the grazing land is scrubbier, then mixed herds are essential, since the goats can graze the harder ground.
Herding mixed-flocks in resource-poor areas is advantageous. The goat's non-selective diet and ability to independently forage harsher, scrubbier locations complements the sheep's requirement to graze more grass-rich habitats, thereby efficiently exploiting different portions of the same pasture. More importantly, mixed-herding not only ensures optimal pasture use, but also preserves precious ecological resources. Too many of either species in a flock (sheep or goat) could mean the depletion and possible destruction of pasturage (which would normally be shared with other herders) or an inability to access adequate resources for flock survival. A careless shepherd was not only putting their own livelihood at risk but the livelihoods of neighbouring herders too. Consequently maintaining the right balance between goats and sheep was essential for the preservation of pasturage and the flock. Sasson observes that mixed-herding also has an economic rationale: A herd of around 2:3 goats and sheep ensured satisfactory wool production while maintaining herd security. Zooarchaeological data suggests that the goat-sheep ratio within ancient Israel could be as high as 8:2, although more typically it would be between 1:1 or 1:3.
Why then does Jesus appear to have a negative view of the goats in Matt 25? This passage has almost universally been read in the light of the parable of the wheat and the tares in Matt 13:24-30, so that the emphasis of the contrast is between the good ones and the bad ones. But in Rabbinic literature, goats are seen as of equal value with sheep, and in some cases more valuable. Goats have a higher milk yield than sheep, and so the idea of the promised land as 'flowing with milk and honey' is actually most likely a reference to the benefits of a land where goats graze. Interestingly, many commentators think that Jesus' teaching in Matt 25 has been influenced by Ezekiel 34:17-22, a passage which mentions the action of separation as judgement, and includes a reference to both sheep and goats:
As for you, my flock, this is what the Sovereign LORD says: I will judge between one sheep and another, and between rams and goats. Is it not enough for you to feed on the good pasture? Must you also trample the rest of your pasture with your feet? Is it not enough for you to drink clear water? Must you also muddy the rest with your feet? Must my flock feed on what you have trampled and drink what you have muddied with your feet? 

Therefore this is what the Sovereign LORD says to them: See, I myself will judge between the fat sheep and the lean sheep.  Because you shove with flank and shoulder, butting all the weak sheep with your horns until you have driven them away, I will save my flock, and they will no longer be plundered. I will judge between one sheep and another. 
The key thing to note here is that judgement is not on the basis of type of livestock, but on the behaviour of each. Matt 25 appears to be making the same kind of distinction.
So what is going on? Goats reproduce faster than sheep, and if a herdsman is going to keep his flock properly balanced, then as a matter of course he will need to cull the male kids (baby goats), since otherwise they will outnumber the sheep, and with too many males he will not have a supply of milk (a small herd would typically only need a couple of males). When we look at Matt 25, we see that the word translated 'goat' is actually the word eriphos, the male term for a baby goat—also used ironically by the elder brother in Luke 15.29. So Jesus' reference to the separation appears to be drawing on a well-known and regular occurrence in herding—the separation out and culling of the young male goats the herdsmen would do as a natural part of their work.
In other words, the focus is not on the different types of animals, but on the process of separation. This is supported when we read on in the parable; beyond Matt 25.32–33, the two groups are not again referred to as 'sheep' and 'goats', but as those on the king's right and on his left. Reading the text carefully in its cultural context actually drives us back to read the text itself more carefully. Someone suggested to me in conversation a modern equivalent which could have been used a few years ago: 'The king will separate the nations as easily as a housewife separates apples from pears'. This no longer applies, since all sorts of people do shopping, and fruit now comes in separate bags—but it illustrates the point.
---
I previously noted some challenging lessons from this better reading of the narrative:
To follow Jesus means (to risk?) being hungry, thirsty, naked, as stranger, sick and in prison. This has not been hard to imagine for many Christians in many parts of the world in many times in history. In fact, it is perhaps only in a rich West that Christians could have misread this teaching, by naturally reading themselves in the role of the powerful helper rather than the powerless in need of help.
It raises big questions about the status of those who don't appear to have named Christ as Lord (Romans 10.9), but have responded to Christ in being the 'sheep' who have assisted his disciples because they are his disciples. This question was raised by someone listening to me teach on this recently, who works in inner cities primarily with Muslims. 'If my Muslim friend helps me out are they counted as sheep?' In a sense it asks the bigger question of whether it is possible to become a Muslim follower of Jesus rather than become a Christian.
Finally, it suggests a rather different model for mission. We are not going as the strong with resources to help the weak, but we come as the weak ready to receive from those to whom we have been sent. And of course this is the idea behind the idea of finding the 'person of peace', taught by Mike Breen and others from the sending of the 12 and the 72 in Luke 9 and 10 and Matt 10. You can read about this in my co-authored Grove booklet How to be Fruitful.
Thanks to Richard Goode's fascinating paper, we need to add another: Jesus will separate those who have responded to him, in whatever way they were able, from those who have rejected him. We might not be able to tell the difference now (since we do not know the secrets of people's hearts), but he will be able to do so just as easily as a herdsman separates his flock for culling. He is a competent and a just judge, and we can trust him to do his job.
(Many thanks to Richard for sharing his paper and PowerPoint with me.)
---
Come and join us for the second Festival of Theology on Wednesday October 17th!
---
Follow me on Twitter @psephizo. Like my page on Facebook.
---
Much of my work is done on a freelance basis. If you have valued this post, would you consider donating £1.20 a month to support the production of this blog?