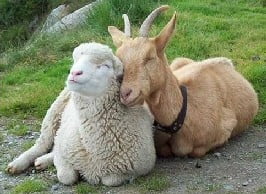 Jesus' 'parable' of the sheep and the goats in Matt 25.31–46 is very well known and widely misinterpreted. It forms one part of the extended teaching about 'the end' distinctive to Matthew (compared with Mark and Luke). It is most commonly interpreted as an injunction to help the poor; most Christians (in the West at least) read this more or less as the sheep being Christians, the goats being non-Christians, and 'the least of these my brothers [and sisters] being the poor in general.
I thought this too, until I had to read this in the context of the all-age part of our main service about 15 years ago. It is quite a long reading, so I was worried that the children and young people would get bored. But then it occurred to me: in the gospels, no-one ever tells Jesus that he is getting a bit boring.
What is it we do to Bible reading which makes it boring?! So I decided on Saturday night to learn it and recite it by heart. (I can still recite it word for word 15 years later.) The effect was electric, and particularly memorable for those sitting on my left…and it made me change my mind about the meaning of the parable, which is a good argument for learning Scripture.
Firstly, as Dick France points out in his commentaries, Matthew never has Jesus refer to his 'brothers' or sisters as anyone other than those who do the will of God by becoming his followers. This is particularly clear in Matt 12.49, when Jesus is rather radically proposing that his new family are the disciples gathered around him (which of course includes women).
Secondly, Jesus is clear that to follow him means to be homeless; in reply to a teacher of the law who would follow him, Jesus replies: 'Foxes have dens, and the birds in the sky have nests, but the Son of Man has no place to lay his head' (Matt 8.20 = Luke 9.58). In other words, if you follow Jesus you will be like him, and this is to be without home, a wandering stranger, reliant on the charity and provision of others.
Thirdly, at the end of Jesus' second block of teaching in Matthew (which Matthew attaches to the sending out of the 12 in chapter 10) we have a very similar idea—whoever receives the disciples in effect receives Jesus, and how they treat the disciples is in effect how they treat Jesus. (These verses, 10.40-42, don't have an exact parallel in the other gospels, though there is a similar saying in a different context in Mark 9.41).
France, in his comment on Matt 25, describes this as the closest Matthew gets to a Pauline notion of the believers as the body of Christ, and it it likely that Paul was shaped in this by the words he heard on the Damascus Road. Persecuting Jesus' followers, he hears Jesus ask: 'Why do you persecute me?'
Reading the passage in this way (which we must if we take its context in Matthew seriously) has huge implications.
To follow Jesus means (to risk?) being hungry, thirsty, naked, as stranger, sick and in prison. This has not been hard to imagine for many Christians in many parts of the world in many times in history. In fact, it is perhaps only in a rich West that Christians could have misread this teaching, by naturally reading themselves in the role of the powerful helper rather than the powerless in need of help.
It raises big questions about the status of those who don't appear to have named Christ as Lord (Romans 10.9), but have responded to Christ in being the 'sheep' who have assisted his disciples because they are his disciples. This question was raised by someone listening to me teach on this recently, who works in inner cities primarily with Muslims. 'If my Muslim friend helps me out are they counted as sheep?' In a sense it asks the bigger question of whether it is possible to become a Muslim follower of Jesus rather than become a Christian.
Finally, it suggests a rather different model for mission. We are not going as the strong with resources to help the weak, but we come as the weak ready to receive from those to whom we have been sent. And of course this is the idea behind the idea of finding the 'person of peace', taught by Mike Breen and others from the sending of the 12 and the 72 in Luke 9 and 10 and Matt 10. You can read about this in my co-authored Grove booklet How to be Fruitful.
---
Much of my work is done on a freelance basis. If you have valued this post, would you consider donating £1.20 a month to support the production of this blog?