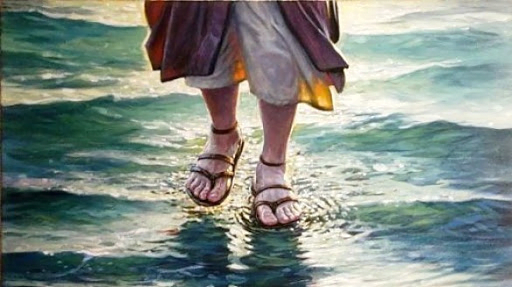 ---
The Sunday lectionary reading for Trinity 10 in Year A is Matt 14.22–33, Matthew's distinctive account of Jesus walking across the water and Peter's response to it. I am finding this recent, sustained immersion in Matthew's narrative very interesting. We have often noted how Matthew's accounts are more compressed than the other gospels, particularly Mark, and that he compensates for that by including additional episodes. But the compression itself actually gives the narratives an intensity and power that I had not expected.
---
In the previous episode, Jesus has been seeking solitude (with his closest followers) after hearing the news of John the Baptist's death, with all its discouragement and foreboding. But, just as he postponed the urgent task of responding to Jairus' daughter in order to attend to the needs of a woman in Matthew 9, so he postpones the meeting of his own urgent need to respond to the desires of the crowd.
He took command in feeding them, and now he takes command in dismissing both them and the disciples, so that he will be truly alone. There is one fascinating detail here: once all have eaten and are satisfied, Jesus 'immediately' dismisses them. This pericope is the only place in the whole of Matthew where Jesus acts 'immediately'—a contrast to Mark where the term occurs ten times in his first chapter! Jesus has been postponing his own need for solitude and reflection, and his desire to be alone with his Heavenly Father can wait no longer. This time, the phrase κατ᾿ ἰδίαν 'by himself' means that he is, physically, truly alone.
In Matt 14.15, evening (that is, the time after sunset but before complete darkness; compare Mark 1.32) was approaching and this prompts the debate about feeding the crowd. Now, evening has come; some considerable time must have passed, so R T France translates this 'well into the night'. This need not make seeing the boat impossible if the darkness is moonlit.
Matthew tells us that the boat was 'many stadia' from the land, and John 6.19 (interestingly) supplies more specific detail, that they had rowed 'twenty five or thirty stadia', translated as 'three or four miles'. It is slightly odd that they are so far out, since 'crossing' the top of the Sea of Galilee means running not far from the shore. But Matthew points out that the problem is the wind blowing them off course. The simple sails of boats of the time would make tacking into the wind that modern sailing boats undertake with ease a real challenge, so they would have had to rely on oar power. And it is worth noting that this casual, corroborated geographical detail rules outa  'naturalistic' explanation of Jesus walking on submerged stones near the shore before anyone even thought of it!
The 'fourth watch of the night', when Jesus came towards them, is a Roman term covering the period of around 3 am to 6 am, so the light of dawn would be approaching. Fishermen on the lake would often work at night, when the fish come to the surface without fear of predators, and we have several episodes where night working is evident or assumed ('We have toiled all night' Luke 5.5). In the dim light of dawn, it is not surprising that the disciples cannot make out the figure that approaches them.
---
Both Matthew and Mark repeat the fact that Jesus is 'walking on the lake', but the remarkable nature of this act is enough to record without any further elaboration. In fact it is such a powerful image that 'walking on water' has become proverbial in popular culture as a way of saying someone is remarkable. Despite this, there appears to be little symbolic freight attached to it; like many of his miracles, Jesus is using his power to meet a need or address a situation, rather than as any kind of ostentatious display of power for its own sake. As we noted previously, Jesus is no magician.
There is theological significance to this, and in fact Mark draws this out more explicitly than Matthew. In his expanded phrase 'he meant to pass them by' (Mark 6.48), he drops a heavy hint that we should hear echoes of Job 9.8, 11: 'He treads on the waves of the sea…when he goes by, I cannot perceive him'. But the reaction of the disciples once Jesus climbs into the boat leave us in little doubt as to the significance of his action in their perception.
If Jesus' actions have theological meaning, the disciples response lacks it! They are terrified, and think this is a 'ghost'; the word here, phantasma, occurs nowhere else in the NT, and has no theological sense to it. Curiously, Matthew articulates their impression in reported speech, where Mark simply describes what they are thinking; this is unusual, as Matthew's abbreviation of Mark's narratives usually means the reverse. It is a frequent and sobering aspect of all the gospel accounts that Jesus is enigmatic, puzzling, even terrifying almost as often as he is encouraging and reassuring. Though he is truly 'one of us' in the incarnation, he is just as truly quite other than us, the master whom we can never quite master.
There are numerous variations in wording and style between the three accounts in Matthew, Mark and John, though (as is typical with the different gospels) their wording converges when it comes to reporting Jesus' speech: 'Take heart; it is I; fear not'. John trims off the first encouragement, in order to put the ἐγώ εἰμι 'I am' in the most prominent place, as we might expect. It is not very clear from Matthew's account whether we should see, in this, an echo of the 'divine name' in Exod 3.14, not least since this phrase is the natural one a person would use to give reassurance about their identity. But of course we read these words in a different light following the resurrection and ascension than the disciples would necessarily have taken them at the time.
---
---
In Mark and John, Jesus' assuring words lead straight into his reception into the boat; only in Matthew do we read this additional episode of Peter, impulsively, wanting to join Jesus on the water. Two things are particularly striking about this episode.
First, this is the point where the narrative becomes much more laden with symbolic significance—so much so that, for example, John Ortberg could title his best-selling book on discipleship after this episode (If you want to walk on water, you've got to get out of the boat).
Life is a storm, yet Jesus calmly walks on the surface.
We think we can follow him, though it looks impossible.
Then he himself calls us, and as we hear his voice, we are filled with courage.
We step out of the metaphorical boat of our safe assumptions and self-made protection in order to follow him.
Our faith fails as we are distracted from looking at Jesus and instead look at the wind and waves around us, and we feel as though we are drowning.
Yet Jesus reaches out and rescues us, and takes us once again to a place of safety.
The powerful symbol of the waters that threaten to overwhelm us is a common motif in the Psalms, appealing as it does to that archetypal sense of troubles that overwhelm us as the waves of the sea overwhelm a drowning person, especially poignant in a culture which, on the one hand, depends on fishing, but on the other probably does not do swimming. I love the way that the picture above picks this up, offering an unusual drowning-Peter's-eye view of Jesus' outstretched hand.
One of my favourite scenes in my favourite film(s), the Lord of the Rings, comes near the end of the first film in the trilogy. Frodo has decided that he can trust no-one else in the fellowship, so jumps in a boat and pushes off from the shore. Samwise Gamgee runs down the shore, shouting at him. 'I am going to Mordor alone!' cries Frodo, to discourage him. 'Yes, you are—and I am going with you!' insists Sam in reply. He launches himself into the water after Frodo, with more determination than faith, only to realise that he cannot swim. As he sinks beneath the water, a hand reaches down to pull him out, and the two are reunited for the beginning of their epic trip together as Frodo hauls Sam into his boat. What makes this image more powerful is that it is repeated, in reverse, at the end of the third film as Sam reaches a hand down to rescue Frodo from the destructive power of the molten lava in Mount Doom.
And here is the second point about this narrative, and the paradox: it is not at all clear that this is how we are meant to read the episode!
No obvious reason is given for Peter's impulsive action. Jesus comes to them across the water to offer comfort and encouragement, and he has no other way to get to them—but what purpose is served by Peter doing the same? The episode fits well with the general depiction of his character—speaking before he has thought through the implications of what he says, and acting on impulse. R T France comments:
It is not so clear, however, whether Matthew intends us to see Peter in this incident as an example of valid faith which went wrong, or as from the beginning taking a foolhardy risk either to impress the others or simply as a childish search for exhilaration… The eventual failure of the experiment perhaps suggests that Matthew does not intend it to be taken as a model for others to follow, but rather as a cautionary tale. (NICNT, pp 567–568).
Peter is actually rather prominent in this section of Matthew's gospel, and whilst Matthew generally softens the failures of the disciples as a whole compared with Mark, he leaves Peter's failure on display for all to see. Peter gets a sharper rebuke in Matt 16.22f than in the other gospels, and his denial of Jesus in the courtyard fails to be given the customary Matthean abbreviation (Matt 26.69f).
Additional note: I am grateful to online friend James Oakley, who previously preached on this assuming that Peter was being reckless—though now thinks he might change his mind! But one thing that influenced him was John Calvin's reading:
'If it is thou,' he says, 'bid me come to thee.' But he had heard Christ speaking. Why then was he doubtful and bewildered? In his small and weak faith there breaks out a thoughtless wish. He should have kept to his proper limits and rather sought from Christ an increase of faith so that by its leading and guidance he might at last rise above all seas and mountains. But as it is he wants to fly without the wings of faith, and without Christ's voice having a genuine firmness in his heart, to make the waves solid under his feet. There is no doubt that his desire sprang from good principle, but because it degenerated into a faulty excess it ceased to be praiseworthy. This is why Peter quickly suffered for his rashness. By this example believers are taught to beware of over-much rashness. Whithersoever the Lord calls we must energetically run; but anyone who goes too far will experience at last the unhappy outcome of transgressing his limits.

We might ask why Christ grants Peter's wish. By doing so He seems to approve it. But the solution is easy. God often looks after us better by denying what we ask. But sometimes He gives way to us so as to convince us of our foolishness by experience. Thus by yielding to them more than is expedient He daily trains His believers in sobriety and moderation for the future. Add that this was profitable for Peter and the rest and is profitable for us today. Christ's power shines forth more brightly in Peter when He makes him His comrade than if He had walked on water alone. Yet Peter knew, and the others saw plainly, that because he did not abide in a firm faith and rest on the Lord's Word the secret power of God which had made the water solid failed. But Christ deals kindly with him, for He did not want Him to sink completely. Both these things concern us also. Just as Peter began to sink as soon as he was overtaken by fear, so our frail and transient fleshly ideas sometimes cause us to sink in the course of our activities. Yet the Lord pardons our weakness and stretches out His hand lest the waters should swallow us up. We must also observe that when Peter saw that his temerity had turned out badly, he committed himself to Christ's mercy. Wherefore we also, even when we are suffering a punishment we deserve, must flee to Him to have mercy on us and give us the help we do not deserve. (Commentary on Harmony of the Gospels, Volume 2, page 153)
(There is some reflection on the ambivalence of the whole narrative in scholarly debate about the phrase 'he walked on the water to come/and came to Jesus'. Are the verbs there to express the fact that he succeeded in walking across the water and reaching Jesus, or merely that he attempted to do so and failed?)
---
Further additional note: Another online friend, David Moscrip, has suggested that our debate about the interpretation of this narrative actually echoes the narrative itself. We get focussed on the person of Peter in the story, his actions, his responses, and whether he was a good example or a dire warning—and, in the narrative itself, we take our eyes off the person of Jesus. So Peter in the story demonstrates what we often do in interpreting the story! Our interpretation becomes 'fractal'—geometric images that represent themselves in miniature!
The lesson of both the story and our interpretation of the story is: keep your eyes on Jesus!
---
The closing dynamics of the story are important, and easily misunderstood. Jesus' rebuke to Peter 'Why did you doubt?' sounds more than a little ironic, given that they were in the middle of the sea, in the near-dark, in a storm. Peter had good reason! But we should not take this as a rejection of doubt, or questioning, in the usual sense; the Greek term here distazo occurs only here and in Matt 28.17 in the New Testament, and has a sense not of asking questions but of being in two minds. The notion here is similar to that expressed in James 1.6–8, which also (coincidentally!) mentions waves.
Four times Jesus rebukes his disciples for being 'you of little faith'. The term here, oligopistos, comes in Matt 6.30, 8.26, here in 14.31 and in 16.8, (and only once elsewhere in Luke 12.28) and he uses the related term oligopistia in Matt 17.20 in relation to 'faith the size of a mustard seed'. Some have suggested that, rather than being a rebuke, this is a gentle encouragement to have faith. I am not persuaded by this, not least since this is Matthew's softening of Mark's recording of Jesus saying 'You of no faith!' (see Mark 4.40).
If Peter had had even faith the size of a mustard seed, he would have succeeded in his quest. R T France sums up:
The faith which can move mountains would have kept Peter safe, if he had not allowed his obedience to Jesus's call to be overwhelmed by his very natural perception of the danger to which he had rashly exposed himself. It is thus an illustration of the vulnerability of the disciple who allows doubt, the natural human perspective, to displace the faith which relies on the supernatural power of God. (NICNT p 567)
Perhaps the best way to resolve this ambiguity is to note, once again, that we need to read not anthropocentrically, focussing on the action of the human characters as examples to follow or warnings to avoid, but theocentrically, focusing on the person and actions of Jesus. Whether we are reckless like Peter, or fearful like the other disciples, it is Jesus who is lord of creation and who is more powerful than anything that threatens us. It is to him that we bow down in awed worship.
(In this summer break, we are not producing weekly video discussions, but they will resume in September.)
Note: from next week I will no longer allow anonymous (as opposed to pseudonymous) comments.