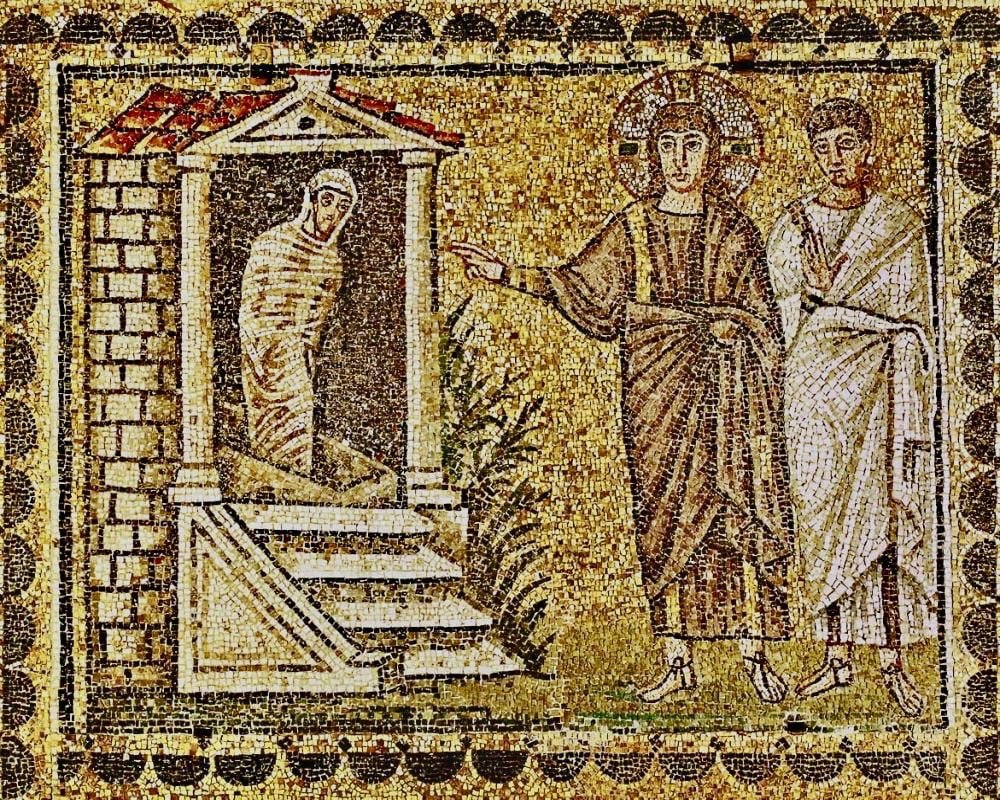 ---
In the Sunday gospel lectionary reading for Lent 5 in Year A, we come to the last of our for explorations of Jesus' encounters with individuals that formed a catechumate in the early church in her raising of Lazarus in John 11.1–45. Next week, on Palm Sunday, we will return to our gospel of the year, Matthew, in the lead in to Holy Week, Good Friday and Easter Sunday.
This remarkable extended narrative forms a turning point in the Fourth Gospel. The gospel is commonly seen as being in two halves, the so-called 'Book of Signs' running from the prologue until now, and the 'Book of Glory' which runs from chapter 12 to the end. (In a previous scholarly generation, these were understood to reflect two different [written] sources behind the final form of the gospel; but we don't need to have this obsessed with sources to note that there is different language, a different emphasis, even a different 'feel' in the first half and the second half of the gospel.) The seven signs in the gospel are most commonly understood to be:
Changing water into wine at Cana in John 2:1-11 – "the first of the signs"
Healing the royal official's son in Capernaum in John 4:46-54
Healing the paralytic at Bethesda in John 5:1-15
Feeding the 5000 in John 6:5-14
Jesus walking on water in John 6:16-24
Healing the man blind from birth in John 9:1-7
The raising of Lazarus in John 11:1-45
There is some debate here, because they are not each explicitly identified in the narrative as a 'sign', so some readers see the feeding of the 5,000 and the walking on the water as one, combined, sign, making Jesus' own resurrection the seventh. However, the signs are quite clearly depicted as partial revelations which point forward to ultimate reality, and it makes more sense to see each of these seven pointing forward to the eighth, the reality of Jesus' resurrection, which (if 'seven' signifies this age, with its seven days of creation and rest) depict this as the beginning of the new age to come.
---
The narrative itself is vivid and compelling, full of arresting detail and emotion. Jo-Ann Brant, in her Paideia commentary, observes:
The principal action is a reversal—the dead one lives—but to the simplicity of this reversal, John adds the complexity of emotion, allusion, report, reaction, and counterreaction. Grief and censure turn to an expression of gratitude—the anointing of feet—that in turn comes to signify a funerary rite. Jesus raises Lazarus to life, and the authorities plot to take both their lives. John plays with epithets and allusions to underscore that Lazarus' story foreshadows Jesus' death and resurrection in a variety of ways (p 170).
Some modern translations smooth out the opening introduction, but the text actually talks of a 'certain man', who is 'Lazarus of Bethany'. This is a common way of referring to a man, the alternative being to refer to his occupation. The narrative refers to Mary and Martha whom Jesus' met Luke 10.38–41 (the only place outside the Fourth Gospel where Martha is mentioned), but assumes only that we already know Mary; her name is mentioned first here, whereas elsewhere Martha is mentioned first, indicating that she is the older sister, and in fact her name is the feminine form of the Aramaic for 'master'. Since we have not yet read the account of the anointing of Jesus by Mary, since it comes in the next chapter, the narrator is assuming we have read it already in Matthew 26 or Mark 14. (These parenthetical explanatory asides are characteristic of the Fourth Gospel, for example in John 1.38, 41 and 3.24.)
(There are four accounts of a woman anointing Jesus' feet, in Matt 26.6–13, Mark 14.3–9, Luke 7.36–50, and John 12.1–8. The accounts in Matthew, Mark and John correlate, though only in John is the woman named as Mary, and Luke's account is of a 'sinful woman' and takes place in the north of the country early in Jesus' ministry, not in the south and late. Unfortunately, popular reading (and some scholarship) has conflated the two events, then further conflated the woman with Mary Magdalene, none of which is really justified.)
The sisters send a message to Jesus, which although it is a statement of fact, is an implicit request for help, just as in John 2.3 Jesus' mother states 'They have no wine'. Because Lazarus is 'the one you love', a minority of commentators have suggested that Lazarus is the narrator's Jerusalem source, described from John 13.23 as the 'disciple whom Jesus loved.' But there is little narrative sense in naming Lazarus here, then obscuring his name later, so this is not really persuasive.
Rather than focus on the problem, Jesus' response it to look to the ultimate resolution of the situation, which will result in demonstrating God's glory—this future focus exactly paralleling his response to the disciples' question about the man born blind in John 9.1–3. The narrator is careful to juxtapose the comment of Jesus' love for the family with his apparent inaction; in response to petition, his apparent failure to act is not a sign that he does not love them. Rather, his love will be shown in the final resolution of the situation, even if that comes later than expected.
Judea has already in the narrative become a place of danger for Jesus, and the mention of the threat of death by the disciples anticipates what unfold later in the narrative—though the disciples themselves (typically) do not understand that yet. The mention of 'walking in the daylight' again connects this episode with John 9, but here Jesus is telling his disciples that he knows what he is doing and is not making a misstep, even if he actions cause offence to those who will not receive his message and will not accept who he really is.
The exchange about Lazarus 'falling asleep' as a figure of speech for dying in verses 11 to 13 is yet another example of the Fourth Gospel's double entendre, where the difference between literal and figurative meaning expressed the difference between Jesus' understanding and the failure to understand of his dialogue partner. Thus Nicodemus fails to understand 'being born again/from above', and the woman by the well fails at first to understand 'the living/running water'. The real question, in each case, is whether Jesus' hearers will emerge from the confusion with understanding so that they will place their trust in Jesus.
The narrator once again assumes we know who the Twelve are (from reading one of the other gospels) and that Thomas is one of them. 'Thomas' is actually derived from the Aramaic for 'twin', so, rather than being given a name and a nickname, we are being given the same nickname in Hebrew/Aramaic and Greek (didymus). Once more, the gospel alludes to the fact that its very existence is due to missional expansion, where the story has to be translated from one narrower social, cultural and linguistic context (that of Israel) to another broader one (that of the wider Roman world).
---
Once we reach verse 17, the scene now switches to Bethany. The fact that Lazarus has been in the tomb 'four days' is important, since according to the Mishnah it at this point we can be sure that a person is dead—and in fact the body will have decayed enough (in the warm climate) to prevent confident identification, a gruesome reality that practical Martha points out in verse 39. The proximity of Bethany to Jerusalem means that the holy city is just a short walk, only just beyond the horizon over the Mount of Olives, just as Jesus' own death and raising are just over the narrative horizon. The company of Jews who have come (from Jerusalem itself?) shows that Lazarus was respected, and they also function as witnesses of what is otherwise a private event, just as the servants have done in the miracle at Cana (John 2.9).
Martha, now being the senior member of the household, comes out to greet Jesus. Her opening words 'Lord, if you had been here, my brother would not have died' are ambiguous, highlighting the complexity of the emotions surrounding grief. As the conversation unfolds, it becomes clear that for Martha these words are a statement of fact, perhaps even faith, that contain a further implicit request. When the same words are repeated by Mary in verse 32, they have the sense of a grieving rebuke. (It is interesting to note that the different characters of Mary and Martha, as shown by their different reactions, correlate with their different characterisations in the unrelated episode in Luke 10.)
In response to Jesus' promise of hope, Martha articulates a common Jewish belief in the resurrection of the dead at the final Day of the Lord. But, as he has done earlier in this gospel, Jesus claims that this eschatological future hope has become real in the present in his own person and ministry. This is exactly the same configuration of hope that we find in Paul: the future of creation has been made real in us as we live resurrection life (Rom 8.19), since the new creation that we long for is already experienced by those who are 'in Christ' (2 Cor 5.17).
Jesus' challenge to Martha leads her into greater trust, and she expresses her belief in Jesus as Messiah in a way that parallels the Samaritan woman in John 4.25, 29. Women are silent in Mark's gospel, and have some role in Matthew. They are prominent in Luke, though do not say much. But in the Fourth Gospel, women have significant speech and prominent roles, and provide vital Christological insights through their modelling of faith as ideal disciples. It is no accident that it is in this gospel Mary Magdalen becomes the 'apostle to the apostles' as she testifies to the Twelve that Jesus is risen.
Whilst Martha goes to greet Jesus out of social duty, Mary only rises to meet him out of personal response, when she hears that Jesus is asking for her. Where Jesus has met Martha's statement of half-developed belief with an invitation to believe more fully, he now meets Mary's emotion with emotion of his own. In this gospel, whilst Jesus is more clearly 'divine' as the Word who was with God, and the one who has 'come from the Father and is going to the Father', he is at the same time more explicitly human and vulnerable than in the other three gospels. Verse 34, where Jesus ask where Lazarus has been laid, is the only time in this gospel where he asks a question to which he appears not to know the answer. It is clear, as he walks to the tomb, that he walks closely alongside those who feel the grief at their loss. It is no wonder that those who allocated the verse divisions in our New Testament decided to give the simple expression of grief and calamity its very own verse, the shortest in the whole Bible: 'Jesus wept' (John 11.35).
---
Once more, 'the Jews', referring to those who have come from Jerusalem, function to express the ambiguity of reaction and division that Jesus provokes. Some see his compassion, but others, who appear to believe that he really did heal the man born blind in chapter 9, are still sceptical.
Lazarus has clearly been buried in a rock tomb with a stone disk rolled over the entrance, which needs to be moved away by those present. Jesus will experience the same in death—but for him, no human agent will be required to move the stone. For a brief moment, Martha's faith has once more been overwhelmed by her practical concerns.
Jesus in his prayer (Jewish prayer would normally be out loud) addresses God as Father, common both in John and Matthew. It was not unknown in Jewish devotion, but in the context of confession and request for forgiveness. The intimacy with which Jesus addresses God as Father is distinctive—and for Paul becomes the new-birthright of all who trust in Jesus (Rom 8.14–17).
Jesus cries out, addressing Lazarus by name. It has been quipped that he had to specify the one he was addressing—otherwise all the dead in that area would be raised and come out of their tombs. Verse 44 contains my favourite phrase in all the New Testament: 'the dead man came out walking'! Dead people don't walk—unless Jesus has spoken new life into them! And the only qualification for experiencing resurrection is to be dead in the first place.
Although presented here as a narrative of what happened, like all John's writings, it is rich in symbolic second meaning. Paul talks in Ephesians 2 of us having been 'dead in our sins'. It is as if, in calling Lazarus out, Jesus calls each of us out of death into new life:
'Ian Paul, come out! Come out from the tomb of your own self interest, emerge from the darkness of your insecurities and petty jealousies! Come out into the sunshine of God's grace and breath again the air of life where there is no fear of death! Unwrap those signs of death and defeat which constrict you and prevent you living life in all its fulness!'
In doing this, Jesus is not just showing understanding of the human condition—he is demonstrating his power in remedying that condition.
The details of the grave clothes—the keiriai which have been wound around his whole body, including his hands and feet, and the soudarion round his head, and under his jaw to stop his mouth falling open—will be mentioned once more, in John 20.7. Here they are removed by those going to Lazarus; in John 20.8 the fact they are still in place, but Jesus has been supernaturally raised by God, leads the beloved disciple to his first step of belief.
---
This story of the raising of Lazarus is one of the most popular in Christian art—just search online for images of it, and you will be amazed.
You start to notice this focus on Lazarus in the earliest centuries of Christianity through the art. In the Roman catacombs alone there are over 55 paintings of Lazarus's resurrection. Roughly an equal number exist of Roman sarcophagi, the marble caskets in which nobility were buried, depicting this life-affirming story relayed only in John's Gospel. And then there are the dozens more depictions of Jesus' friend rising from his grave–on ivory, glass and metal objects that didn't have anything to do with funerals.

Perhaps all these artistic renderings of Lazarus' emergence from his tomb three days after his burial are the reason behind historians' belief that the raising of Jesus' good friend, made a deeper impression on early Christians than almost any other New Testament text…

John 11 and the following chapter of John 12 act like a literary bridge between Jesus' ministry with others and his own final demonstration that God indeed provides eternal life. The Lazarus story lays down a bridge of faith and understanding that we can walk across to understand more the Master's own death and resurrection.
…and, I would add, to understand our own participation in that as we begin to live Jesus' resurrection life for ourselves.
For a video discussion of these issues, join James and Ian here: