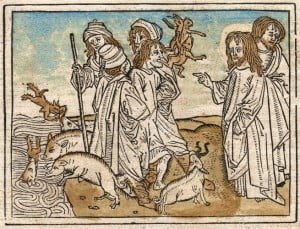 I have been continuing my teaching at New Wine (Hub 1, 2.30 pm each day) on the question of 'Why Jesus came…' based on sayings in the gospels in which Jesus states his purpose in these terms. We begin by exploring Jesus saying 'I have come to preach [good news]…' and then reflected on Jesus' saying 'I have come to call sinners to repentance' (Mark 2.17, Luke 5.32).
This third saying doesn't quite come on Jesus' lips himself, but from a verse in 1 John and from the saying of someone on the receiving end (as it were) of Jesus' ministry. The verse is 1 John 3.8:
For this reason Christ was revealed: to destroy all the works of the evil one.
When I became a Christian as a teenager, and avidly read the writings of David Watson, this verse was one of his 'top ten' memory verses for new Christians. I am not sure that it would be in a top ten today—and do we still encourage the learning of memory verses?! I also remember that it was in a well-known chorus, and again I wonder why we don't sing more scripture in our songs. We might think that this text was about 'spiritual warfare' or 'deliverance' ministry—but in fact the context in 1 John is the relatively mundane question of holy living and not being led astray in our understanding of God.
But a similar phrase comes on the lips of the man possessed by an unclean spirit right at the beginning of Mark's account of Jesus' public ministry in Mark 1.24:
What do you want with us, Jesus of Nazareth? Have you come to destroy us? I know who you are—the Holy One of God!
In this section of the gospel, Mark appears to have pulled together a range of incidents in order to offer us a typical 'day in the life' of Jesus' ministry. This pattern is expanded in chapter 4 and 5, where we see Jesus preaching the good news (in the form of a parable), driving out demons, raising the dead (Jairus' daughter) and healing (the woman with an issue of blood)—the same kind of pattern of ministry that Jesus calls the disciples to in Mark 6 (and in parallel in Luke 9 and 10).
---
Jesus' encounter with spirit-possession is explored in detail in the encounter with the Gerasene demoniac in Mark 5.1–20. It is worth reflecting why it is, in such a short gospel, Mark tells us this story in such detail, but does not tell us more stories about these kind of incidents. I think the only reasonable conclusion is that he offers this as an archetypal account of such incidents; once we understand what is going on here, then we will understand the dynamic of this aspect of Jesus' ministry. Mark offers us a kind of taxonomy of evil—a description of what the presence of the Evil One effects in a person's life, and how Jesus' ministry addresses that.
There are several things to note from a careful reading. First, the language of 'crossing the lake' occurs eight times in Mark, and refers not to crossing the middle of Galilee but traversing its top section, which takes Jesus from Jewish territory proper into and out of gentile territory. The gentile Decapolis region is where the story ends. This is part of Mark's interest in boats, fishing and fishermen; there is something distinctly 'fishy' about this gospel, which is evidence of Peter's eye-witness testimony behind it.
Second, the story is actually chaotic. Although Mark appears to be giving us an orderly account, things are actually out of order—the man shouts at Jesus in verse 7 but we discover that Jesus has already been commanding the spirit out of him in verse 8. It is a chaotic encounter which must have looked like a shouting match of sorts—and offers a challenge for anyone reading this passage out loud to capture this sense of chaotic struggle.
This points to the third dynamic—there is a mighty power struggle at the centre of this encounter. It is highlighted by Mark's repeated emphasis on the man's strength, and he acts as a kind of literalising of the metaphor of the 'strong man' in Jesus' earlier dispute with the Jerusalem authorities in Mark 3.22–29. The power dynamic pits the man against the local people, it pits the man against Jesus, and of course it pits the ministry of Jesus against the presence of the unclean spirit(s). We need to be aware that the use of power in a spiritual or religious context is highly contested in our culture at the moment, with New Wine being named by some antagonists as a place of potential spiritual abuse because of teaching about the Holy Spirit—which is itself a cultural power play. But we also need to remember that the (right) use of power is part of Jesus' ministry and calling to us. Luke, in particular, focuses on the importance of power in Jesus' ministry.
Finally, there is the significant presence of dissociation. The man has become cut off from his community—and it is striking that the end of this episode is focused emphatically and rather surprisingly on Jesus restoring him to the place he has come from, sending him home in every sense of the word. There is dissociation of the man from his body, as he cuts and harms himself, and dissociation from the forces at work in him, as the voice of the unclean spirit(s) speak to Jesus in verse 9. These dynamics of dissociation are very evident in our world, with fractured communities and broken relationship, the apparent rise of mental health issue, individualism, and the defining of the self detached from bodily identity at the heart of the debates about sexuality and transgender ideology. There is no sense in which I am suggesting that any of these things are the result of 'demon possession' but Mark is telling is the impact of Jesus' ministry on this complex range of issues.
---
We live with a long suspicion of claims about the spiritual realm in our materialist culture. Rudolph Bultmann, the highly influential German New Testament scholar, once declared that 'we cannot believe in the world of demons and spirits and the world of electric light at the same time' and this assumption was behind his programme to 'demythologise' the gospels and translate them into a message about existential decision in response to the (contentless?) message of Jesus. But most scholarship now recognises that the account of Jesus' ministry of deliverance is theologically at one with his healing and his proclamation of the kingdom.
In Luke 13.10–16, we see Jesus healing a woman on the Sabbath who has been bent over for 18 years. Luke introduces her condition in 'spiritual' terms, 'a woman was there who had been crippled by a spirit for eighteen years' (Luke 13.11) but that appears to be a theological judgement and not a phenomenal description. In all other ways this appears to be a 'straightforward' healing—yet Jesus also describes this illness as something by which 'Satan has bound her' (Luke 13.16).
The connection between aspects of Jesus' ministry and the presence of the kingdom of God is made even clearer in the key verse Luke 11.20 = Matt 12.28:
If by the finger/Spirit of God I drive out demons, then the kingdom of God has come among you.
Jesus is here claiming that God himself, the one God of Israel, is present in his ministry, that in Jesus the king of the kingdom has come, and that in his ministry of deliverance the rule and reign of God is present. In other words, wherever Jesus exercises authority, Satan is dethroned.
We often miss the connection here, but it is at the heart of Christian prayer. When we pray as Jesus taught us 'Your kingdom come…' we go on to pray 'Deliver us from the evil one' though this is disguised in most English versions that reduce this to a general statement about evil rather than a reference to the devil himself (the definitely article is present in the Greek text). And it is expressed in quite striking terms in John's gospel:
Now is the time for judgment on this world; now the prince of this world will be driven out. And I, when I am lifted up from the earth, will draw all people to myself." He said this to show the kind of death he was going to die. (John 12.31–33)
According to John, it is on the cross that Jesus is enthroned and God's glory is revealed. And when Jesus is enthroned, Satan is dethroned. This is part of the basic shape of NT theology, expressed in the language of the two ages, 'this age' where there is sin and sickness, which is ruled by the 'prince of power of the air' (Eph 2.2), and the 'age to come' initiated by the resurrection of Jesus in which God is king. That is why Paul is clear that our struggle is 'not with flesh and blood, but with the principalities and powers' (Eph 6.12)—but also that the battle has been won by Jesus, who disarmed them in the cross and resurrection (Col 2.15).
---
The Book of Revelation offers the same theological perspective, but makes explicit the implicit connection with the political realm.
Now have come the salvation and the power and the kingdom of our God, and the authority of his Messiah. For the accuser of our brothers and sisters, who accuses them before our God day and night, has been hurled down. (Rev 12.10)
Here we see the triumph of the cross and resurrection (summarised in the male child snatched up in Rev 12.5) bringing about the defeat of Satan, so that there 'is now no condemnation' (Rom 8.1)—but the work of Satan on earth is continued by the 'beast from the sea', a metaphor from Daniel 7 of Roman Imperial power. This connects with Chad Meyers' political reading of Mark 5, noting that the language of 'legion' used by the demons is borrowed from military images of Roman occupation of Judea and Samaria.
The good news is not so much that 'God is love' but that 'Jesus is Lord'. As the king of the kingdom of God, he has broken the power of Satan and destroyed his works, including works of sin and sickness, brokenness of lives and communities. Jesus has the authority to restore what is broken in every aspect of human life, and he invites us to share that authority and join the work of restoration as his kingdom is made known.
---
Follow me on Twitter @psephizo. Like my page on Facebook.
---
Much of my work is done on a freelance basis. If you have valued this post, would you consider donating £1.20 a month to support the production of this blog?