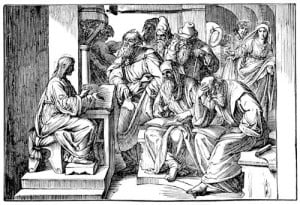 One of the obvious differences in chronology between John's gospel and the 'Synoptics' (Matthew, Mark and Luke) is that John gives an account of Jesus in Jerusalem on four different occasions, two during a Passover (John 2.13, 12.12), one during an unnamed festival (John 5.1) and one at Hannukah (John 10.22). (The third Passover is mentioned in relation to the feeding of the 5,000 in John 6.4). The Synoptics instead present Jesus in Jerusalem only in the final days of his ministry, and include the cleansing of the temple episode in this period; it is this which provokes opposition to Jesus and leads to his execution.
For some time it has been a mantra of NT studies that the Synoptics are in general more historically reliable, and John is the 'symbolic' or spiritual gospel which arranges things to suit its theological agenda. But which of the accounts is likely to be true to the actual chronology of Jesus' life?
Any observant Jewish male would have visited the city for the three main pilgrim festivals (Passover, Shavuot or Pentecost, and Succoth), so unless Jesus' public ministry was less than a year, this is prima facie evidence that John is likely to be correct here. But there is another important clue in Matthew and Luke. Both include a saying of Jesus where he longs to gather Jerusalem 'as a hen gathers her chicks':
At that time some Pharisees came to Jesus and said to him, "Leave this place and go somewhere else. Herod wants to kill you." He replied, "Go tell that fox, 'I will keep on driving out demons and healing people today and tomorrow, and on the third day I will reach my goal.' In any case, I must press on today and tomorrow and the next day—for surely no prophet can die outside Jerusalem!

"Jerusalem, Jerusalem, you who kill the prophets and stone those sent to you, how often I have longed to gather your children together, as a hen gathers her chicks under her wings, and you were not willing. Look, your house is left to you desolate. I tell you, you will not see me again until you say, 'Blessed is he who comes in the name of the Lord.' (Luke 13.31–35)

"Jerusalem, Jerusalem, you who kill the prophets and stone those sent to you, how often I have longed to gather your children together, as a hen gathers her chicks under her wings, and you were not willing. Look, your house is left to you desolate. For I tell you, you will not see me again until you say, 'Blessed is he who comes in the name of the Lord.' (Matthew 23.37–39)
As elsewhere in the gospels, here Matthew and Luke appear to feel free to locate this saying of Jesus in quite different contexts—for Luke, as part of Jesus' long journey to Jerusalem which shapes the gospel from chapter 9, for Matthew following Jesus' seven woes on the leaders whilst in Jerusalem—but they converge almost exactly in recording Jesus' words.
The Lukan version has some interesting features. At least some of the Pharisees are friendly to Jesus, and in the following chapter we see Jesus still sharing table fellowship with them. Luke is holding out the hope that the Jewish leadership will yet recognise who Jesus is and acknowledge him. Jesus' response to their warning includes two oblique references to his death and rising again on the third day.
In both versions, the language of being 'desolate' appears to be borrowing from the warnings of judgement in Jeremiah 12 and 22. In citing Ps 118.26, and focussing on seeing 'me', Jesus (as elsewhere, particularly in Matthew) is identifying his presence with the presence of the God of Israel, something Luke makes more explicit in Luke 19.44. Jesus' entry on Palm Sunday is the time of God's visitation to the city.
But what are the implied timing and location of this shared saying? Jesus is addressing Jerusalem directly, so it appears that he is at the city. And he appears to be looking forward to the time when he will be greeted with the words from Ps 118, so it anticipates Palm Sunday itself. Matthew indeed locates Jesus in Jerusalem when he says this, but gets the timing 'wrong', as the triumphal entry has already happened. Conversely, Luke gets the timing 'right' by bringing the saying much earlier in his gospel, but gets the location 'wrong' in having Jesus still on the long journey from Galilee to Jerusalem.
In fact, we can see other places where Luke gets the location 'wrong'. In Luke 10, when Jesus has only just set out for Jerusalem from Galilee, he visits Martha and Mary who live 'in a certain village (Luke 10.38). But John tells us which village this is—Bethany, just outside Jerusalem! It is clear that Luke is much more interested in organising this material by theme, and not by chronology; he has just been teaching the disciples about entering villages and being received by a 'person of peace', so it is natural that he should include the story of Jesus doing just that in this section.
It is clear, too, that Matthew has placed the saying as a counterbalance to the denunciations of the leadership; R T France notes that
…this is one of the hints which occur in the Synoptic Gospels that the writers were aware of Jesus' previous visits to Jerusalem (as the Fourth Gospel records them) even though they have chosen to record only the one climactic arrival (NICNT commentary, p 883).
Of course, there are clearly thematic elements to John's arrangement; chapters 5 to 11 revolve around Jesus engagement with the Jewish festivals and the implications of that. But on the question of visiting Jerusalem, it looks as though John's chronology is the one we should go by. (This is supported by other elements of John's gospel which show he was particularly interested in geographical details.)
This is significant both for our understanding of the relationship between the gospels, as well as for how we read and preach on each of them. John's account actually explains a number of features of the Synoptics which are otherwise hard to account for.
Why is there early opposition to Jesus' ministry in Galilee from the Jerusalem leaders? Because they have met him already when he had visited the city.
How is it that the Jewish leadership in Jerusalem are already so hostile when Jesus arrives, if Palm Sunday was his first visit? If John is right, then they have already encountered him numerous times.
How can Jesus say in Mark 14.49 'Every day I was with you, teaching in the temple courts, and you did not arrest me'? if he has only been doing that earlier in the week? Because, according to John, this has been his habit (see e.g. John 10.22–23)
How could Jesus have made the clandestine arrangements for the Passover in Mark 14.12–16 (and parallels)? Because he has visited numerous times, and has friends who live there.
This ties in with other points at with John and Mark interlock with one another:
How did Peter gain entrance to the High Priest's courtyard (Mark 14.45)? Because John alone tells us another disciple who was with Peter was well known there (John 18.15–16).
Why was Jesus charged at his trial with threatening to destroy the temple (Mark 14.58–59)? Because of his saying earlier in his ministry (John 2.19)
Why did the Jewish leaders send Jesus to Pilate (Mark 15.1–3)? John alone tells us that they were not permitted to carry out the death sentence (John 18.31)
So if we want a chronology of Jesus' ministry, then we need to look to Mark and the 'corrections' to that in John. In Matthew and Luke, the material is arranged much more by theme, not least in Matthew's gathering of Jesus' teaching into five blocks. So when reading or preaching on these gospels, we need to look at the thematic and theological connections with surrounding material, rather than assuming these gospel writers are making a point about chronology.