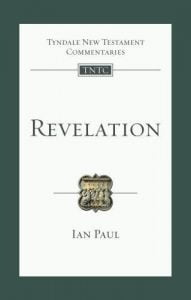 My most recent publication is the Tyndale New Testament Commentary on the Book of Revelation. You can order it from Amazon and other online retailers (make sure you order mine, and not the previous edition by Leon Morris!), or directly from the publisher on the IVP website.
My other recent publications include:
---
The lectionary gospel reading for Advent 2 in Year 1 is Matt 3.1–12, and it contains many foundational themes of eschatology, the coming of God, and judgement, which set us up nicely for thinking about Advent not as the build-up to Christmas, but (as it should be) thinking about the Last Things.
This is one of those passages where it is particularly informative to compare the gospel accounts side by side; you can do this with a printed text like Throckmorton's Gospel Parallels, or online using something like this site from the University of Toronto. The online version is convenient, but the print edition highlights differences more clearly in its layout. 
We can see immediately the different interests of the gospel writers. Luke locates the beginning of John's ministry in the larger world of the Roman empire, whilst the Fourth Gospel doesn't explain either John's ministry or Jesus' baptism, but assumes you already know about it from reading the other gospels. There is an interesting contrast between Matthew and Mark's ordering of elements (which I am not sure commentaries pick up) which is striking since, in other respects, Matthew follows Mark quite closely. Mark introduces John the Baptiser in this order:
The question of abortion has been raised once more in the election campaign, because of statements in both Labour and Liberal Democrat manifestos. Labour includes their briefer comments in their…