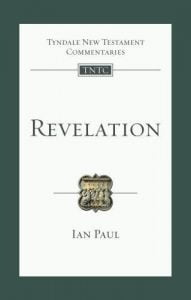 My most recent publication is the Tyndale New Testament Commentary on the Book of Revelation. You can order it from Amazon and other online retailers (make sure you order mine, and not the previous edition by Leon Morris!), or directly from the publisher on the IVP website.
My other recent publications include:
---
The episode of Jesus' encounter with the Canaanite woman in the lectionary reading for Trinity 10 in Year A from Matt 15.21–28 (or Syrophoenician woman as she is called in the parallel Mark 7.24–30) often brings readers up short, containing as it does what appears to be a rather shocking insult. Jesus is seeking to withdraw from public attention, needing some time for rest and recuperation, but, as has happened in the episode of the feeding of the 5,000, he is unable to keep his presence secret. A woman approaches him to ask for deliverance for her daughter and (Matthew having emphasised her pagan gentile credentials), Jesus appears to insult her with a racial slur by calling her a 'dog'. Yet her stubborn faith persists, and her clever response to Jesus' 'insult' persuades him to act, so her daughter is delivered and healed.
There seems to be quite a strong trend in 'progressive' readings of this text to draw a particular point from this episode: Jesus was in fact fallible and racist; the woman taught him something by her response; he changed and moved on from his narrow, exclusive view; and so we should be willing to do the same. Here is one example, which sees mainstream readings of this texts as 'workarounds' which are avoiding the awkward reality that we find in the text:
It's one of the most unsettling passages in the New Testament. This isn't the Jesus Christians like to think about.  This is Jesus apparently insulting and dehumanizing a desperate woman seeking the health of her family. This is Jesus writing Gentiles off as second-tier citizens…Jesus' statement was full of prejudice and ethnocentrism.
This story calls us to confront Jesus' humanity. Being human means being embedded in a culture. It means growing up with a certain worldview. It means inheriting traditions and language and biases—biases that can be wrongheaded and hurtful and alienating. Biases like the exclusion of Gentiles from the community of faith and the circle of those deserving compassion…
You see, Jesus doesn't cling to his prejudice. He listens…Jesus listens. And he changes his mind…The hero of this story is not Jesus, but the Syrophoenician woman…Jesus had prejudices from his community that were magnified by his insulation from those who could challenge his views, but he listens when those views are challenged. He concedes his erroneous ethnocentrism and turns divine compassion toward all people everywhere. Jesus shows us in this story that inheriting bias is inevitable, but holding onto it is a choice.
David Jeans writes: In the relationship of science and faith, the public perception is often one of conflict. When I talk about being a Chemistry teacher before ordination, I am often met with one of two comments.  The first is "that was my hardest subject at school"; the second is "what made you change your mind?", as if I must have had a huge conversion experience and abandoned my science. Actually, I was already hooked on science before I became a Christian as a teenager, and I never saw any need of conflict between the two.
The conflict view is reinforced by how our society increasingly discusses issues in terms of (apparent) opposites. It is fueled by the loudest voices which come from the extremes. On the one hand are the 'New Atheists' such as Richard Dawkins. On the other hand are the 'Creationists', wedded to a literalistic seven-day creation and (usually) an earth only a few thousand years old. But the conflict model is much too simplistic, and its inevitability much exaggerated.
In my 2019 Grove booklet How to talk Science and God—Grove's title by the way, I wanted to call it "Engaging with Science"—I have tried to give reasons for engaging with science as Christians, and examples of how to do it, looking at the area of human significance. In that second part, I discuss the need to take both science and faith seriously, giving both respect. As 1 Peter 3:15 says:
Always be prepared to give an answer to everyone who asks you to give the reason for the hope that you have. But do this with gentleness and respect.
I also engage with science by looking at the anthropic principle (the fine tuning of the universe), as one example of where scientific ideas may give credence to belief in meaning and purpose for the Universe.