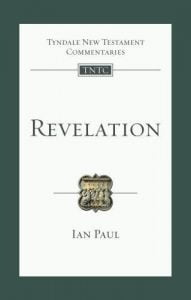 My most recent publication is the Tyndale New Testament Commentary on the Book of Revelation. You can order it from Amazon and other online retailers (make sure you order mine, and not the previous edition by Leon Morris!), or directly from the publisher on the IVP website.
My other recent publications include:
---
Reading the nativity account in Luke 2 carefully highlights the way that the tradition of the stable is nowhere present. That's all very well for scholars, people say, but how does that work in the practice of preaching? The answer is: rather well! This is what I said last time I preached on what Luke 2 actually says!
I love this time of year. I know that they can be a burden at times, but I love the traditions that we associate with Christmas. There's the reassurance of the familiar as we dive into the loft to drag out the box of decorations that we carefully put away last year, and hunt for the strings of lights that need to wind round the tree and down along the hall.
Some traditions are more memorable than others. It seems to have become a tradition in our house that we head to the flower shop at the end of our road, get excited about an oversized tree that has not been sold and so now is at an irresistible discount, lug it up the road puffing and panting, then find it is too big to fit in our living room. So I get out the saw to cut six inches off the end, with more puffing and panting, get distracted, allow the saw to bounce from the tree and land on my thumb, which leads to a dash to the kitchen to find the plasters and…well, you get the picture.
Since the arrival of our dog Barney, three years ago, we have added another tree tradition, which is to forget to close the living room door, and then have to work out which of the decorations Barney has jumped up and caught and chewed into an unrecognisable mess.
Traditions don't just persist, they grow and develop. I'm not quite sure why, but the tradition of putting lights in the trees in your garden has taken off in the last few years, so that our street now looks like a fairground ride with all the flashing and blinking lights. We're not ones to miss out, so I spent most of yesterday morning half way up a walnut tree disentangling 400 lights on a 25m wire. The shelves at Band Q have every kind of light—coloured, white, ice white and warm white, long and short, indoor and outdoor—all with eight different options for flashing, glowing and pulsating. It's what Christmas is all about, apparently.
The Church of England communications team has released a prayer for the nation at the time of the General Election, and it has not been well received. I offer here…