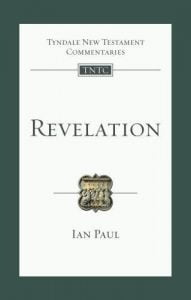 My most recent publication is the Tyndale New Testament Commentary on the Book of Revelation. You can order it from Amazon and other online retailers (make sure you order mine, and not the previous edition by Leon Morris!), or directly from the publisher on the IVP website.
My other recent publications include:
---
The two big questions that a lot of people have been asking in the time of the pandemic are: What does this mean for society, and what will the 'new normal ' look like? and What does this mean for the church—how can we rethink what we do? But I think there is a bigger question which I am not sure people are asking so much: what kind of church does the world in this situation need us to be?
Revelation 7 actually offers us some resources to think about this. It is often thought that Revelation is either stuck in the past, or is located in some inaccessible world of bizarre symbolism that we cannot unlock, or sets out a hideous future apocalyptic timetable when a vengeful God vents his wrath on the world. But it is in fact none of those things. It is, instead, a pastoral, prophetic letter, written in apocalyptic imagery, to strengthen, equip and encourage people who lived in a world much like ours. 
Chapter seven begins with four angels holding back the 'four winds of earth'; but the idea of 'four winds', comes from Zechariah 4, where they are also described as four horses of different colours. So this chapter is set in the context of the 'four horsemen of the apocalypse' that we just read about in chapter 6—bringing conquest and war, famine and disease, sickness and death. This is not some special time unknown to us, but (as someone recently said to me) just another typical day in the tragic history of humanity. The current pandemic reminds us that death and disease are writ large across human experience, and we are in strange times if we have forgotten that. 
Such crises bring judgement, in that they test our assumptions about life, and reveal whether they justify the weight we put on them. Interestingly, the Book of Revelation is ambivalent about the extent to which these judgements come from God; although he is on the throne, and ultimately exercises all authority, the horsemen are not called by God directly, but are released as the seals are broken on the scroll, that is, as God's will for the world is gradually revealed, and they are called forth by one of the living creatures around the throne. 
But in the face of judgement, the servants of God are sealed for protection, just as in Ezekiel 9 the faithful remnant in Jerusalem are sealed to protect them from the city's destruction when the people are taken into exile. And the following sections give us a threefold vision of what it means to be God's people in this kind of world. 
This Sunday is the Feast of Pentecost, when we remember, celebrate and re-engage with the first giving of the Spirit at Pentecost as recounted in Acts 2. With any of…