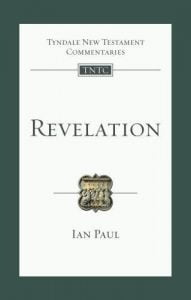 My most recent publication is the Tyndale New Testament Commentary on the Book of Revelation. You can order it from Amazon and other online retailers (make sure you order mine, and not the previous edition by Leon Morris!), or directly from the publisher on the IVP website.
My other recent publications include:
---
The imposition of social distancing and then 'lockdown', including the closing of church buildings as places of gathering for worship, has changed the shape of ministry for everyone. But what exactly does that mean for the local church? And in amongst the challenges, are there signs of hope?
James Blandford-Baker is vicar of Histon and Impington, just outside Cambridge, and Rural Dean of North Stowe, and I asked him about his experience of the changes, challenges, and opportunities.
IP: Tell us about the church you lead—what is its situation, tradition and size? Has the current situation felt more like a challenge or an opportunity?
JBB: I lead two churches in Histon and Impington. Histon could be described as a charismatic evangelical church of around 200–250 on a Sunday (though many would not identify with those labels; the key is we are orthodox in our Christian faith and that attracts many beyond the narrower categories) and Impington is 'middle of the road' and around 50 on a Sunday. They are village churches in two beautiful and lively villages which are essentially merged (geographically and socially) just to the north of Cambridge.
Initially the pandemic felt like a challenge with lots of opportunities! Of course ministry is really that all the time but the pandemic heightened my sense of both challenge and opportunity and created energy for both and much new thinking. The metaphor that came to me early on was that the Lord had put a bomb under the church and blown us into the community…in a new and good way!
IP: What has been your approach to Sunday provision for the congregation? What have you lost—and what have you gained?
JBB: From the beginning we put together a YouTube video of our Sunday service and published it on our YouTube channel (which was there but had been little used). Since preaching 20 minute sermons (or more!) on a YouTube service doesn't work we've done 7-8 minutes and then I've run an in depth Zoom Bible Study at 7pm on a Sunday evening. And from 11am on a Sunday morning we've done Zoom 'Coffee' which has proved a big hit (making good use of the random breakout room feature of Zoom to achieve what clergy everywhere long to achieve over coffee—people talking to people they don't know!). Our children's and young people's groups have met via Zoom on a Sunday morning (and at several other times during the week too).
Robin Ham writes: I had the opportunity last week to hear a presentation from Osoba Otaigbe of Bible Society about their Lumino Research Project on attitudes to the Bible. I'd heard…