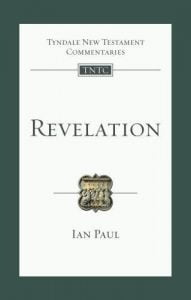 My most recent publication is the Tyndale New Testament Commentary on the Book of Revelation. You can order it from Amazon and other online retailers (make sure you order mine, and not the previous edition by Leon Morris!), or directly from the publisher on the IVP website.
My other recent publications include:
---
David Jeans writes: In the relationship of science and faith, the public perception is often one of conflict. When I talk about being a Chemistry teacher before ordination, I am often met with one of two comments.  The first is "that was my hardest subject at school"; the second is "what made you change your mind?", as if I must have had a huge conversion experience and abandoned my science. Actually, I was already hooked on science before I became a Christian as a teenager, and I never saw any need of conflict between the two.
The conflict view is reinforced by how our society increasingly discusses issues in terms of (apparent) opposites. It is fueled by the loudest voices which come from the extremes. On the one hand are the 'New Atheists' such as Richard Dawkins. On the other hand are the 'Creationists', wedded to a literalistic seven-day creation and (usually) an earth only a few thousand years old. But the conflict model is much too simplistic, and its inevitability much exaggerated.
In my 2019 Grove booklet How to talk Science and God—Grove's title by the way, I wanted to call it "Engaging with Science"—I have tried to give reasons for engaging with science as Christians, and examples of how to do it, looking at the area of human significance. In that second part, I discuss the need to take both science and faith seriously, giving both respect. As 1 Peter 3:15 says:
Always be prepared to give an answer to everyone who asks you to give the reason for the hope that you have. But do this with gentleness and respect.
I also engage with science by looking at the anthropic principle (the fine tuning of the universe), as one example of where scientific ideas may give credence to belief in meaning and purpose for the Universe.
The Sunday lectionary reading for the Ninth Sunday of Trinity in Year A is Matt 14.22–33, Matthew's instinctive account of Jesus' walking across the water and Peter's response to it. I am finding this recent, sustained immersion in Matthew's narrative very interesting. We have often noted how Matthew's accounts are more compressed than the other gospels, particularly Mark, and that he compensates for that by including additional episodes. But the compression itself actually gives the narratives an intensity and power that I had not expected. 
In the previous episode, Jesus has been seeking solitude (with his closest followers) after hearing the news of John the Baptist's death, with all its discouragement and foreboding. But, just as he has postponed the urgent task of responding to Jairus' daughter in order to attend to the needs of a woman in Matthew 9, so he postpones the meeting of his own urgent need to respond to the desires of the crowd. 
He took command in feeding them, and now he takes command in dismissing both them and the disciples, so that he will be truly alone. There is one fascinating detail here: once all have eaten and are satisfied, Jesus 'immediately' dismisses them. This pericope is the only place in the whole of Matthew where Jesus acts 'immediately'—a contrast to Mark where the term occurs ten times in his first chapter! Jesus has been postponing his own need for solitude and reflection, and his desire to be alone with his Heavenly Father can wait no longer. This time, the phrase κατ᾿ ἰδίαν 'by himself' means that he is, physically, truly alone.
In Matt 14.15, evening (that is, the time after sunset but before complete darkness; compare Mark 1.32) was approaching and this prompts the debate about feeding the crowd. Now, evening has come; some considerable time must have passed, so R T France translates this 'well into the night'. This need not make seeing the boat impossible if the darkness is moonlit.