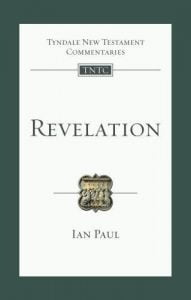 My most recent publication is the Tyndale New Testament Commentary on the Book of Revelation. You can order it from Amazon and other online retailers (make sure you order mine, and not the previous edition by Leon Morris!), or directly from the publisher on the IVP website.
My other recent publications include:
---
I write a column for Preach magazine, in which I explore a significant word or phrase in the Bible and the ideas that it expresses. The first one was on the phrase 'Word of God', and second on 'Justice' and the third on 'Mission'. This one, published in Preach Magazine issue 23 Chaos and Truth, explored the word 'Apocalypse'.
The coming of the Apocalypse
The apocalypse is at hand! Up goes the cry whenever something chaotic is about to happen. Thus we have apocalyptic weather, apocalyptic economics and politics—and there is even a whole genre of disaster movies known as 'apocalyptic'. The term indicates a situation where the normal structures of life disappear, overwhelmed by the chaotic and the catastrophic. But where did the term come from, and what does it mean?
It is actually the first word in the last book of the Bible, which begins Apocalypsis Iesou Christou, usually translated 'The revelation of Jesus Christ', thus giving its name to the Apocalypse, or Book of Revelation. But the idea was a long time in development, and 'apocalyptic' has come to refer to a whole genre of ancient literature.
Fractured from God
The biblical narrative begins with the idea that God is the rightful ruler over all of creation, and God shares that rule with humanity made in his image. But with the advent of human sin, God's relationship with the world has been fractured, and he no longer rules as he should. God calls Abraham to be in covenant relationship with him, and then forms the nation of Israel, in order to re-establish his rule of justice and peace, so that one day 'the earth will be filled with the knowledge of the glory of God as the waters cover the sea' (Hab 2.14).
But the story of Israel is the story both of God's determination to restore creation, and Israel's failure to collaborate with it. This is illustrated starkly in the cycle within the Book of Judges: Israel is oppressed; they cry out to God; he sends a 'judge' or leader to rescue and deliver them; they live in peace; then they forget God and end up being oppressed just as before. So the cycle begins again. We therefore see in the prophets a gradual fading of the hope that God will rescue Israel, restore the world, and establish his rule within history, since history itself appears to have become corrupt because of human sin.
Is it possible to explain the Trinity in a sermon in words of one syllable? Mike Higton, who is Professor of Theology and Ministry at the University of Durham, attempted…